The Right Turns On Marco Rubio Over Immigration Reform
Marco Rubio has suffered a reversal of fortune among Republicans thanks to his role in the immigration reform debate.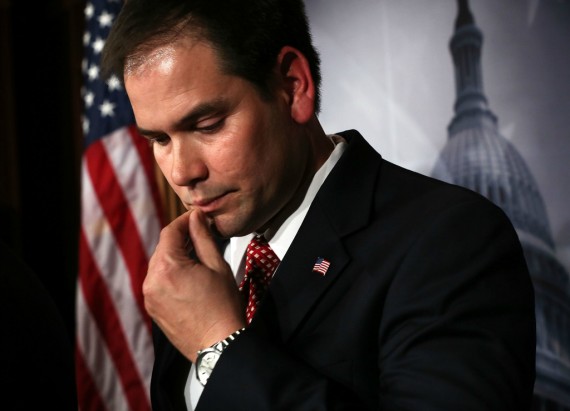 According to a new poll, Marco Rubio seems to be losing favor among Republican voters:
Senator Marco Rubio, widely expected to seek the Republican presidential nomination in 2016, has seen his popularity with Republican voters slip in recent months.

Rubio, the most visible advocate of the Senate's comprehensive immigration reform plan, is now viewed favorably by 58% of Republican voters nationwide. That down 10 points since May and 15 points since February. A new Rasmussen Reports national telephone survey finds that 16% of GOP voters have an unfavorable opinion of him, while 25% are undecided.
It doesn't take much to figure out what's going on here, all you need to do is look at what Rubio has been doing for the majority of this year. He took on the role of the lead voice on the right for immigration reform early on. Indeed, it's an issue that he's been talking about for years now. After the 2012 election, though, and the GOP's abysmal showing among Latino voters, though, Rubio became even more outspoken on the need for the GOP to get behind comprehensive immigration reform. The personal political risks for him were rather obvious, of course. One need only look at how the right treated anyone who supported the last effort to enact immigration reform back in 2007 to see what those risks actually were. Nonetheless, the Florida Senator stepped right into the middle of the arena, joined the Gang of Eight, and has been quite active over the past few months in trying to sell the idea of reform generally, and the Senate bill specifically to skeptical conservatives both on Capitol Hill and in the country as a whole.
This poll would seem to indicate that it's not going well at all.
Indeed, it's not uncommon to hear people on the hard-right calling Rubio, the Tea Party hero of the 2010 elections who vanquished the hated Charile Crist, a "Republican In Name Only." For example, here's what Sarah Palin, who has recently stepped back into the political ring after a post-election absence, had to say:
Despite his best efforts to rally conservatives behind immigration reform, U.S. Sen. Marco Rubio, R-Fla., is starting to feel the heat from the right, drawing heavy fire even from previous conservative ally Sarah Palin, and weakening his position with Republicans across the nation.

On Sunday and Monday, the former Alaska governor, best known for being the vice presidential candidate on the Republican ticket in 2008, ripped into Rubio and his immigration reform proposal.

"Just like they did with Obamacare, some in Congress intend to 'Pelosi' the amnesty bill," Palin posted on Facebook on Monday, referring to the liberal Democratic House leader, Nancy Pelosi. "They'll pass it in order to find out what's in it. And just like the unpopular, unaffordable Obamacare disaster, this pandering, rewarding-the-rule-breakers, still-no-border-security, special-interests-ridden, 24-pound disaster of a bill is not supported by informed Americans.

"I am an ardent supporter of legal immigration," Palin insisted. "I'm proud that our country is so desirable that it has been a melting pot making a diverse people united as the most exceptional nation on earth for over two centuries. But I join every American with an ounce of common sense insisting that any discussion about immigration must center on a secure border. The amnesty bill before the Senate is completely toothless on border security."
I've dealt with the border security issue before and I'm not going to repeat that argument again here. However, this argument about the Senate immigration bill being a monstrosity that nobody has had a chance to review is a relatively new one among the bill's opponents. Stephen Green makes a similar argument in a post today:
Watching the Gang of Eight shenanigans makes me think Marco Rubio should read more Jonah Goldberg. Specifically, his famous governing philosophy for conservatives: "Don't just do something — stand there!" Yes, we have a problem with illegal immigration. No, just because you're doing something doesn't mean you're doing something good.

And what is Rubio thinking? Instead of going to the proper committees and holding hearings and calling witnesses and all the things we used to cal "lawmaking," he's dealing directly with the loathsome Chuck Schumer. And frankly, Schumer is much better at this kind of thing than a first-term Senator with fewer years on him than even I have.

So we have yet another monstrosity of a bill which nobody has read, and even if they had read they'd have no way of understanding without a dozen lawyers — preferably honest lawyers — from two or three different federal departments.

Again.
This is the argument that has me confused. Were those weeks of hearings and markup sessions in the Senate Judiciary Committee just something I dreamed (in which case I really need to start having more interesting dreams)? What about the fact that the bill has been on the Senate floor for at least a month now and the text of that same bill have been available for anyone who wants to read it? There have been plenty examples of bills that get rammed through the House or Senate before anyone has had a chance to figure out what's in them in recent years. It happened, by an large, with the Affordable Care Act. It happened with the PATRIOT Act. And, it happens all too often with the massive budget bills and Continuing Resolutions that Congress typically passes at the last possible minute. I'm not sure that the immigration bill which, as I said, has gone through committee and been on the Senate floor for a month, falls into this category. Indeed, I think we're at the point now where if a Senator doesn't have an understanding of what's in the bill it's because neither he nor his staff are doing their job. The only possible exception to that would be New Jersey's Jeff Chiesa who has literally only been in office for two weeks.
Getting this back to Rubio, it strikes me that the Republican/conservative (is there really a difference?) repudiation of a guy that they were all rallying behind just a few months ago is just another sign of the utter hopelessness of the GOP when it comes to immigration. One does not have to accept the Senate bill in full, indeed I'd argue that there are several provisions that I find problematic. However, the way legislating ought to work is that if you don't like a bill then you propose alternatives and try to work out those differences through the legislative process. Instead, though, all I've seen from Senate GOP opponents of the bill are proposal after proposal designed more to appease their base with ineffective measures aimed at "border security" than to actually accomplish anything legislatively. In the House, meanwhile, it seems fairly clear that Republicans don't want to act on immigration at all. In the end, it all points to reason to be pretty pessimistic about the future of immigration reform in  the 113th Congress.
So what will all of this mean for Rubio? It's hard to say. It's been clear for awhile now that the Senator has Presidential ambitions, possibly for 2016, possibly beyond. Whether being associated with this bill will harm those prospects in the future depends largely upon whether or not the Republican Party comes to its senses on this issue, or whether the base decides to punish him for daring to take on the herculean task of fixing an immigration system that's been broken for a long time now.