The Unfortunate State of the Congressional GOP
If one is going to be in government, one ought to take governing seriously.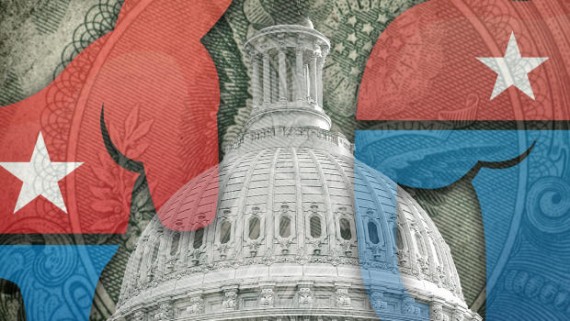 Norm Ornstein has a column at The Atlantic that is worth a read:  Why Can't House GOP Leaders Stand Up to Radical Members of Their Party?  Keep in mind that Ornstein is a scholarly expert on Congress and works at the American Enterprise Institute, which is a conservative-leaning think tank.
The money graf:
As we focus on how a junior private contractor for Booz Allen Hamilton could gain access to and then leak the most sensitive intelligence information we have, keep this destructive mindset at the fore. Why have we privatized and subcontracted the lions' share of our national security intelligence apparatus? Because mindless budget cuts, a long-standing zeal to privatize reflexively, along with multiyear pay freezes for all civilian government employees and other efforts to undercut and demoralize those who work for government, have made it nearly impossible for government security agencies to compete with the private sector for top-flight electrical engineers and computer scientists. So we have turned to the back door, relying more and more on less-secure private contractors. This is the consequence of moving from a commendable focus on lean, efficient, and functional government in areas where we need it to an unthinking hatred of all government that is transcendent in the new GOP, and unchallenged by those who know better.
The issue at hand at the moment (and this has been the case for a while) is not a debate over more liberal or more conservative vision of governance.  The debate is between taking governance seriously and not taking it seriously.  Indeed, one of the grand ironies of the current era is that the ideas that are in ascendancy in terms of actual policy (e.g., tax rates, the sequester, drones, surveillance, even the fundamental architecture of the PPACA) are all center-right, which underscore that we really aren't fighting over liberal/conservative policies as much as we are fighting the governance/no governance fight.
As Ornstein notes:
The only logical explanation is a frightening one: They are all intimidated by the more extreme and radical forces in their party. That the driving forces in today's GOP — the ones who can say "Jump" and have the party leaders respond "How high?" — are the likes of Steve King and Ted Cruz is deeply unsettling.
It is, in fact, quite unsettling.  Cruz, in general, has not exactly demonstrated a great deal of understanding and insight into governing to date.  The King issue is an example from the column (that again, I commend in full).
I recognize that none of this is not a startling revelation.  However, I think it bears repeating until those who are enabling this behavior either a) admit that yes, in fact, their goal is break government and not fix it (at least that would be honest), or b) come to the realization that their team is not serious about playing the game (and perhaps then try to change that fact).  Of course, a major difficulty in our system is that the practical choices at the ballot box is a binary one at best (sometimes, dues to lack of competiveness, it isn't even that).  Binary choices mean that defecting to the other team is the only option that many voters think that they have (there is also, of course, abstention or the third party route).  Many don't want to defect so, instead, end of rationalizing their vote or the behavior of their team.
If "conservatism" is supposed to be a governing philosophy, then let's see some attempts at governing conservatively  (and the scare quotes are intentional, because I think a) we lack a shared definition of that term, and b) much of what passes for conservatism these days is either radical or reactionary in nature).   I am hard pressed to say who the leaders are in the GOP, or the conservative movement writ large, who are interested in governance.  Indeed, those who attempt to play that role tend to either be ostracized or end up going into self-imposed exile (I am actually surprised, to a degree, that Ornstein still has a job at AEI given his ongoing critique over the last several years of the Republicans in congress).
And, I would note, the answer to this problem is not to ignore the issue on the table and then list the deficiencies of the Democrats, which certainly exist.