The US Fertility Rate and Immigration
The US is reproducing below the replacement rate.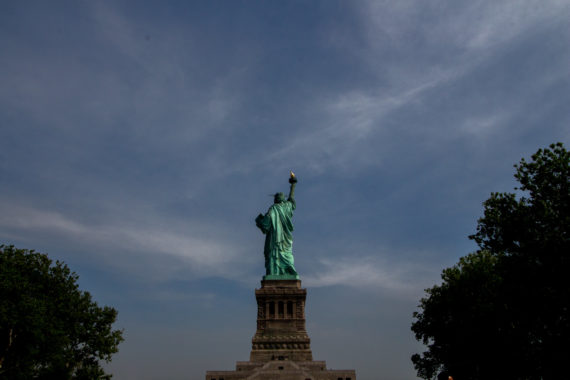 A conversation (although I will use the term advisedly) in the comment thread of a post about Trump's approach to immigration led to a commenter politely asking* what number of new immigrants I (and others) would be willing to admit (in addition to the undocumented already residing in the US). This is not, in and of itself, an unfair question, in and of itself, and also is contextual to the moment, given that Trump claimed this week that the country is "full."
My honest response is that I do not have a particular number in mind. I do support a policy that would provide a reasonable pathway to citizenship for most, if not all,** of the ~12 million undocumented already in the US (certainly for those who have been here for an extended amount of time and have otherwise acted like productive citizens). I further support a policy that would make it easier for people to migrate outright as well as to make working in the US easier. Indeed, part of me is perfectly fine with what we did in the Ellis Island era: if you show up and are willing and able to work, then welcome to the US! Granted, that is likely too simplistic, but I can't help but always note in these conversations: that is exactly what we did for a significant number of years as a country. It is also the case that the US-Mexican border was essentially open for much of our history (and yet the republic still stands!).
So while I cannot at the moment name a specific number, the reality is: we do have room in the US–not only physical space, but room in the economy for more workers and more consumers (noting, by the way, that more consumers equals the need for more workers).
All of this intersects with the question of US fertility rates, a.k.a., how many babies we are all having, collectively. As a CNN piece noted from January of this year: US fertility rate is below level needed to replace population, study says. Specifically:
The total fertility rate for the United States in 2017 continued to dip below what's needed for the population to replace itself, according to a new report from the National Center for Health Statistics.

Overall, the total fertility rate for the United States in 2017 was 1,765.5 per 1,000 women, which was 16% below what is considered the level needed for a population to replace itself: 2,100 births per 1,000 women, according to the report.



So, why does this matter? Well, ask Japan.
In a demographic time bomb, fertility rates fall at the same time that longevity increases.

An aging population like Japan's poses numerous problems. The government will have to spend more on healthcare, and that, coupled with a shrinking workforce and tax base, is a recipe for economic stagnation. It also means, among other things, that there will not be enough young people to care for the elderly.

"An aging population will mean higher costs for the government, a shortage of pension and social-security-type funds, a shortage of people to care for the very aged, slow economic growth, and a shortage of young workers," Mary Brinton, a Harvard sociologist, told Business Insider last year.

Business Insider: Japan's demographic time bomb is getting more dire, and it's a bad omen for the country
Consider that the way we pay for Social Security and Medicare is via payroll taxes. A shrinking pool of workers and an aging population leads to a significant problem given that funding mechanism. Further, in general, markets need consumers and governments need taxpayers. Moderate in-migration, therefore, helps all of those things.
For example, via Marketplace: Undocumented immigrants quietly pay billions into Social Security and receive no benefits.
If all undocumented immigrants were deported today, next year's Social Security trust funds would have approximately $13 billion less for benefit payouts. It's a considerable loss of dollars, especially when it's projected that the Social Security funds will be depleted by 2034.

According to New American Economy, undocumented immigrants contributed $13 billion into the Social Security funds in 2016 and $3 billion to Medicare. Three years prior, the Chief Actuary of the Social Security Administration, Stephen Goss, wrote a report that estimated undocumented immigrants contributed $12 billion into Social Security.
There are a variety of reasons to support reasonable, humane immigration policies that are more liberal than our current labyrinthine mess. One of them is human compassion (coupled with recognition that a lot of the ancestors of current citizens also entered the country under conditions not unlike what we see at the southern border today). Another reason is national self-interest. Allowing more tax-paying workers into the US economy has long-term net benefits. To pretend like these individuals are lazy good-for-nothings simply seeking to come leech off the dole in the US is to a) ignore the history of immigrants to the US and their record of hard-work, as well as to b) be utterly blind to how much hard-work, ingenuity, and self discipline is needed to come to the US-Mexican border in the first place.
I would note, in conclusion, that appeals to the notion that we already have too many undocumented persons (what about those 12 million!) is actually a self-defeating argument. The bulk of those 12 million (basically the non-child, non-elderly part) work. They are as productive as everyone else is. They pay taxes. They consume products and pay rent (and even own businesses and engage in the same kinds of activities as those blessed with not having to worry about their immigration status). If 12 million undocumented have not resulted in calamity, then a few more isn't going to hurt. If those 12 million have not taken over cities and unleashed hordes of MS-13 face-tattoos on us all, then that should be evidence not to fear more immigration. They are not all coming to live off public assistance, despite what some commentators may be saying.
---
*Just kidding, he rudely demanded.
**The devil would be in the details, of course.