The Youth Unemployment Problem
Large numbers of younger workers are having trouble finding work in many parts of the developed world.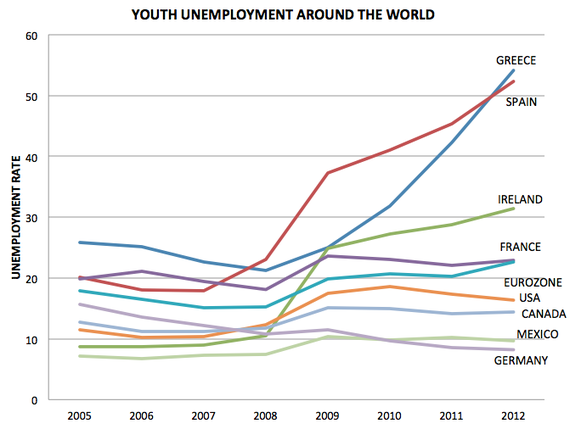 We're not seeing much about Greece in the news lately, but that doesn't mean things are going well there:.
Greek youth unemployment rose above 60 percent for the first time in February, reflecting the pain caused by the country's crippling recession after years of austerity under its international bailout.

Greece's jobless rate has almost tripled since the country's debt crisis emerged in 2009 and was more than twice the euro zone's average unemployment reading of 12.1 percent in March.

While the overall unemployment rate rose to 27 percent, according to statistics service data released on Thursday, joblessness among those aged between 15 and 24 jumped to 64.2 percent in February from 59.3 percent in January. Youth unemployment was 54.1 percent in March 2012.

"It is by far the highest youth unemployment rate in the euro zone, highlighting the difficulties young people face in entering the labor market despite government incentives to create jobs," said economist Nikos Magginas at National Bank.
Greece isn't the only country dealing with a glut of unemployed younger workers:
A new study from the International Labor Organization takes a global tour of youth joblessness and finds that what's gone up won't come down in the next five years. The youth unemployment rate* among the richest countries is projected to flat-line, rather than fall, before 2018. As a result, the global Millennial generation could be uniquely scarred by the economic downturn. Research by Lisa Kahn has showed that people graduating into a recession have typically faced a lifetime of lower wages.

As Ritchie King from Quartz shows in the graph to the left, it's now "harder for a teenager or young adult to find a job in developed economies than in Sub-Saharan Africa."

Lurking under the rise of youth unemployment among the richest countries is an even scarier trend — the rise of long-term youth unemployment. Long-term unemployment isn't just a difference in length; it's a difference in kind, because the more time you spend out of a company, the less likely you are to be hired back into one. In many European countries, particularly Spain, the increase in unemployment has come almost exclusively from people being out of work longer than two-years. In advanced economies, "longterm unemployment has arrived as an unexpected tax on the current generation of youth," ILO writes. About half of Europe's unemployed youth have been out of work for more than six months, according to 2011 data.
All of this is particular concern because of what it means for the futures of younger workers who are either having difficulty finding work, or finding themselves in positions that severely under utilize their skills and/or offer little opportunity for advancement:
Demos, a New York-based public policy and advocacy group, dug deep into U.S. Labor Department statistics for 2012 to draw a picture of how young unemployed workers are affected down the road.

"We found that last year passed with no significant gains for young people, who continue to endure a jobs crisis even as the economy recovers. The latest numbers from 2013 reveal no significant change in the trend. Without policy targeted to the needs of young adults, we risk a generation marked by the insecurities of the Great Recession for the rest of their working lives," Demos researchers wrote in their report.

Demos' findings were troubling, to say the least.

There are more than 5.6 million 18 to 34-year-olds who are "willing and able to take a job and actively looking for work" but can't find a job, Demos reported. That group accounts for 45% of all unemployed Americans. Another 4.7 million young workers are underemployed, which means in most cases they're working part time jobs when they'd rather be working full-time.

(…)

Demos found that the current high unemployment rate is not only preventing young workers from entering the job market, it's also preventing young workers currently employed from moving to better jobs or negotiating higher wages from their employers.

"That in turn reduces the capacity for workers to identify the position where they can be most productive, stifling their careers as well as economic growth," the Demos report concluded.

Mining this same concern, research conducted by the Center for American Progress estimates that young Americans currently either unemployed or underemployed will likely lose a combined $20 billion in earnings over the next decade.

By losing on-the-job experience now either through unemployment or working at a job well below their skill levels, young workers are missing opportunities to develop their skills and losing the ability to leverage those skills into better paying jobs.
This suggests that many nations, not just the sick men of Europe like Greece and Spain, but also other parts of Europe along with the United States, are facing the potential of having to deal with an entire generation of workers whose careers are going to be severely impacted by the Great Recession. This will have an impact on all levels of  society in ways we probably cannot even anticipate at this point. At the very least we can expect a generation that is significantly less well off than their parents, except perhaps for those with college degrees or expertise in high-demand fields. In some cases, such as in nations like Greece and Spain, it's possible that long term high youth  unemployment will lead to a rise in resentment and perhaps the growth of new protest movements that could have a very interesting impact on politics in those nations. More broadly, though, we're going to see a generation of people who are far less optimistic than their parents and grandparents generations, and far less likely to settle down early and start families.
Not being an expert, I'm not going express an opinion on how best to alleviate this problem, especially in nations like Greece and Spain where the economies are quite simply structurally sick thanks to decades of government policies that have stifled economic growth and bad fiscal and monetary policy. However, it is important to recognize that the youth unemployment doesn't exist in a vacuum  it is part of a wider employment problem that exists in many nations. It's not surprising that younger workers would be the ones most severely impacted by the economic downturn either. As the economy improves, those younger workers with their admittedly less impressive resumes are competing with far more experience than they have, and employers are in the position of being able to be quite selective about who they hire. In such a situation, it's only natural that workers with less experience are the ones harmed the most.
In the end, then, addressing the youth unemployment problem really isn't the issue, it's addressing the overall unemployment problem that matters. Take care of that and get the job market expanding the way it ought to during an economic recovery, rather than the anemic job creation record we've seen over the last four years or so, and younger workers will be doing far, far better than they are today. That's easier said than done, of course, and  in nations like Greece and Spain it's hard to see what could be done to get the economy moving like it needs to other than a wholesale restructuring. This much is true, though, those nations don't find a way to deal with those problems, they're going to have a generation on their hands that will not only be going nowhere, but actually falling behind, and that's not good for anyone.