A Conservative Argues For Extending Unemployment Benefits
In an ordinary post-recession world, we wouldn't need to talk about extended unemployment benefits, but times are far from ordinary.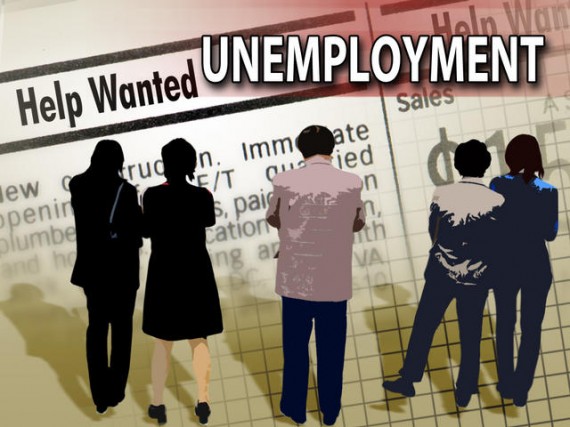 With the House of Representatives now out of session until January and the Senate heading that way sometime early next week after approving a serious of nominations and, finally, the Ryan/Murray Budget Deal, it is inevitable that extended unemployment benefits will expire on December 28th for an estimated 1.3 million Americans. For a time at least, House Democrats were objecting to the budget deal because it failed to make any provision at all for such benefits, although they ended up voting for the plan in the end. Now. it appears that Democrats are planning to pressure Congress into passing an extension when Congress reconvenes in January by refusing to support the renewal of the Farm Bill unless it includes a retroactive extension of the benefits, but at the very least that will mean that those people still eligible for such benefits will likely go several weeks without receiving benefits. To some on the right, such as Rand Paul, this isn't such a bad thing:
Kentucky Republican and potential 2016 presidential candidate Sen. Rand Paul said Sunday extending unemployment benefits past what the U.S. federal government has already paid would be a "disservice" to workers.

"I do support unemployment benefits for the 26 weeks that they're paid for. If you extend it beyond that, you do a disservice to these workers," he said, appearing on "Fox News Sunday."

(…)

"When you allow people to be on unemployment insurance for 99 weeks, you're causing them to become part of this perpetual unemployed group in our economy. And it really – while it seems good, it actually does a disservice to the people you're trying to help," Paul said.
The American Enterprise Institute's Michael Strain, however, argues that the issue isn't quite that simple, and gives two reasons why unemployment benefits should be extended at least into 2014:
1. In normal times states (typically) offer 26 weeks of unemployment ("UI") benefits to qualifying workers. During recessions, the federal government has in the past supplemented the offering of the states, providing additional weeks of UI benefits to workers who are unemployed for longer than 26 weeks. This is a reasonable and prudent measure - if 26 weeks is deemed long enough for a worker to find a job in normal economic conditions, then it's not long enough during a recession, when jobs are much harder to come by. This is doubly true for a downturn as serious as the Great Recession. When the labor market is in better shape, of course, the emergency federal extensions are allowed to expire.

As you can see from the figure below, in the two recessions prior to the Great Recession emergency federal UI expired when the long-term unemployment rate — the share of workers who have been unemployed for 27 weeks or longer — was 1.3 percent. The long-term unemployment rate is currently at twice that level.

(…)

Simply put, as the chart above shows, it's much harder for the long-term unemployed to find a job right now than it has been in the past when emergency federal benefits were allowed to expire.
Here's the chart Stain refers to: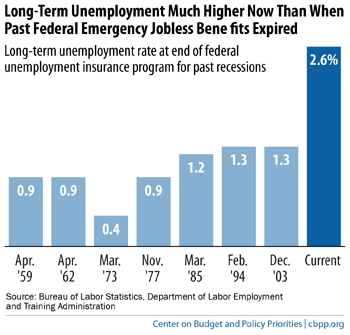 Strain also references this chart, which shows the number of people unemployed for 27 weeks or more in every recession going back to when such statistics began to be collected after World War Two: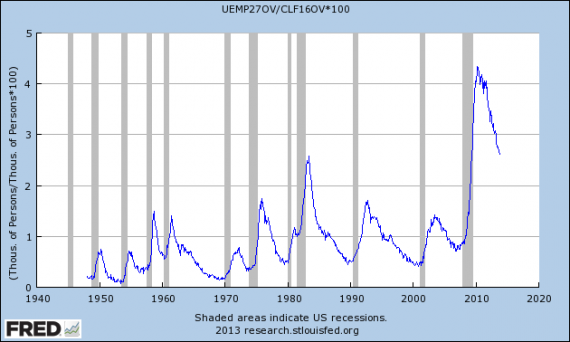 Strain's second argument addresses the incentive argument that Paul raises in his argument:
To qualify for UI benefits, an unemployed worker must be available and able to work, and must be actively searching for a job (among other requirements). It is true that if we do not extend emergency federal UI benefits then the unemployment rate will likely drop - some share of today's unemployed have remained unemployed because they are receiving UI benefits. If the checks stop, then some workers probably will take a job that they wouldn't otherwise have taken had their UI checks continued to roll in. But other long-term unemployed workers will simply drop out of the labor force altogether, abandoning their search.

Labor-market research conducted during the Great Recession finds that extended UI benefits have lengthened unemployment spells, but not by much. And if we let emergency federal UI benefits expire, then the best guess based on the research is that more long-term unemployed workers will simply quit looking for a job and exit the labor force than will take a job they have been too choosy to take.

We should want to keep the long-term unemployed attached to the labor force until the economy picks up, more jobs become available, and they can find work. We should not want today's long-term unemployed to permanently exit the labor force simply because their UI benefits expire. Why? Because many may end up on government assistance until they reach retirement age. That is worse for them, worse for the economy, and more expensive for the federal government over the long term.
James Pethokoukis, one of Strain's colleagues at AEI makes these additional points:
[W]hy would ending these benefits be a good idea (a) during perhaps the weakest economic recovery, both in terms of GDP and job growth in American history, and  (b) at a time when technology may be radically changing the nature of work in America? Beyond that, Washington needs to push an agenda to get the long-term jobless working, ASAP.
I'm as strong a free market guy as anyone out there, and the general argument that extended benefits of any kind tend to have a corrosive effect on those who receive them is one that has been well documented ever since Charles Murray came out with his ground-breaking research on the welfare state in Losing Ground, a treatise which in part ended up forming the basis for the welfare reforms that were passed during the Clinton Administration. Moreover, Senator Paul is absolutely right that unemployment benefits have always been considered to be a temporary solution for people who find themselves without a job through no fault of their own, with the key word being temporary. These benefits are generally not meant to be something that an unemployed person can rely upon until they find a job that they like, or one that pays exactly what they think they ought to be paid. Additionally, they are provided on the assumption that the person receiving them is engaging in an active search for employment (within reason, of course, nobody expects someone living in Michigan to be forced to look for work 1,000 miles away for example.) Finally, they are meant to be temporary so that they don't end up becoming a permanent crutch.
In a normal post-recession job market, the argument that Senator Paul makes would be perfect sense. By traditional measures, the recession has been over for more than three years now and, ordinarily, the job creation engine of the economy would be producing more than enough jobs by now to satisfy not only the people who lost their jobs during the recession, but also those entering the job market as a result of population growth and other factors. As we've seen through four years of Monthly Jobs Reports, though, this is hardly a normal post-recession job market. For several years, average net job growth has averaged around 155,000 jobs per month for a given year. Even over the past several months, when we've received several good jobs reports, net job growth is still averaging below the level it needs to be at to keep up with population growth, meaning that we're technically still losing ground even while we're gaining jobs. Additionally, the long term unemployment rate remains stubbornly above 13% and labor force participation remains at historic lows, both signs that there are large segments of those who lost their jobs in the Great Recession who have simply given up. Even with the Unemployment Rate poised to dip below 7% for the first time since George W. Bush was President, it's rather apparent that we've still got a long way to go. Finally, one clue as to what might happen to people who end up losing their unemployment benefits and are unable to find work can be found in the fact that enrollment under Social Security Disability has risen over the past several years. While it's difficult to prove the hypothesis, there's been some suggestion that the chronic unemployment situation combined with SSDI's often fuzzy criteria for qualifying for benefits have combined be at least part of the cause of this increase. If that's true, then it's possible that cutting off extended unemployment benefits would just send the long-term unemployed into this and other programs as a way of supporting themselves and their families. That would just end up costing the Federal and State Government even more money than extending benefits another year would.
Intellectually, Senator Paul makes a compelling argument regarding the actual purpose of unemployment benefits and the incentives that repeatedly extending long-term benefits has the potential for creating. However, as Strain and Pethokouskis point out, these are hardly ordinary circumstances and its unclear what if anything else can be done for these people who continue to run headlong into a jobs market that is far from ideal and which, as Pethokouskis points out, may be permanently changing irrespective of the impact of the Great Recession. If there are other options, then Senator Paul should put his ideas forward. .