This is How Terrorism Works
Violence leads to irrational policy responses. Who does that help?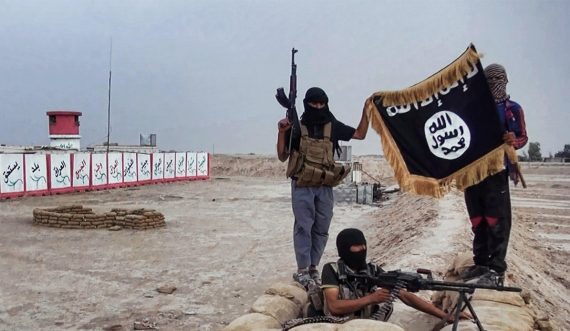 Group A perpetrates violence against civilians to create widespread fear and panic in population B.
Population B then reacts in various ways to that fear, including rejecting refugees fleeing other violence perpetrated by Group A.
Adam Taylor points out:
If Muslim refugees come to Europe and are welcomed, it deeply undercuts the Islamic State's legitimacy. Aaron Zelin, a fellow at the Washington Institute for Near East Policy, has helpfully catalogued some of the Islamic State's messages on the refugees pouring into Europe from the Middle East. The messages give the impression of deep discomfort and even jealousy that the Muslim population the Islamic State so covets for its self-proclaimed "caliphate" would rather live in "infidel" Western lands.
Also, the terror over the weekend is leading some US politicians to heighten anti-Muslim positions.
"There should be really thorough screening [of refugees coming to the U.S.] and we should focus on creating safe havens for refugees in Syria rather than bringing them all the way across to the United States," Bush said Monday on "CBS This Morning." "But I do think there is a special important need to make sure that Christians from Syria are being protected because they are being slaughtered in the country and but for us who? Who would take care of the number of Christians that right now are completely displaced?"
"We need to be working to provide a safe haven for those Christians who are being persecuted and facing genocide, and at the same time we shouldn't be letting terrorists into America,"
So here's the question:  who benefits from driving a greater wedge between the West and Muslims (or perpetrating the notion that the West is made up of "Crusaders")?  The message that Bush and Cruz are offering here is clear:  they value Christians more than Muslims.  This plays into the narrative of groups like ISIS.  Further, it undercuts western claims to value human rights.  Once we start talking in sectarian terms as to whom we will protect then the notion of human rights and values goes out the window.
When we panic and overreact, as a number of US governors have done, then it is one way by which the violence in Paris was a success from the terrorists' point of view.  Indeed by definition:  these actions are being undertaken as a result of fear, not out of a calm, reasoned approach to the situation.  So, like the title says:  this is how terrorism works.