This Reactionary Moment
Continuing the conversation from James Joyner's post.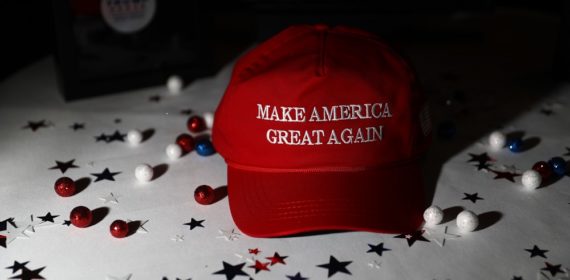 On my old, original, blog I used to use the tag line: "A rough draft of my thoughts." This post very much fits into that mold. It was inspired by James Joyner's post about a recent Andrew Sullivan column and started as a comment that clearly needed to be more than a comment. The post expresses a basic thesis about out current politics, but I acknowledge it is a thesis that could use additional development.
On several occasions over the last couple of years I have been prone to state, when people label Trump and the current Republican Party as "radical" that those are the wrong labels. Rather, I have long thought that the proper term is reactionary.
To wit (in simple terms):
Conservative politics is about mainly maintenance of the status quo with change being moderate, slow and considered. It worries about unintended consequences and sees human reason as limited.
Liberal politics are far more trusting of human reason and are dedicated to the notion that applied reason can lead to progressive change of the human condition.
Radicals and revolutionaries don't just want applied reason over time, they want change, and they want it now!
Reactionaries want change, but they want retrogressive change. They want to go back to some imagined, better, past.
In typical parlance, radicals/revolutionaries are on the left, then liberals, then conservatives, and reactionaries are on the right of the spectrum. This is not a perfect typology, but it is pretty standard and fits how most people use the terms in daily language.
And yes, there is a lot more to say about these labels, as well as their connections to contemporary politics and specific policy preferences. There is also a long discussion that could be had about their specific usages in American political vernacular over time. But, this is a blog post, not a book.
Not surprisingly, people with power tend to be conservative. People with less power are often liberal, and people who are losing power are often reactionary.
I do think we are in a reactionary moment, but not because the nasty left made the right go nuts. We are in a reactionary moment because of structural changes to society, the government, the economy.
Part of this moment was born in the Great Recession. The Tea Party movement, for example, emerged directly in response to the housing crisis and the commensurate contraction of the economy. But also there is a great deal of long-term damage done to certain sectors of the economy by globalization. There are also the the issues created by automation.
In terms of government, I think some of our current national angst is due to the fact that our institutions do a terrible job of actually representing public preferences. (As I have repeatedly noted). I think a lot of people feel this problem without knowing what it is, why it is, or how to fix it. All the while they are aware that something isn't working in DC and elsewhere.
Most significantly, however, I think this reactionary moment is about demographic change (the fact that the US is going only be plurality white, rather than majority white), and the expansion of rights of women, non-whites, and LBGTQ citizens. It is also about the erosion over the decades of the prominence of at least cultural Christianity are a dominant national philosophy.
Loss of power, real and perceived, brings reaction.
(Side note: I recognize that a lot of these groups and ideas still have a lot of power in the US–but the issue is about relative decline and not necessarily absolute decline).
And while "the libs" may have brought about some of this change, it is not "the libs" that reactionaries are reacting to, it is change itself. Or, more accurately, fear of that change and, most significantly of all, fear of loss of power.
Trump is absolutely a reactionary. He talks constantly about an imagined past, even if he doesn't fully use terms that immediately evoke the past. But, think about it: coal and steel are industries of the past. A vision of the middle class built on mid-west manufacturing jobs is straight out of stereotypical view of the 1950s. Trade wars? A world in which the US can just tell anyone what to do, and they have to do it? That is all from a worldview that is rooted in a simplistic version of the post-WWII world.
Even the ridiculousness-of-the-week, buying Greenland, is a callback to an imperialist era in which Great Powers treated the world like one big game of Risk. It is 19th Century mindset.
The whole talk about political correctness? It is about the ability of white men to say what they want, when they want, about non-whites and females. (Or, if you will, the notion that the Access Hollywood tape was just "locker room talk"–the idea that men, when they can be real men with other men regularly joke about sexual assault–and come on! it is just a joke!).
Look, "Make America Great Again" is an inherently reactionary slogan. It states that our best days were in the past and that we need to reclaim that past.
It cannot be forgotten that the evocation of the 1950s (whether directly or indirectly) is the evocation of a time period in which women were mostly in the home, gays were in the closet (or mental patients), and blacks were in their own schools, drinking from their own water fountains, and riding in the back of the bus. While any given Trump supporter may not pine for those specific things, the reality is what it is: only certain groups in 2019 can look back with pure nostalgia on the 1950s.
What is MAGA save for a look backwards? Even if the exact backwards is vague.
So, yes, we are in a reactionary moment. And I suppose you can blame liberals for pushing for equality in the areas of race, gender, and sexual orientation, but the reaction is due to loss of power, real and perceived, not because the liberals are being too mean.