Trumpism: A Photo Essay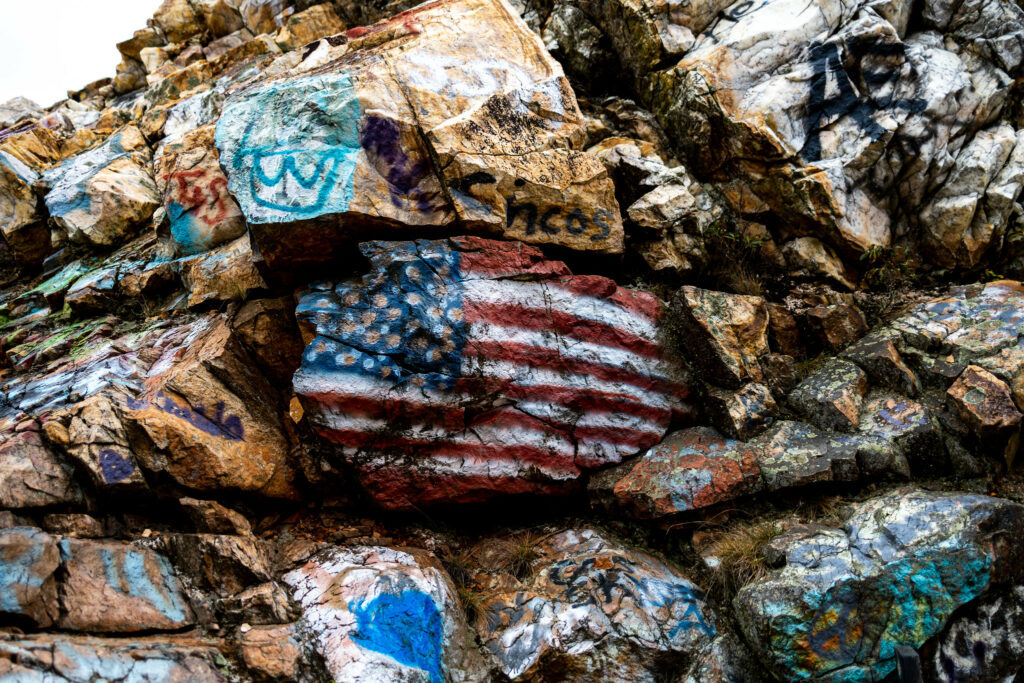 Over the last five years, we have spent a lot of time in northern/northeastern Georgia, southeastern Tennessee, and southwestern North Carolina–the area has become one of my favorites in the country, but I have also noticed (not surprisingly) that the area is rife with trumpistas. It is hardly unusual to see Confederate Battle Flags in rural parts of the southeast, and now they are also bespeckled with Trump flags and signs (in ways that no other candidate has inspired, in. my experience). I have taken a number of photos, although not as many as I would have liked (I already try my family's patience with my photography as it is, and I also expect that if I stopped to take shots at some of these out-of-the-way houses, I different type of shots might come back my way).
Here's an example from a snap out the car window that I took on December 30th near Black Rock Mountain State Park in northeastern Georgia that came to mind in relationship to two previous posts today (James Joyner's and mine).
The erasure of Pence from the sign (something I have seen before) is especially telling given the context of 1/6 and underscores how there are voters out there who take the lies about the election seriously and believe that Pence really could have (and, indeed, should have) overturned the electoral votes from GA, PA, et al.
The house with this yard sign was adorned with the following:
Look, the notion that a Trump supporter would want him back in 2024 is not out of the question. Although, the Schwartzeneggeresque slogan is likely not an accident. It also made me think of this, from near Blue Ridge, GA in July of 2020:
And yes, I know that image is a riff on Stalone, the whole action-movie imagery is consistent with the slogan above. It is also hard to take this kind of thing seriously, but nonetheless, the person who hung this barrier clearly did so unironically.
Here are some other examples from the summer of 2021. This is another car shot. The sign says "Jesus is my savior, Trump is my president."
Some other examples of pro-Trump symbolism from the GA/TN border. The declaration that a person voted for the other candidate is pretty standard, and while "not my president" has also been a bipartisan affair, its growth is not positive for our political culture.
The following are noteworthy, and I found the second one to be an interesting amalgam of Trumpism and American folk art.
There are numerous examples I have not had the chance to photograph, but one gets the idea.
I am no expert on political symbology, but I do find the coincidence of areas that have long flown the CSA Battle Flag to now be rife with pro-Trump symbols to be an interesting convergence of two different Lost Cause mythologies. There is also a significant linkage to various "way of life" mythologies (i.e., assertions of who "real" Americans are and how their ways of life are being threatened). And while these are all rural examples (which makes sense, given the way our parties cleave at the moment), I am sure one can find plenty of other examples outside that context (like the car I saw last summer in Charleston, SC flying the "Fuck Joe Biden" flag or the Oregon man who recently felt the need to declare "Let's Go Brandon" to Biden on Christmas Eve, of all times).
I think part of this is attributable to Trump's own genius (and yes, I mean that) at marketing (after all, the man had made a mint putting his name on things). As silly as I may think those red MAGA hats were, they were clearly smart marketing. The slogan "Make American Great Again" is hardly original was a marketing win. And whoever started selling Trump flags was also quite smart. People like flags.
Also, back to the Lost Causism of it all, I think that this is less about allegiance for Trump for Trump's sake as much as it is that Trump came along and fit a void that people previously filled with CSA Battel Flags. I am not even entirely sure what I mean by that at the moment save that I think Trump and MAGAism fit a need for reactionaries in America more than it is the case that Trump came and made a bunch of people into reactionaries. I further believe that it was undergirded and exacerbated by America's strict two-party system that forces voters into only one of two categories.
A lot of this is also linked very directly to the simple human impulse to join groups and how the sense of belonging to groups is suffused throughout our culture. Just consider how seriously many of us take our sports allegiances.
Indeed, I do think that there are some serious similarities between allegiance to sports and allegiance to parties–and would hypothesize that they have similar psychological roots (there is likely a dissertation to be written on this subject, assuming there hasn't already been). At a minimum, the allegiances in question both are often emotional and irrational (i.e, people often come to them not because they reasoned it out, but because of their family or other inputs. Certainly, a lot of the behavior exhibited by rabid partisans and sports fanatics are the same (from flying the colors to the level of "analysis" one finds on sportstalk radio and television as compared to most political talk, whether on TV or the radio). And, really, the behavior of people (even very smart, very serious ones) on social media on election night is not that different from what one finds during sporting events. While I am aware of the disjuncture in the importance of the two topics (the winner of the Super Bowl is less important than the winner of the Electoral College), I think that most people consume politics in a very similar way to how they consume sports.
At any rate, the above do show the mindsets of many–and I will endeavor in the future to be a bit more purposeful in photographically capturing more in the future.