Are Americans Over January 6?
A new poll offers mixed results.
The press release for a new Morning Consult poll claims that "The Republican Party's Image Has Recovered From the Fallout of Jan. 6." That strikes me as a very strained reading of said poll.
Senior reporter Eli Yokley tells us that,
Former President Donald Trump's efforts to overturn the 2020 presidential election — culminating in the deadly riot that sought to block Congress' certification of President Joe Biden's victory on Jan. 6 — marred voters' views on the state of the GOP and prompted questions about whether it could recover in the future.

A year later, Morning Consult trend data paints a clear picture: It has. There is no lasting stain on the Republican brand, and though most voters continue to blame Trump for the events as a congressional probe moves through his orbit and homes in on him, they do not appear ready to punish Republicans for the attack on American democracy.
Here's the first piece of evidence: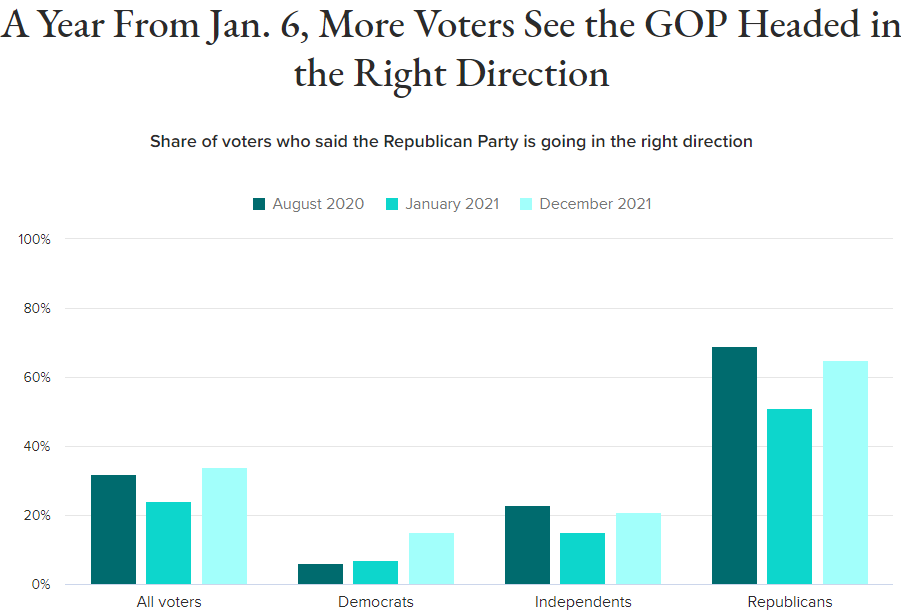 From this, Yokley surmises,
According to the latest data, gathered Dec. 18-20 among 2,000 registered voters ahead of the anniversary of the Jan. 6 attack, 34 percent say the Republican Party is headed in the right direction, matching voter optimism toward the Democratic Party's own tack. Though improvement was observed across the partisan aisle, it was most notable among Republicans, 65 percent of whom say their party is headed in the right direction — up 14 percentage points since January 2021.
First off, I'd say that the movement is negligible, especially when factoring in sampling error. (For the poll overall, it's 2%. It's higher for each sub-group.) Second, "going in the right direction" means different things to different people. Indeed, it almost certainly means opposite things to hard-core Democrats and Republicans.
Still, Yokley contends,
More voters have reason to believe that the GOP is on the right track given the conventional wisdom supporting their chances for midterm election victories, and as America gets further away from the Capitol attack, some of the improvements reflect voters' reactions to a year of full Democratic control of Washington and displeasure with Biden.

Since the weekend after the Capitol attack, for example, Trump has seen his unfavorability rating drop from 63 percent to 51 percent in a Morning Consult/Politico survey conducted Dec. 18-20. That poll found 44 percent of voters hold favorable views of the former president, higher than earlier in the year and similar to Biden's own standing.
Now, I must admit, that finding seems weird to me. But, as always, it's just a reminder of something OTBers know intellectually but constantly forget intuitively: the vast majority of Americans simply don't spend a lot of time thinking and reading about politics. If you're not paying attention, Trump is just some guy who used to be President a long time ago and has disappeared.
Beyond that, to the extent the likelihood of the GOP doing what one would expect historically—gaining seats in the midterms—is influencing public perception that it's "going in the right direction," the question itself is unhelpful.
Additionally, Yokley notes,
But there's another reason explaining the lack of a Jan. 6 stain on the GOP's record: Democrats are simply far more likely than other voters to think of the Capitol attack as a seismic event.
His evidence: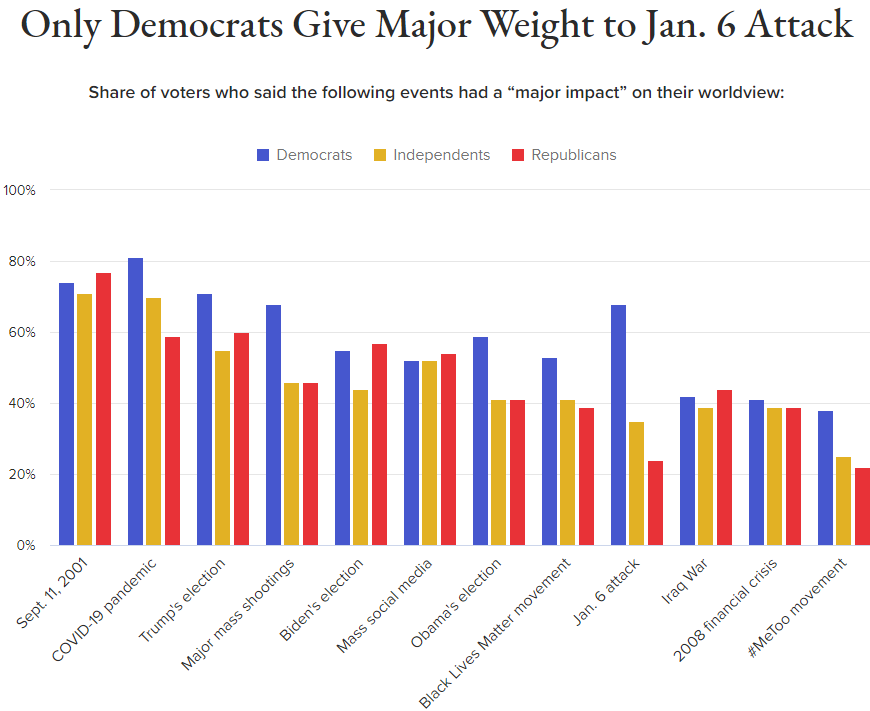 He summarizes,
Roughly 7 in 10 Democratic voters said the events of Jan. 6 had a "major impact" on their worldview, compared with about a quarter of Republicans and just over a third of independents.
I'm honestly not even sure what that's supposed to mean. I found the rioting shocking and the failure of the Republican establishment to stand up to it outrageous. But I don't know that it changed my worldview. If anything, it reinforced my decision to bolt from the party in 2016 and vote for the opposition.
Regardless, Yokley gleans this:
Trump's improved popularity, the modest declines among those who blame him and his allies in Congress for the Jan. 6 attack, and the recovering sentiment about the state of the Republican Party suggest the insurrection may be far from most voters' minds heading into the midterms.

Indeed, nearly half of voters (47 percent), including a similar share of independents, said they don't expect the events of last January to have any impact on their votes in November, even though two-thirds of voters say it's important for the federal government to investigate Jan. 6 and three-fifths support the idea of a congressional commission.
So, again, this seems to conflate a lot of things. Self-identified Democrats and Republicans are going to vote for their party's candidates absent something extraordinary (a particularly charismatic celebrity candidate, the nomination of a pedophile, etc.). If it's extraordinary enough, say the nomination of a Donald Trump, people may stop identifying with their former party.
While I would likely self-identify as an Independent on this, I'm effectively a Democrat in that it's now my going-in position. And, no, the Jan. 6 riot is unlikely to be top of mind in my midterm vote unless the Republicans nominate a candidate who was directly involved or who advocates for more of the same. The riot is baked in at this point, not a separate decision factor.
As to the commission: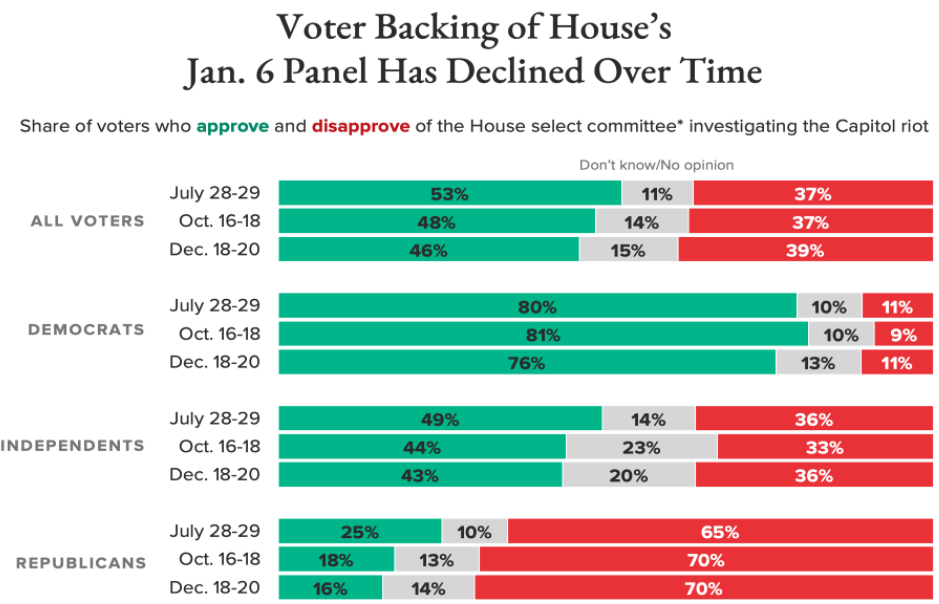 Yokley observes,
Since July, the share of voters who say they approve of the select committee has fallen 7 points to 46 percent, fueled by declining support among Democrats, independents and Republicans, all of whom have become more likely to express uncertainty about an investigation that has often failed to capture their attention on a large scale. And as the House panel continues to pursue documents and witness testimony, roughly 2 in 5 Democrats and independents say its investigation is moving too slowly.

Overall, the trends signal a weariness verging on disinterest in the Jan. 6 Capitol attack one year later, as the midterm elections inch closer and Republicans at all levels of government continue to telegraph their intent to challenge the legitimacy of future electoral contests.
The disapproval numbers have held steady, well within the margin of sampling error. And, frankly, the approval numbers haven't moved all that much, either: Democrats still overwhelmingly support it, Republicans still overwhelmingly oppose it, and Independents are still Meh. To the extent the survey differences are capturing meaningful shifts in opinion, they're both slight and likely to be a function of the drip-drip-drip nature of them thus far producing little in the way of new insights. Then again, they're not over.