Time To Pull Out Of Afghanistan
Nine years into a war that seems to be without end, it's time to declare victory and go home.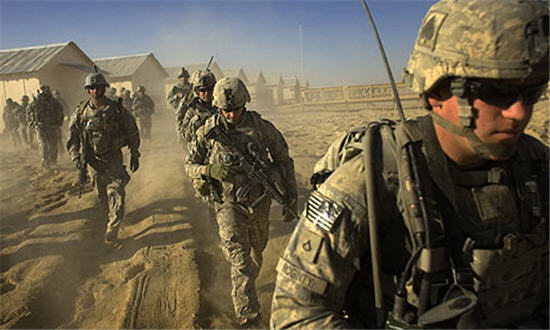 Today, The New York Times reports that the United States has begin to withdraw from an Afghan valley that, only six months ago, it was describing as crucial to victory:
KABUL, Afghanistan — After years of fighting for control of a prominent valley in the rugged mountains of eastern Afghanistan, the United States military has begun to pull back most of its forces from ground it once insisted was central to the campaign against the Taliban and Al Qaeda.

The withdrawal from the Pech Valley, a remote region in Kunar Province, formally began on Feb. 15. The military projects that it will last about two months, part of a shift of Western forces to the province's more populated areas. Afghan units will remain in the valley, a test of their military readiness.

While American officials say the withdrawal matches the latest counterinsurgency doctrine's emphasis on protecting Afghan civilians, Afghan officials worry that the shift of troops amounts to an abandonment of territory where multiple insurgent groups are well established, an area that Afghans fear they may not be ready to defend on their own.

And it is an emotional issue for American troops, who fear that their service and sacrifices could be squandered. At least 103 American soldiers have died in or near the valley's maze of steep gullies and soaring peaks, according to a count by The New York Times, and many times more have been wounded, often severely.

Military officials say they are sensitive to those perceptions. "People say, 'You are coming out of the Pech'; I prefer to look at it as realigning to provide better security for the Afghan people," said Maj. Gen. John F. Campbell, the commander for eastern Afghanistan. "I don't want the impression we're abandoning the Pech."

The reorganization, which follows the complete Afghan and American withdrawals from isolated outposts in nearby Nuristan Province and the Korangal Valley, runs the risk of providing the Taliban with an opportunity to claim success and raises questions about the latest strategy guiding the war.

American officials say their logic is simple and compelling: the valley consumed resources disproportionate with its importance; those forces could be deployed in other areas; and there are not enough troops to win decisively in the Pech Valley in any case.

"If you continue to stay with the status quo, where will you be a year from now?" General Campbell said. "I would tell you that there are places where we'll continue to build up security and it leads to development and better governance, but there are some areas that are not ready for that, and I've got to use the forces where they can do the most good.
Sounds like smart military strategy under the circumstances, the problem is that it's an argument that could, and should be applied to the entirety of the entire Afghanistan situation at this point:
Vice President Biden said in Afghanistan last month that "we are not leaving if you don't want us to leave." At the NATO summit in Lisbon, the president said that we're in Afghanistan for at least four more years.

But for what? Why do we need to sacrifice more American lives? Why must we continue to align ourselves with a government that commits fraud in elections? Instead, why aren't we using all our resources to go after the terrorists that murdered so many of our civilians on Sept. 11, 2001?

What are we giving up to maintain the status quo? Columbia University professor Joseph Stiglitz told the House Veterans Affairs Committee in September that the costs of Iraq and Afghanistan, including interest payments on the money borrowed for these wars and care for our wounded soldiers and veterans, is likely to total $4 trillion to $6 trillion.

Simply put, we believe the human and financial costs of the war are unacceptable and unsustainable. It is bankrupting us. The United States should devise an exit plan to extricate ourselves from Afghanistan, not a plan to stay there four more years and "then we'll see." This doesn't mean that we abandon the Afghan people – rather, we should abandon this war strategy. It is a failure that has not brought stability to Afghanistan and has not enhanced our own security. As the retired career Army officer Andrew J. Bacevich has written, to die for a mystique is the wrong policy.

It is easier for politicians to "go along" rather than make waves. But we were elected to do the right thing, not what is politically expedient. The discussion of Afghanistan shouldn't be about politics, which we acknowledge are difficult, but what is right for our country. And the right thing is to end this war.
The above quote comes from an Op-Ed by Democratic Congressman James McGovern and Republican Congressman Walter Jones, and they're absolutely right. We entered Afghanistan with one mission; to crush al Qaeda and it's sponsors the Taliban. For the most part, that mission was accomplished in relatively short order. The Taliban Government collapsed within weeks, and those members of al Qaeda who weren't captured or killed in the initial months of fighting quickly scattered elsewhere, most to Pakistan where they are protected by Intelligence and Army officials of the nation that is supposed to be our ally in this "war on terror." In fact, it's fairly clear that the Bush Administration's obsession in the years after 9/11 with attacking Iraq, a nation that had nothing to do with the terror attacks that killed 3,000 of our citizens, diverted both attention and resources from the hunt for al Qaeda members. Perhaps if we hadn't engaged in a hasty, foolish, and mistaken military adventure in Iraq, we would've been able to crush toe remaining elements of al Qaeda before the scattered to the four winds.
Our mission in Afghanistan today, though, has nothing to do with al Qaeda and everything to do with propping up a corrupt government led by a man who very clearly cheated his way through the last two national elections. We've said that U.S. troops would start to leave the country this year. Then that deadline was pushed back to 2014. Now, it seems like the commitment is entirely open ended. All of this despite the fact that public support for the war itself is at an all-time low. The American people want us to leave. The Afghan people aren't even sure why we're there. And, there is absolutely no sign that the Karzai government will be any more stable or popular with the Afghan people three years from now than it is today. It's time to end this foolish crusade before we end up regretting as much as the Soviets came to regret their own misadventure in the Hindu Kush.