Todd Akin Believes Doctors Give Abortions To Women Who Aren't Pregnant
Seriously, how did this guy ever get elected to Congress?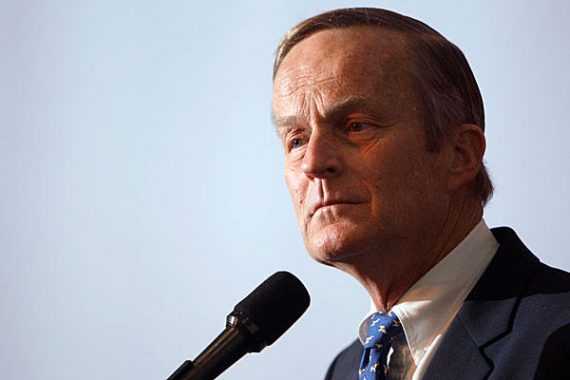 Todd Akin's comments about rape aren't the only bizarre thing that he's said about reproductive issues: 
Washington, D.C. — In a speech on the House floor in 2008, Rep. Todd Akin said doctors give "abortions to women who are not actually pregnant."

"You find that along with the culture of death go all kinds of other law-breaking: Not following good sanitary procedure, giving abortions to women who are not actually pregnant, cheating on taxes, all these kinds of things," Akin said in the speech, as captured on C-SPAN.

"All of these things are common practice," Akin continued, "but all of that information is available for America."

A C-SPAN video of the speech was uncovered Tuesday by Slate.

In the clip, Akin also compares abortion to slavery.

"There will be a day — just as there is today, where people say, 'Who would ever support slavery?'" Akin said. "In the future, there will be a day when men
Here's the video:
Seriously, how did this guy ever get elected to Congress?
UPDATE (James Joyner): While I don't dispute Doug's implicit conclusion, that Akin is a Grade A moron, this particular indiscretion is a case of bad wording rather than an example of his lack of understanding of basic biology.
New York's Dan Amira ("Why Todd Akin Warned of Doctors Who Perform Abortions on Women Who Aren't Even Pregnant")  is almost certainly right about what Akin meant:
The accusation may seem bizarre, but we think we know what Akin is alluding to: There probably have been some abortion doctors who tell patients that they are pregnant just so they can make some money off of a phony abortion. A little Googling finds this 1989 Chicago Tribune story about Arnold Bickham, for example:
The license revocation was the second time Bickham had lost his license for wrongdoing. In 1979, the state suspended his license for 18 months after charging that he performed abortions on women who were not pregnant and sometimes not fully under anesthesia.
So, there. It has happened. Just like your other doctors may prescribe you medications you don't necessarily need or offer expensive procedures you could do without. Hell, just like your mechanic might tell you might need a new "Johnson rod" when that doesn't even exist.
Obviously, one can't perform an abortion on a woman who's not pregnant. But one can tell a woman who think she's pregnant that she's right, perform some sort of procedure that she thinks is an abortion, and then charge her for one. It has, apparently, happened. No, it's not commonplace or a particularly useful argument against legal abortion.