Torture Creep?
The defense of torture as an extreme measure for extraordinary circumstances has evolved.tortu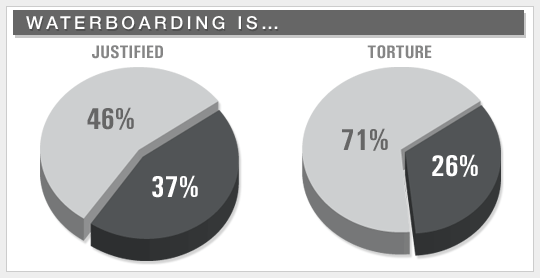 Andrew Sullivan observes,
Remember the days when Republicans only defended torture in the case of a ticking time bomb? Funny how now the debate on the right has moved – so quickly and without any evidence – to defending torture as a permanent policy to find small nuggets of information that could help in developing leads in anti-terrorism work. Those of us who warned of such slippery slopes are vindicated. And that the capture and killing of Osama bin Laden should immediately prompt unfounded Republican celebrations of torture reveals how morally degraded the discourse has become after the despicable policies of Bush and Cheney.
While Andrew and I are on the same side on the torture issue, he's mistaken in politicizing this. The truth of the matter is that he and I are in a distinct minority on this one.
A 2005 AP-Ipsos poll found that 61 percent of Americans "agreed torture is justified at least on rare occasions."
An April 2009 CBS-NYT poll found 62 percent opposed to congress holding hearings on the Bush administration's treatment of detainees. Indeed, the same poll found that, while 71 percent believed that waterboarding is torture, a 46 percent plurality thought it was justified! (See graphic at top.)
A June 2009 AP-GfK poll found that support for torture had actually increased since their 2005 survey, with 52 percent saying "torture can be at least sometimes justified to obtain information about terrorist activities from suspects," up from 39 percent four years earlier.
It's true that Republicans are more supportive than Democrats. Partly, that's a legitimate function of ideology. Mostly, though, it's a function of supporting one's team and the fact that a Republican administration had made the call to implement those policies.
But it's fair to point out that, for all the Bush administration's public bluster on the issue, the use of "enhanced interrogation" and all the rest was extremely limited–used only a handful of times and limited to the biggest targets–and had long since ceased as a tool by the time the Obama team took over. And, despite all of Obama's bravado on the matter, he has kept the Bush policies he inherited intact. In some cases, he's doubled down on them.
As I've noted many times over the years, I formed my attitudes on torture, prisoner treatment, and the like more than a quarter century ago as a Plebe at West Point. The teachings on the law of war and the code of conduct of professional soldiers were sacrosanct: It was simply a point of honor that warriors safeguarded non-combatants and adhered to the conventions, even at risk to themselves. How and why that ethic disappeared so quickly is a mystery to me.  But it's not a Republican/Democrat thing.