The Amorality Of Dick Cheney And The Right In Response To The Truth About C.I.A. Torture
Vice-President Cheney's amoral defense of torture has come to define how most conservatives view the issue, and that's a problem.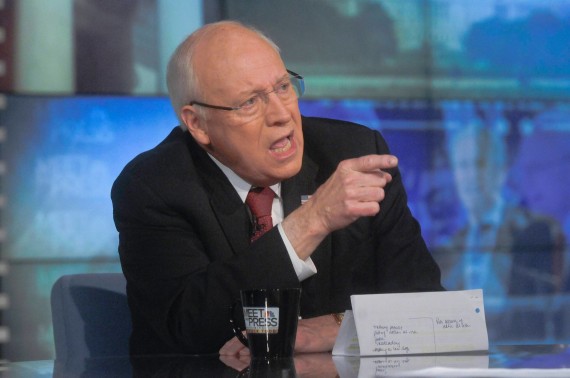 Yesterday, former Vice-President Dick Cheney appeared on Meet The Press in what was described as an "exclusive" interview regarding the release last week of the Senate Intelligence Committee's report on the CIA's Bush-era torture regime. By the time the interview was over, one had to wonder what the point of the interview was because, as he had in the past, Cheney expressed no regrets at all for what the Central Intelligence Agency had done in the wake of the September 11th attacks, with the approval of the Bush Administration, nor was he willing to admit that the Administration he was a part of might have gotten anything wrong:
As vice president, Dick Cheney was the most enthusiastic sponsor for the brutal C.I.A. interrogation program used on Al Qaeda suspects, protesting when President George W. Bush scaled it back in his second term. Now that a Senate Intelligence Committee report has declared that the C.I.A.'s methods, later prohibited, violated American values and produced little or no useful intelligence, Mr. Cheney is fiercely defending not just the agency's record, but his own as well.

"I would do it again in a minute," Mr. Cheney said in a spirited, emotional appearance Sunday on NBC's "Meet the Press." He denied that waterboarding and related interrogation tactics were torture, noting that three of the last four attorneys general have agreed with his view.

"Torture is what the Al Qaeda terrorists did to 3,000 Americans on 9/11," Mr. Cheney said in his latest interview defending the C.I.A. program. "There is no comparison between that and what we did with respect to enhanced interrogation."

The NBC host, Chuck Todd, pressed Mr. Cheney on what might constitute torture, reading actual episodes from the Senate report: Holding a prisoner in a coffin-sized box for 11 days? Handcuffing a prisoner's wrists to an overhead bar for 22 hours a day? But Mr. Cheney gave no ground.

"I can't tell from that specifically whether it was or not," he replied.

He even declined to criticize C.I.A. practices used on prisoners called "rectal feeding" and "rectal rehydration," though he noted that "it was not one of the techniques approved" by the Justice Department. "I believe it was done for medical reasons," he said. The Senate report suggests that it was largely used without medical orders to punish prisoners who refused water or food.

In a sense, Mr. Cheney is continuing a fight that began inside the Bush administration, defending his own role in the first Bush term against the retreat from the most aggressive methods in the second term.

At 73, nearly three years after a heart transplant, Mr. Cheney clearly feels his own legacy is at stake.

In the early months after the terrorist attacks of September 11, 2001, President Bush delegated the detailed oversight of the campaign against Al Qaeda to his vice president, who embraced the task and urged the harshest measures. Mr. Cheney had long believed that restrictions placed on the intelligence agencies after scandals in the late 1970s were ill-advised, and he relished the chance to take the restraints off the C.I.A.

Mr. Cheney may be running some political risk. For some viewers, his gloves-off comments on "Meet the Press" may recall his many appearances being interviewed on Sunday morning television shows in late 2002 and early 2003 before the invasion of Iraq.

At that time, he repeatedly asserted that Saddam Hussein had weapons of mass destruction and ties to Al Qaeda, claims that turned out to be false. He also made a famously inaccurate prediction on the same show, "Meet the Press," on March 16, 2003, that American troops would be "greeted as liberators."

Continue reading the main story
But that experience has not deterred him. In the wake of the Senate report, he has only stepped up his defense of the C.I.A., deciding that the best defense is a relentless offense.

Mr. Cheney was also asked on Sunday to answer questions about detainees who had faced lengthy incarceration, and sometimes harsh treatment, even though the C.I.A. concluded they posed no terrorist threat or had been imprisoned by mistake. The Senate report counts at least 26 such "wrongfully detained" prisoners among the 119 detainees who passed through the C.I.A. secret overseas jails.

The former vice president responded that, in his mind, the greater problem was "with the folks that we did release that end up back on the battlefield."

Asked again whether he was satisfied with a program that erroneously locked up detainees, he replied, "I have no problem as long as we achieve our objective."
A report published in The New York Times late last week estimated that as many as 26 people who were held in C.I.A. custody, both at the prison at Guantanamo Bay and at one of the several C.I.A. "black sites" located around the world in nations ranging from Egypt to Poland were in fact held in error and that a large number of those were subjected to at least some form of the "enhanced interrogation techniques," a fact for which Andrew Sullivan labels the former Vice-President a sociopath:
What I take from these statements is that the torture program was, for Cheney, partly an amateur thug's idea of how you get intelligence, but partly also simply a means of revenge. Yes: revenge. This was a torture program set up in order to vent rage and inflict revenge. It was torture designed to be as brutal to terror suspects as 19 men on 9/11 were to Americans. Tit-for-tat. Our torture in return for their torture; their innocent victims in return for ours. It was a program that has no place in a civilized society.

He was then asked about the 26 people whom the CIA admits were tortured by mistake. One of them was even frozen to death. A sane and rational and decent human being, who presided over the program that did this, might say: "The decision to torture was an extremely agonizing one, but I still believe defensible. But of course the torture of innocent people is horrifying. I deeply regret the chaos and amateurism of the program in its early phases."

So what did Cheney actually say? When confronted with the instance of Rahman Gul, the individual tortured to death, Todd asked what the US owed these torture victims. Cheney actually said this:

The problem I have is with all the folks we did release who ended up on the battlefield … I have no problem [with torturing innocent people] as long as we achieved our objective.

It doesn't get any clearer than that. The man is a sociopath. He is a disgrace to his country. And he needs to be brought to justice.
Conor Friedersdorf, meanwhile, goes into much further detail in his criticism of Cheney and what he correctly sees as Cheney's insidious moral relativism:
Once 9/11 happened, Dick Cheney ceased to believe that the CIA should be subject to the U.S. Constitution, statutes passed by Congress, international treaties, or moral prohibitions against torture. Those standards would be cast aside. In their place, moral relativism would reign. Any action undertaken by the United States would be subject to this test: Is it morally equivalent to what al-Qaeda did on 9/11? Is it as bad as murdering roughly 3,000 innocent people? If not, then no one should criticize it, let alone investigate, charge and prosecute the CIA. Did a prisoner freeze to death? Were others anally raped? Well, what if they were?

If it cannot be compared with 9/11, if it is not morally equivalent, then it should not be verboten.

That is the moral standard Cheney is unabashedly invoking on national television. He doesn't want the United States to honor norms against torture. He doesn't want us to abide by the Ten Commandments, or to live up to the values in the Declaration of Independence, or to be restrained by the text of the Constitution. Instead, Cheney would have us take al-Qaeda as our moral and legal measuring stick. Did America torture dozens of innocents? So what. 9/11 was worse.

Now that Cheney is stating all this explicitly it must be rejected as moral madness. Torture was the ticking time bomb. It exploded. And a city on a hill was destroyed.
It's not surprising, of course, that Sullivan and Friedersdorf would be this critical of the former Vice-President's defense of the C.I.A.'s torture program given that it mirrors what they and others have been saying about the Bush era for years now. Notwithstanding that fact, though, the points that they raise are absolutely correct. Cheney's defense of the torture regime even to the point of defending the torture of people known later to be innocent reveals a man who is so obsessed with defending a record that he had a prominent role in creating that he has completely lost whatever moral compass he may have had in the past. Of all the former members that have spoken publicly since the report was released, as well as in the years since President Bush left office, it is Cheney alone who has stood out as the person who insists not only that the techniques that the C.I.A. was using in an effort to obtain information from known terrorists necessary under the circumstances, he argues that they were some kind of moral good that ought to be celebrated. Even John Yoo, who authored the legal briefs upon which President Bush based his decision to authorize the C.I.A. to engage in so-called "EIT's" as the legal memorandums were always careful to call what ended up amounting to torture, has said in recent days that many of the techniques outlined in the Senate Committee Report appear to have crossed the line beyond what he had in mind when he analyzed the issue for the President, or what the President intended when he signed off on the program. President Bush himself has not commented on the report, but his past comments on C.I.A. program and his decision to authorize it have always at least given the sense that he realized the moral implications of his decisions, of course the fact that the President was apparently kept in the dark about the details of the program for years makes it hard to judge exactly what he thought about it while it was going on.
Cheney, though, has no moral regrets about the program, and to a large degree it is Cheney's amorality that has come to embody what the right believes about the torture program. Watch a few minutes of coverage of this story on Fox News, listen to talk radio, or read many of the sites in the conservative blogosphere, each of which I've done to some extent in the week since the report came out in an effort to get some understanding of what conservatives, who claim to be guided by the morality of Jesus of Nazareth, think about what was done in the name of the United States of America, and you'll find the same amorality that Cheney displays in this interview. The ends justify the means, they will tell you, because the nation was at risk after September 11th, and evidence that these techniques didn't actually result in any actionable intelligence will be dismissed and ignored. Others will bring up the inevitable "ticking time bomb" scenario where someone would be subjected to such techniques to gain information about a terror attack known to be imminent or underway, even though there is no evidence of any such scenario unfolding at any point in the thirteen years since the September 11th attacks. Point out that torture is a violation of human rights, domestic law, and international treaties to which the United States is a signatory and the response will typically be that such concerns should not apply when we're trying to "protect the homeland," while others will blithely say that terrorists in particular, or even Muslims in general, don't have rights under the U.S. Constitution because they are allegedly seeking to destroy the West. Look for any sense of regret about what was done, and instead you'll often find what you see in the former Vice-President, not only a refusal to acknowledge that there could have possibly been anything wrong with waterboarding, forcing people to stand naked in a room for hours on end, or "feeding" them rectally, but some sense of pride that it was done at all. For a movement that claims to place morality and religious faith at the center of its philosophy, it's a striking and, quite honestly, repulsive thing to see. Perhaps the best thing about the fact that this report has become public, finally, is that it is bringing the existence of such amorality to light. The question is why anyone would give people who hold such views political power ever again.