Tribe on SCOTUS and the PPACA
Predicting (after a fashion) what the SCOTUS will do with the PPACA and a return to the Commerce Clause and the activity/inactivity disucssion.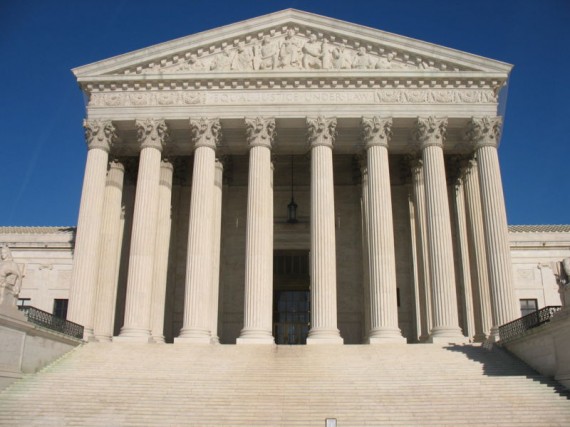 Harvard Law Professor Lawrence Tribe does a little prognosticating about the likely behavior of the Justices of the Supreme Court regarding the seemingly inevitable collision between the Nine Robed Ones and the PPACA (aka "Obamacare"):  On Health Care, Justice Will Prevail.  While he does not provide a actual prediction, he basically suggests an 8-1 ruling (something OTB's own Alex Knapp has stated on multiple occasions).
In regards to Scalia in particular:
Justice Antonin Scalia, whom some count as a certain vote against the law, upheld in 2005 Congress's power to punish those growing marijuana for their own medical use; a ban on homegrown marijuana, he reasoned, might be deemed "necessary and proper" to effectively enforce broader federal regulation of nationwide drug markets. To imagine Justice Scalia would abandon that fundamental understanding of the Constitution's necessary and proper clause because he was appointed by a Republican president is to insult both his intellect and his integrity.
The one against is likely to be Thomas:
If Justice Clarence Thomas can be counted a nearly sure vote against the health care law, the only reason is that he alone has publicly and repeatedly stressed his principled disagreement with the whole line of post-1937 cases that interpret Congress's commerce power broadly.
These evaluations seem extremely reasonable, as do his assessments of Kennedy, Roberts and Alito (the piece seems to assume it likely, as do I , that Breyer, Sotomayor, Ginsburg and Kagan will vote to uphold).
The more I have thought and read about this entire situation I find myself more and more convinced that the following is true:  Congress has the Constitutional power to regulate health insurance and that the activity/inactivity argument is simply incorrect.
In regards to the commerce clause and health insurance, let me quote the Constitution:
Section. 8.

The Congress shall have Power…

To regulate Commerce with foreign Nations, and among the several States, and with the Indian Tribes;
Now, if we just take the words on the page, we have Congress having the power to regulate commerce among the several states.  Health care and health insurance are both in the category of "commerce" and it is commerce that crosses state boundaries.  I am left with no other logical conclusion* that, therefore, Congress has the power to regulate heath care and health insurance regardless of whether I like the PPACA or not.
In regards to the activity/inactivity issue, as I noted the other day, it seems to me that the decision to forgo the acquisition of health insurance is not a null act without consequences but, rather, is a type of activity because it is a choice within a broader,existing system.
Tribe's description of this is better than the one I wrote the other day, so I will provide it here:
This distinction is illusory. Individuals who don't purchase insurance they can afford have made a choice to take a free ride on the health care system. They know that if they need emergency-room care that they can't pay for, the public will pick up the tab. This conscious choice carries serious economic consequences for the national health care market, which makes it a proper subject for federal regulation.
Again, setting aside one's policy preference for the PPACA, it is unclear to me what the argument is that Congress does not have the constitutional power to establish the rules regulating a system of commerce that we are all part of by dint of the fact that we live in the boundaries of the United States.  One cannot opt out of the health care system, insofar as doctors have ethical responsibilities to treat any injured person that shows up at a hospital.  Even if I was intending never to avail myself of emergency room services on moral ground, if I am knocked unconscious in a care accident, I am going to get treatment and someone else is going to pay for it if I have no insurance and lack funds in the bank to cover the bill.
Like former Reagan Solicitor General Charles Fried, I find it impossible to read John Marshall's opinions in McCulloch v. Maryland (1819) and Gibbons v. Ogden (1824) and not come away with the same conclusion:  "I am quite sure that the health care mandate is constitutional." And, again, it strikes me that such a conclusion comes from a simple and plain reading of the Commerce Clause itself.  Indeed, to come to another conclusion requires reading more in to the words than is on the page.
I am not a passionate supporter of the bill (although I confess to some lukewarm endorsement at this stage of the game) and I can fully understand policy preferences in opposition to it.  What I cannot figure out, however, is an argument against the bill that is strictly constitutional in its basis.  And, for that reason, I am with Tribe:  it is difficult seeing the Court overturning the bill.
Still, we shall see.
Ultimately this whole discussion strikes me as properly a political one,** and it was one that was settled (after many decades of political debate) by a constellation of political circumstances and that any real reversal has to also come via the political process/
*No doubt, some commenters will disagree.  I am sincerely curious how one can take the plain  language and reach a different conclusion.
**By which I mean campaigns, elections, and the resultant partisan control at sufficient levels in the House, Senate and White House.