Trump Announces He Will 'Leave His Business,' But Provides Few Details
Donald Trump says he will 'leave his business,' but is providing very few details and continuing to leave the impression that he will enter office with more conflicts of interest than any previous President in American history.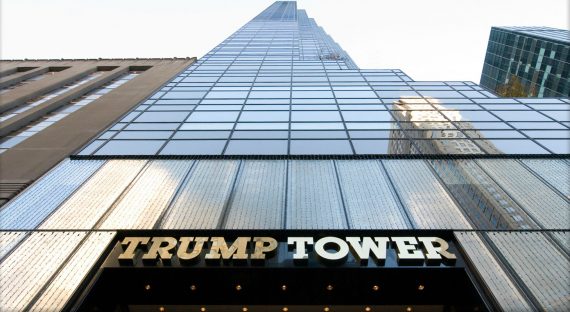 In a series of early morning tweets, Donald Trump has said that he will "leave his business" prior to assuming the Presidency on January 20th:
President-elect Donald J. Trump tweeted Wednesday morning that he would soon leave his "great business in total" to focus on the presidency, a response to growing worries over the businessman-in-chief's conflicts of interest around the globe.

The announcement marks a turn from Trump's months-long refusal to distance himself from his private business while holding the highest public office.

But it remained unclear whether the new arrangement would include a full sale of Trump's stake or, as he has offered before, a ceding of company management to his children, which ethics advisors have said would not resolve worries that the business could still influence his decisions in the Oval Office.

"I will be holding a major news conference in New York City with my children on December 15 to discuss the fact that I will be leaving my great business in total in order to fully focus on running the country in order to MAKE AMERICA GREAT AGAIN!" Trump tweeted.

"While I am not mandated to do this under the law, I feel it is visually important, as President, to in no way have a conflict of interest with my various businesses. Hence, legal documents are being crafted which take me completely out of business operations. The Presidency is a far more important task!"

Presidents are not bound by the strict conflict-of-interest laws governing most U.S. elected officials. But most modern presidents have agreed to sell or sequester their assets in a "blind trust," led by an independent manager with supreme control, in order to keep past business deals, investments and relationships from influencing their White House term.

Giving company management to his children — Donald Jr., Eric and Ivanka — would still leave open the potential for Trump to make presidential decisions for their benefit. The children have already played a key part in Trump's governing preparations, serving on the transition team now selecting key appointees and sitting in on meetings with foreign heads of state.

Trump spokespeople did not immediately return request for more details on the move. But Richard Painter, chief White House ethics lawyer under President George W. Bush, said the move did not appear to offer enough of a division to keep entanglement worries at bay.

"That's business operations, not ownership. The problem is, we need to resolve the conflicts of interest that arise from his ownership. And we're hearing nothing about how that's getting resolved," Painter said.

"Even if he does not operate the businesses, you're going to have lots of people working for the business running around the world trying to cut deals," Painter added. "And it's critical that none of those people discuss U.S. business in a way that could be interpreted, or misinterpreted, of offering quid pro quo … or soliciting a bribe on the part of the president."
Here are Trump's Tweets from this morning:
great business in total in order to fully focus on running the country in order to MAKE AMERICA GREAT AGAIN! While I am not mandated to ….

— Donald J. Trump (@realDonaldTrump) November 30, 2016
do this under the law, I feel it is visually important, as President, to in no way have a conflict of interest with my various businesses..

— Donald J. Trump (@realDonaldTrump) November 30, 2016
Hence, legal documents are being crafted which take me completely out of business operations. The Presidency is a far more important task!

— Donald J. Trump (@realDonaldTrump) November 30, 2016
There are obviously a whole host of questions that abound in the wake of this announcement, most of which cannot be answered until we know for sure what exactly it is that Trump has in mind for the future operation of the conglomeration of corporations, limited liability companies, and general and limited partnerships that make up the umbrella organization known as The Trump Organization. Is Trump going to sell his interest in the businesses to his children, for example, or is he going to retain his ownership interest and merely turn over management and control to a third-party? If it's the second option, then who is going to assume operation of the companies for the next four or eight years while he is President? Until these and other questions are answered, it will be impossible to say for sure if the moves Trump is taking will be sufficient to deal with the myriad conflicts of interest he would face upon becoming President of the United States.
For months now, Trump has said that the most likely outcome would be that his three oldest children, each of whom is already involved in running the company in some respect, would take over his roles and it now appears that it would be his daughter Ivanka who would become the primary face of the company. The problem with this arrangement is rather obvious. The idea that there would really be much of a barrier between President Donald Trump and the operation of his businesses is simply absurd. As it stands, Ivanka and the rest of the children with the exception of his youngest son have been deeply involved in both the campaign and the transition while continuing in their jobs at The Trump Organization. During that time it's been hard to tell the difference between their roles as advisers to their father on a political level and their jobs at The Trump Organization. For example, when Trump met with the Prime Minister of Japan earlier this month, Ivanka Trump sat in on the meetings. Additionally, shortly after winning the Presidential election on November 8th, Trump met with a group of Indian businessmen involved in a project that The Trump Organization has undertaken in that country. Earlier in the month, when he took a courtesy call from the Prime Minister of India, Trump reportedly mentioned problems that the project was having obtaining cooperation from government officials, thus making it unclear where he saw his roles as President-Elect and owner and Chairman of The Trump Organization divided themselves and potentially creating the impression that the way to curry favor with a Trump Presidency in the future will be to give special accommodation to Trump and his business interests around the globe. The idea that a reorganization where Trump hands over operation of The Trump Organization to his children will sufficiently alleviate the rather obvious conflicts of interest that he will be entering office with, therefore, is rather silly.
Even if Trump were to bring someone in from outside the Trump family to run his companies, the conflict of interest problems will continue to exist if Trump retains his ownership interest in the companies. As principal owner of The Trump Organization, Trump receives obvious benefits from the successes of the various businesses that the company operations through, and suffers losses if the Organization suffers losses. Given that he's been operating this business for some three decades now, it's obvious that he knows what assets the company holds, where it has business operations around the world, and what projects it is undertaking. This is the precise opposite of the kind of "blind trust" that previous Presidents, including George H.W. and George W. Bush and President Obama, have placed their investment and other income-producing assets during the time they served as President. If Trump knows how his decisions as President will impact his interests as an owner of The Trump Organization and whoever is running The Trump Organization will have a fairly good idea of how their decisions will impact the personal fortune of the President of the United States. The same will be true of foreign governments and businesses seeking to curry favor with the American government, many of whom will assume, rightly or wrongly, that the way to get what they want is to bend over backward to give breaks to Trump-branded businesses even though Trump himself isn't the one making the deals.
Trump faces another legal problem if he retains his ownership interest in The Trump Organization after becoming President, and it involves the hotel his company is on the verge of opening just a few blocks away from the White House:
Among Donald Trump's many potential conflicts of interest, one stands out: His organization's lease with the federal government to redevelop and run a luxury hotel in the iconic Old Post Office building on Pennsylvania Avenue between the White House and the Capitol.

How, critics wondered, could President Trump become his own landlord?

Now comes a new twist: Two federal procurement experts are arguing that not only will Trump have an ethics challenge — he will be in violation of the terms of the lease as soon as he takes the oath of office.

Steven L. Schooner, a professor of government procurement law at the George Washington University Law School, and Daniel I. Gordon, a senior advisor to GW's Government Procurement Law Program (and President Obama's first administrator for federal procurement policy) pointed out this week in Government Executive magazine that a provision in Trump's lease with the General Services Administration states that "No … elected official of the Government of the United States … shall be admitted to any share or part of this Lease, or to any benefit that may arise therefrom…"

"To protect the integrity of the federal government's procurement process, GSA must end its lease arrangement with President-elect Trump now," the experts argue.

The GSA, which runs federal government real estate, declined to discuss the specifics when contacted by NBC News.

"GSA plans to coordinate with the President-elect's team to address any issues that may be related to the Old Post Office building," spokeswoman Renee Kelly said in a statement.

"GSA ran a fair and open competition, subject to careful and rigorous review, which resulted in the selection of the Trump Organization as the preferred private sector entity to redevelop the Old Post Office. GSA negotiated a lease with the Trump Organization and submitted the details to Congress prior to signing the lease in August 2013," Kelly added.

The federal conflicts of interest law prohibits government officials from using their governmental authority in ways that will help their financial interests, but that law does not apply to the president.

Trump has dismissed concerns about his business ties, telling the New York Times, "The president can't have a conflict of interest."

But whatever the law says, the lease is clear, Schooner and Gordon say.

"The language could not be any more specific or clear," they write, having first raised the issue in a November 15 op-ed in the Washington Post. "Donald Trump will breach the contract on Jan. 20, when, while continuing to benefit from the lease, he will become an `elected official of the Government of the United States.'"

"The situation is a casebook example of both the appearance of a significant conflict of interest and an intolerable intermingling of an elected official's governmental duties and his family's personal financial interests."

The Trump transition team did not immediately respond to a request for comment.
The ideal solution to all these problems and real and potential conflicts of interest, of course, would be for Trump to sell his interest in The Trump Organization and place the proceeds in a blind trust controlled by a Trustee, just as every President in recent memory has done. In Trump's case that is easier said than done in the short term at least since the majority of his assets appear to be in the form of real-estate and investments in real estate projects that are not easy to liquidate. Even if he had started the process on Election Day, it could take months or more before Trump was completely divested of all his Trump business holdings, and the prospect of a sitting President negotiating the sale of his assets creates many of the same conflicts of interest that would exist if Trump retained ownership of his assets during his Presidency.
We'll have to wait until December 15th to find out exactly what it is that Trump has in mind, but as it stands now it still appears that President-Elect Trump will enter office with a myriad of conflicts of interest that will likely call nearly every decision he makes into question, with nearly every story about such decisions likely focusing on how, if at all, Trump and his businesses would benefit from the decision in question. This is the kind of ethical quandry that can only lead to trouble in the future, both for the Trump Presidency and the nation.