President Trump's Unprecedented Conflicts of Interest
The incoming president's business interests are a yuuuge problem.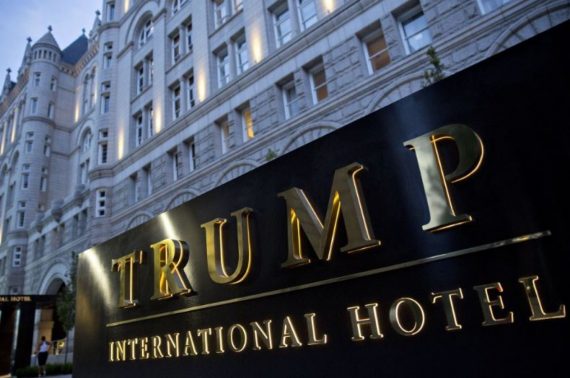 During the 2016 campaign, there was rightly a lot of attention given to the obvious conflicts of interest inherent in the Clinton Foundation. We had the unprecedented situation of a former President of the United States raising massive amounts of money from major business interests and foreign governments while his wife was alternately a United States Senator, presumptive Democratic nominee for President, Secretary of State, and presumptive next President. While there was never any proof of quid pro quo, the appearance of impropriety was unacceptable. Ultimately, Bill Clinton pledged that he would step down from the Foundation and that it would stop taking foreign money if Hillary Clinton were elected. Given that this compromise simply incentivized those wishing to curry favor to hurry up and donate large amounts, some of us thought it was insufficient.
As in 2008, the presumptions about Hillary Clinton's political future proved incorrect. Donald Trump surprised us all and won the election. And we're now left with a set of conflicts of interests much larger and less indirect than posed by the Clinton Foundation. Trump, of course, is a business magnate and the company that bears his name—and thus Trump himself—is set to benefit bigly from his new station. Indeed, it's happening already.
The New York Times reports on just one major instance:
President-elect Donald J. Trump met in the last week in his office at Trump Tower with three Indian business partners who are building a Trump-branded luxury apartment complex south of Mumbai, raising new questions about how he will separate his business dealings from the work of the government once he is in the White House.

A spokeswoman for Mr. Trump described the meeting as a courtesy call by the three Indian real estate executives, who flew from India to congratulate Mr. Trump on his election victory. In a picture posted on Twitter, all four men are smiling and giving a thumbs-up.

"It was not a formal meeting of any kind," Breanna Butler, a spokeswoman for the Trump Organization, said when asked about the meeting on Saturday.

One of the businessmen, Sagar Chordia, posted photographs on Facebook on Wednesday showing that he also met with Ivanka Trump and Eric Trump. Mr. Trump's children are helping to run his businesses as they play a part in the presidential transition.

Ms. Butler and Hope Hicks, a spokeswoman for Mr. Trump, declined to comment when asked on Saturday if the meeting with the Trump family members included any discussion of Trump businesses in India or expanding that business.

The three Indian executives — Sagar Chordia, Atul Chordia, and Kalpesh Mehta — have been quoted in Indian newspapers, including The Economic Times, as saying they have discussed expanding their partnership with the Trump Organization now that Mr. Trump is president-elect.

Sagar Chordia did not respond to a request for a telephone interview. But in a series of text messages with The New York Times early Sunday, he confirmed that the meeting with Mr. Trump and members of his family had taken place, and that an article written about it in the Indian newspaper, which reported that one of his partners said they had discussed the desire to expand the deals with the Trump family, was accurate.

Washington ethics lawyers said that a meeting with Indian real estate partners, regardless of what was discussed, raised conflict of interest questions for Mr. Trump, who could be perceived as using the presidency to advance his business interests.

"There may be people for whom this looks O.K.," said Robert L. Walker, the former chief counsel of the Senate Ethics Committee, who advises corporations and members of Congress on government ethics issues. "But for a large part of the American public, it is not going to be O.K. His role as president-elect should dictate that someone else handles business matters."
WaPo notes a pettier but still obvious case:
About 100 foreign diplomats, from Brazil to Turkey, gathered at the Trump International Hotel this week to sip Trump-branded champagne, dine on sliders and hear a sales pitch about the U.S. president-elect's newest hotel.

The event for the diplomatic community, held one week after the election, was in the Lincoln Library, a junior ballroom with 16-foot ceilings and velvet drapes that is also available for rent.

Some attendees won raffle prizes — among them overnight stays at other Trump properties around the world — allowing them to become better acquainted with the business holdings of the new commander in chief.

"The place was packed," said Lynn Van Fleit, founder of the nonprofit Diplomacy Matters Institute, which organizes programs for foreign diplomats and government officials. She said much of the discussion among Washington-based diplomats is over "how are we going to build ties with the new administration."

Back when many expected Trump to lose the election, speculation was rife that business would suffer at the hotels, condos and golf courses that bear his name. Now, those venues offer the prospect of something else: a chance to curry favor or access with the next president.

Perhaps nowhere is that possibility more obvious than Trump's newly renovated hotel a few blocks from the White House, on Pennsylvania Avenue. Rooms sold out quickly for the inauguration, many for five-night minimums priced at five times the normal rate, according to the hotel's manager.

To many of the guests at the reception Tuesday, accepting an invitation to tour the $212 million hotel and check out the $20,000-a-night, 6,300-square-foot "town house" suite seemed like a good idea. They spoke admiringly about the renovation and left with a goody bag of chocolates and a brochure. It listed the choices of accommodations and meeting rooms and expounded on the location's "striking prominence" at historical moments such as the Inauguration Day parade.

"Believe me, all the delegations will go there," said one Middle Eastern diplomat who recently toured the hotel and booked an overseas visitor. The diplomat said many stayed away from the hotel before the election for fear of a "Clinton backlash," but that now it's the place to be seen.

In interviews with a dozen diplomats, many of whom declined to be named because they were not authorized to speak about anything related to the next U.S. president, some said spending money at Trump's hotel is an easy, friendly gesture to the new president.

"Why wouldn't I stay at his hotel blocks from the White House, so I can tell the new president, 'I love your new hotel!' Isn't it rude to come to his city and say, 'I am staying at your competitor?' " said one Asian diplomat.
Oh, it gets better. That hotel near the White House? Trump is leasing the space from an agency he is about to head.
In 2013, the General Services Administration leased Washington's historic Post Office Pavilion to the Trump Organization for $180 million. Before his inauguration on Jan. 20, the GSA must terminate the Organization's lease. The 60-year deal presents unprecedented and intolerable conflicts of interest. Swift action by GSA is necessary to protect the integrity of the federal government contracting process.

The federal procurement system has a 200-year record of transparency and integrity. As part of the protection of the contracting process from corruption, federal contracting regulations mandate that"government business shall be conducted in a manner above reproach … to avoid … even the appearance of a conflict of interest in Government-contractor relationships."

The regulations are often quite specific. One example is the government's longstanding prohibition on entering into contracts with federal employees. The prohibition extends to any "business concern or other organization owned or substantially owned or controlled by one or more Government employees." The policy is designed to avoid any conflict of interest "that might arise between the employees' interests and their Government duties, and to avoid the appearance of favoritism or preferential treatment."

The Trump Organization's lease with GSA includes similar language, stating that "no … elected official of the Government of the United States … shall be admitted to any share or part of this Lease, or to any benefit that may arise therefrom."

The Post Office Pavilion lease is between GSA — whose administrator President-Elect Trump will appoint — and Trump's company. It's a casebook example of both the appearance of a significant conflict of interest and an intolerable intermingling of Trump's official governmental duties and his and his family's personal financial interests. The 60-year agreement will require significant annual disclosure of financial information and regular re-negotiations of rent and other payments from the Trump Organization to the U.S. Government.  Just imagine the president's children (who have now been named members of the presidential transition team) with a career civil servant who reports to the president's appointed head of GSA. Any reasonable person would worry about the undue pressures and the inherent risk of favoritism that the government might show to such a well-connected contractor.
Oddly, it's quite possible that none of this is technically illegal. Most of our conflict of interest laws specifically exclude the president.
Because of the constant stream of scandals and outrageous statements during the campaign, we somehow glossed over this issue. It was inconceivable that someone merely running for president would sell off his namesake company. But few, certainly not me, asked what he would do with it were he to win. Perhaps it's because we never thought it was possible that he would.
Regardless, the only conceivable solution here is complete divestiture. The idea that having his children run the company as a "blind trust" is simply laughable. By definition, if you know what assets you own, it's not blind. And the notion that Trump wouldn't talk about business and/or public policy with his children is similarly absurd.
We can't have a sitting president getting rich off of his office while he's still in it. Nor can we have even the speculation that the President of the United States is strong-arming foreign leaders or otherwise shaping public policy to benefit his private company. That's the stuff of banana republics.