Trump Claims He Invented A Phrase That's Been Around For Almost 100 Years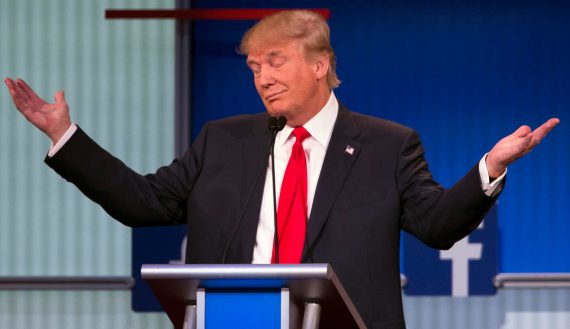 In an interview with the Economist, Donald Trump responded to questions about his tax plan by making the claim that he invented the phrase "priming the pump":
[W]e have a transcript from an interview Trump gave to the Economist magazine.
ECONOMIST: Beyond that, it's okay if the tax plan increases the deficit?

TRUMP: It is okay, because it won't increase it for long. You may have two years where you'll … you understand the expression "prime the pump"?

ECONOMIST: Yes.

TRUMP: We have to prime the pump.

ECONOMIST: It's very Keynesian.

TRUMP: We're the highest-taxed nation in the world. Have you heard that expression before, for this particular type of an event?

ECONOMIST: Priming the pump?

TRUMP: Yeah, have you heard it?

ECONOMIST: Yes.

TRUMP: Have you heard that expression used before? Because I haven't heard it. I mean, I just … I came up with it a couple of days ago and I thought it was good. It's what you have to do.
Asking an Economist writer if he or she has heard the expression "prime the pump" is like asking Sports Illustrated writers if they've heard of "RBIs" or asking someone at Playboy if they're aware that you can have your body surgically enhanced. Of course they have heard the term, because Trump, contrary to what he suggests, didn't invent the phrase, much less come up with it "a couple of days ago."
No less an authority than Merriam-Webster — as in the dictionary people — pointed this out on Twitter:
'Pump priming' has been used to refer to government investment expenditures since at least 1933. https://t.co/VfkGwwzZRC

— Merriam-Webster (@MerriamWebster) May 11, 2017
Back to WaPo's Philip Bump:
Trump also has a habit of exaggerating his own achievements to make himself seem more impressive. It's so common by now that one might assume it's ingrained in his personality, taking a standard observation and puffing it up with a few "great, great" modifiers or tacking on a "nobody's ever seen this before!" Everything is the easiest and the best and the biggest and the greatest, and many things got that way because of Trump. So maybe that's the deal: Trump simply slipped into his long-standing pattern of taking credit where it wasn't due.

That's the big picture of this small comment. Nearly anyone else would be given the benefit of the doubt that they weren't seriously asking the Economist if they'd ever heard the expression "prime the pump." Perhaps another politician saying it would have been excoriated by his political opponents, sure. But in nearly no other circumstance would people read that, stop and think, "Wait. Does he really think he made that up?"
So there you have it. The President of the United States is either deluded or a liar. Take your pick.