Trump Could Be Indicted Next Week
The Manhattan DA could move as early as next week.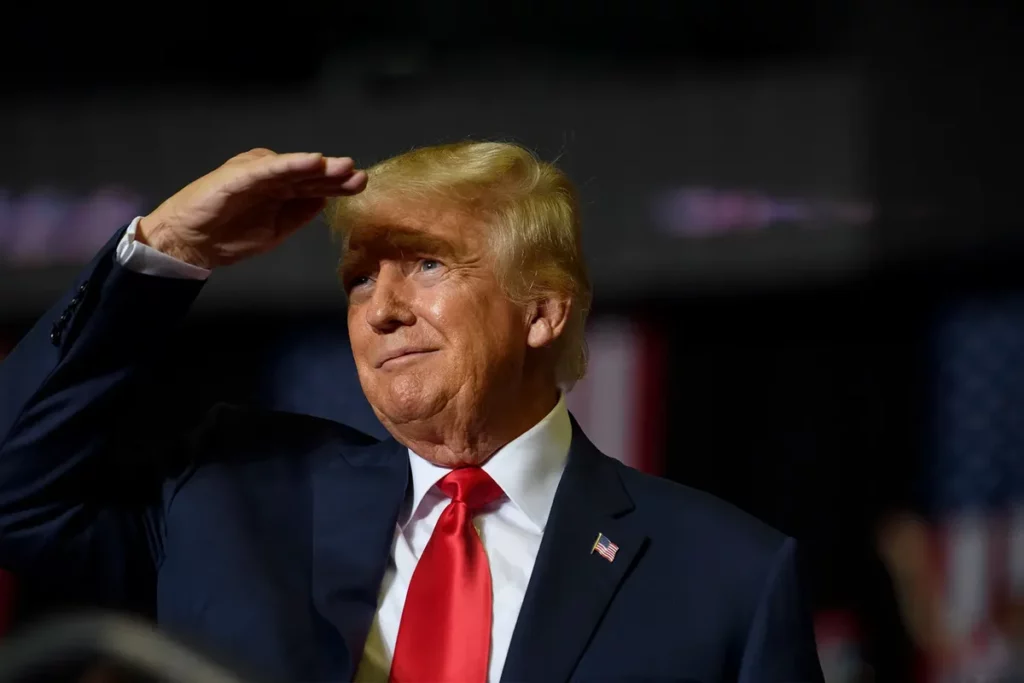 NBC News ("Law enforcement agencies are prepping for a possible Trump indictment as early as next week"):
Local, state and federal law enforcement and security agencies are preparing for the possibility that former President Donald Trump will be indicted as early as next week, according to five senior officials familiar with the preparations.

Law enforcement agencies are conducting preliminary security assessments, the officials said, and are discussing potential security plans in and around the Manhattan Criminal Court, at 100 Centre Street, in case Trump is charged in connection with an alleged hush money payment to Stormy Daniels and travels to New York to face any charges.

The officials stress that the interagency conversations and planning are precautionary in nature because no charges have been filed.

The agencies involved include the NYPD, New York State Court Officers, the U.S. Secret Service, the FBI's Joint Terrorism Task Force, and the Manhattan District Attorney's Office, the officials said.

NBC News has reached out to all of those agencies for comment, and all have declined to comment.

Trump's attorney, Joe Tacopina, told NBC News that the former president will follow normal procedures if it gets to the point of having to surrender to authorities from the DA's office.

Michael Cohen, Trump's former lawyer, pleaded guilty in 2018 to a federal charge relating to a $130,000 payment to Daniels, an adult film star, in the closing days of the 2016 campaign. Daniels has said the money was to keep her quiet about her claim that she'd slept with the married Trump in 2006, an allegation Trump denies.

Cohen has said that Trump ordered him to pay the hush money and that it was for the "principal purpose of influencing" the 2016 presidential election.

Cohen was later repaid the money he'd shelled out to Daniels through payments that were listed by Trump's company as "legal fees."

Manhattan District Attorney Alvin Bragg is investigating Trump for felony falsification of business records. Cohen testified before the grand jury hearing evidence in the case for a second time Wednesday.
NY Daily News ("Trump won't refuse to surrender if indicted in NYC, lawyer says: 'There won't be a standoff at Mar-a-Lago'"):
Former President Donald Trump will not refuse to surrender if the Manhattan district attorney criminally indicts him, his lawyer told the Daily News Friday.

"There won't be a standoff at Mar-a-Lago with Secret Service and the Manhattan DA's office," Joe Tacopina said.

DA Alvin Bragg is believed to be on the cusp of nearing a charging decision in his office's long-running investigation into Trump, his business dealings, and the infamous hush money payment to porn star Stormy Daniels ahead of the 2016 presidential election.

If Trump is charged, he must surrender to New York authorities and appear in court to enter a plea to the charges. A judge could theoretically agree to conduct the hearing remotely, but no criminal defendants are being arraigned virtually at present, according to Lucian Chalfen from the Office of Court Administration.

DA staffers met with members of the NYPD's intelligence bureau on Thursday for a preliminary meeting to address security concerns ahead of the possible indictment, according to a source with direct knowledge of the meeting who asked to remain anonymous.

The NYPD is working on a security plan with the Secret Service, the lead agency that protects dignitaries, ahead of the potential indictment, police sources told The News.

The NYPD did not respond to a request seeking official comment about the security preparations. Manhattan DA spokeswoman Emily Tuttle declined to comment.

Grand jury proceedings are confidential, and it is not known whether the group impaneled in January will vote to indict Trump. If it does, the criminal case will mark the first against a former president in American history.
WaPo ("The prosecutor, the ex-president and the 'zombie' case that came back to life"):
It was just weeks into Manhattan District Attorney Alvin Bragg's time in office, and he was being assailed on multiple fronts.

A memo he had released outlining his strategy for prosecuting crimes in New York City was being vilified by critics, including the mayor and police commissioner. Bragg became a punching bag across cable news and on tabloid covers. Then two prosecutors from his office quit in protest over what they called Bragg's decision not to prosecute former president Donald Trump. People who know Bragg say he was deeply stung by the criticism.

The district attorney soon issued an unusual public statement — emphasizing that the investigation into Trump and his business was far from over and that a team of investigators was "exploring evidence not previously explored."

The message he wanted conveyed, it seemed, was simple: I'm still on this.

Almost a year later, Bragg's investigation into one particular issue involving Trump — a payment made before the 2016 presidential election to an adult-film actress to keep her from publicly discussing an affair she said she had with Trump years earlier — appears to be nearing its conclusion.

A grand jury in Manhattan looking at the case could be on the precipice of charging Trump with a crime, though no decision has been announced and it remains unclear whether the group will issue an indictment or when that could happen.

[…]

For Bragg, meanwhile, the case is a high-wire balancing act for an official who has navigated controversies before but could find himself both being praised and pilloried if he becomes the first prosecutor to criminally charge a former president.

Bragg has been circumspect in his public remarks about the Trump probe, saying mainly that investigators were continuing their work. After his office won a conviction of Trump's namesake business for tax crimes last year, Bragg noted in one interview: "We're going to do our talking in the courtroom."

Some legal experts, though, are scratching their heads about why this particular investigation might be the first one to result in Trump being indicted. They describe it as an unusual case, given the potential charges involved as well as the fact that prosecutors have repeatedly examined the long-established details but decided not to pursue charges against him.
The whole thing has an "indicting Al Capone for tax evasion" feel to it. Of Trump's many transgressions, paying off a porn star to keep quiet—unsuccessfully, it turns out—and then writing it off as a business expense is perhaps the one about which I care least. Still, he ought to be indicted for something and, if this is the only thing they can make stick, who am I to complain.
I am certainly no legal expert but I do find it odd that this particular incident is where Bragg is putting his efforts. As crimes go, it's rather minor. And the harm to New York City from the tax invasion is likely less than the cost of the investigation, which will pale in the cost of going to trial.
Further, the WaPo story makes a strong point:
A criminal case against Trump stemming from the Daniels payment could face at least one significant hurdle: relying even in part on testimony from Cohen, the former Trump attorney.

So far, Cohen has been the only person charged in connection with the Daniels payment. When Cohen pleaded guilty in 2018, saying he worked "in coordination" with Trump to silence Daniels and another woman before the 2016 election, his attorney questioned why these actions were not criminal for the then president. Long-standing Justice Department policy bars federal prosecutors from charging a sitting president with a crime. But after Trump left office, federal authorities still chose not to pursue him over the Daniels payment.

Concerns about Cohen's credibility have long dogged the investigations of the Daniels hush money payments, according to people familiar with the matter who spoke on the condition of anonymity to describe internal discussions.

Legal experts expressed varying degrees of confidence in the wisdom of indicting Trump in state court for the Daniels payments, particularly after the case seemed for so long to be going nowhere.

Election and civil rights lawyer Leo Glickman said such a charge against Trump "fits within the letter of the law," though he added that he can't think of a previous case "in which the law has been used in precisely this way."

"I'm very curious to see what he does, because it is novel, but that doesn't make it nonviable," said Glickman, a veteran election and civil rights lawyer based in Brooklyn.
Moreover, presuming the other investigations into Trump's misconduct are still ongoing, going after him in this case could backfire.
Other analysts noted that there was also a risk of such charges being knocked down or reduced in pretrial motions, and that could have repercussions well beyond New York City.

"It is certainly a winnable case, but given the legal landscape, it would hardly be the first criminal case that I would bring against Donald Trump," said Robert Katzberg, a white collar defense attorney for Holland & Knight who has tried cases in New York courts for decades.

"Prosecutors follow the principle that you must win the first case," Katzberg said.

Katzberg said it appears authorities have stronger cases in other areas, including the probes into Trump's efforts to undo 2020 election results and whether he mishandled classified documents and obstructed government efforts to retrieve those materials. Prosecutors running those inquiries, Katzberg said, cannot be thrilled if Bragg brings an indictment first in the Daniels case, "unless there are some extraordinary facts lying below the public domain."
Given that the Daniels matter has been investigated to death for years, that seems unlikely. Then again:
Bragg has said his office waited to take certain actions until after wrapping up a prosecution of Trump's business for tax violations. The company was convicted in December, and after it was sentenced in January, Bragg said in a telephone interview that the case's resolution allowed investigators to take other steps that, he suggested, might have been unfair during active litigation.

The tax trial's conclusion created a "moment when we are able to use some investigative steps that would have, in my judgment, been challenging before," Bragg said. While the tax case was pending, he said, serving subpoenas and interviewing witnesses would have drawn attention, which he wanted to avoid during that trial. Now, he said, "there are investigative steps which we can now more freely use" without impacting the tax case.

Randall Jackson, who worked with Bragg at the U.S. attorney's office in Manhattan and considers him a friend, called him "less politician and more prosecutor-slash-public-servant than probably a lot of people who become D.A.'s in major cities."

"While the public awaits understanding what the decisions are that are going to ultimately be made about this, someone with his background of service deserves the benefit of the doubt, in terms of the assumption of good faith and good intentions in terms of his approach," Jackson said.

Joan Illuzzi-Orbon, a former Manhattan trial prosecutor and executive in the district attorney's office, declined to discuss the Trump investigations specifically but cautioned against making judgments on a case before all the facts are laid out, saying prosecutors often have information not made public.

"You have to be super careful about just making assumptions about the strength of the case, the evidence or the skill of any party," said Illuzzi-Orbon, who won convictions in prominent cases, including of Harvey Weinstein. "You don't necessarily know everything that's going on, especially in high-profile matters."
We shall soon, it appears, see.
UPDATE: Rolling Stone ("Trump Says Arrest Coming Tuesday as Lawyers Prepare for Booking in Manhattan DA Probe"):
Trump on Saturday morning wrote on his Truth Social platform that he expects to be arrested Tuesday. At the end of an all-caps post criticizing Bragg and proclaiming his innocence, he wrote: "THE FAR & AWAY LEADING REPUBLICAN CANDIDATE & FORMER PRESIDENT OF THE UNITED STATES OF AMERICA, WILL BE ARRESTED ON TUESDAY OF NEXT WEEK. PROTEST, TAKE OUR NATION BACK!"