Trump: Fear-mongering in Florida
The President gathered supporters around him, and blatantly lied to them, so as to increase support for his policies.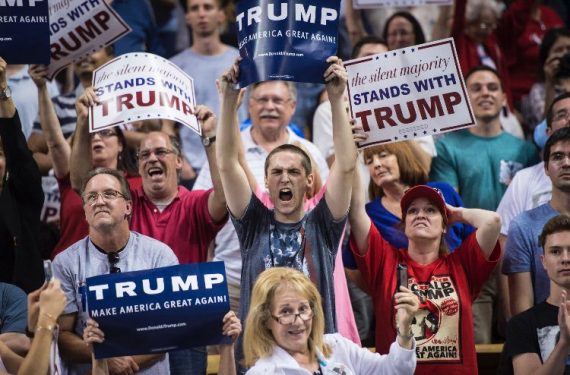 Let's cut to the chase:  it was already disturbing for the President to feel as if he needed the warm glow of an adoring crowd just shy of a month into his presidency.  While on the one hand there is no doubt that any person who runs for that office likes attention and affirmation from their supporters, on the other we expect a balance to exist between the egoism one expects of a politician at this level of office, and then naked hunger for adulation we are seeing from the current occupant of the White House.
However, when the rally includes the need to blatantly lie to the crowd, that kicks the disturbance level up several levels.  When the lie is used to increase the fear levels in the crowd, that further enhances the level of concern.  And, for the trifecta, when a politician blatantly lies to induce fear so as to create momentum for a policy goal (and one aimed at specific set of people) then the level of concern we should have as citizens should be huge (if one can even use that word any longer).
To wit, via the NYT:  'Last Night in Sweden'? Trump's Remark Baffles a Nation
In this video we have the President of the United States making up some dramatic event in Sweden linked to refugees and for the express purpose of creating fear of refugees (specifically of Muslim refugees) so as to stir support for his "extreme vetting" and his recent Executive Order on immigration.
Mr. Trump did not state, per se, that a terrorist attack had taken place in Sweden.

But the context of his remarks — he mentioned Sweden right after he chastised Germany, a destination for refugees and asylum seekers fleeing war and deprivation — suggested that he thought it might have.

"Sweden," he said. "They took in large numbers. They're having problems like they never thought possible. You look at what's happening in Brussels. You look at what's happening all over the world. Take a look at Nice. Take a look at Paris. We've allowed thousands and thousands of people into our country and there was no way to vet those people. There was no documentation. There was no nothing. So we're going to keep our country safe."
Not only is the Sweden reference apparently a falsehood, but the overall content of his rant is as well.  First, the notion that the US has admitted refugees without vetting is, quite frankly, a lie.  And second, the notion that the terror attacks in Europe were committed by refugees is incorrect as well:
Contrary to Mr. Trump's allegations, nearly all of the men involved in terrorist assaults in Paris on Nov. 13, 2015, in Brussels on March 22 last year, and in Nice, France, on July 14, were citizens of France or Belgium.
Here are some Swedish reactions:
Henrik Selin, political scientist and deputy director of the Swedish Institute, a state agency dedicated to promoting Sweden globally, said he was puzzled by Mr. Trump's remarks.

"I do not have a clue what he was referring to," he said in a telephone interview. "Obviously, this could be connected to the fact that there has been a lot of negative reporting about Sweden, since Sweden has taken in a lot of refugees."

The country processed 81,000 asylum seekers in 2014, 163,000 in 2015 and 29,000 last year, with another 25,000 to 45,000 expected this year, according to the Swedish Migration Agency.

Mr. Selin completed a study recently focusing on negative news reports about Sweden's intake of refugees. It found numerous exaggerations and distortions, including reports falsely claiming that Sharia law was predominant in parts of the country and that some immigrant-heavy neighborhoods were considered "no-go zones" by the police.

"Those reports were highly exaggerated and not based in facts," Mr. Selin said. "Some of the stories were very popular to spread in social media by people who have the same kind of agenda — that countries should not receive so many refugees."

As for the cover-up alleged by Mr. Horowitz, Mr. Selin said: "That kind of claim has been in the political debate for 15 years now. But nobody has been able to prove there is a cover-up. On the contrary, the fact is that crime rates are going down."

He added: "Swedish authorities have nothing to gain from hiding the truth. We are quite keen to ensure that the debate and the story about our country is fact-based and nuanced. We are more than happy to talk about the challenges our country faces as well as the things that are going well."

Asked about Mr. Trump's comment, Anna Kinberg Batra, the leader of the opposition Moderate Party, said in a statement, "President Trump has to answer himself for his statements, why he makes them and based on what facts."

Foreign Minister Margot Wallstrom declined to comment because, her press secretary, Erik Wirkensjo, said, "It's hard to say what Trump is talking about."

In an essay in the newspaper Dagens Nyheter, the journalist Martin Gelin speculated that "Trump might have gotten his news from the countless right-wing media in the United States that have long been reporting that Sweden is heading for total collapse."

He added: "Among Trump supporters, there are common myths that Sweden is in a state of chaos after taking in refugees from the Middle East. These are incorrect, made up and gravely misleading news items like this have spread to right-wing sites like Breitbart, Human Events, Drudge Report and Fox News, as well as the popular conservative radio programs that reach millions of listeners every day."
The last several days have seen the following from the President:
Attack the free press (not just criticize, but attack to the point of calling them "the enemy of the American people+).
Gather crowds of supporters so that he can enjoy their cheers and adulation.
Use fear and lie to that crowd so as to motivate support for policy.
This is all authoritarian behavior.  This is dangerous.
I know that attacking the press, especially the "main-steam media" is red meat for his supporters, but this is taking that approach to a whole new level.
The gathering of crowds for rallies at this stage is very troubling.  It was bad enough that he had his "thank you tour"/victory lap back in December, as it would have been better for the country if he had reached beyond his base at that point to build a bigger connection to the population, but he declined to do so.  Now he is retreating to a comfortable bubble (less than a month into his presidency!) and is trying to use that bubble to motivate support for policy.
And to do all of this based on clear untruth simply adds to the level of concern.  Whether he is repeating some half-baked internet meme or making up a story out of whole-cloth doesn't matter:  it is using a lie to incite fear and to use that fear for policy purposes.
Appealing to crowds based on their personal support of a politician so as to induce fear of a specific group of people by way of falsehoods should set off alarm bells.