Trump Fires Campaign Manager Again
The President does not like his poll numbers.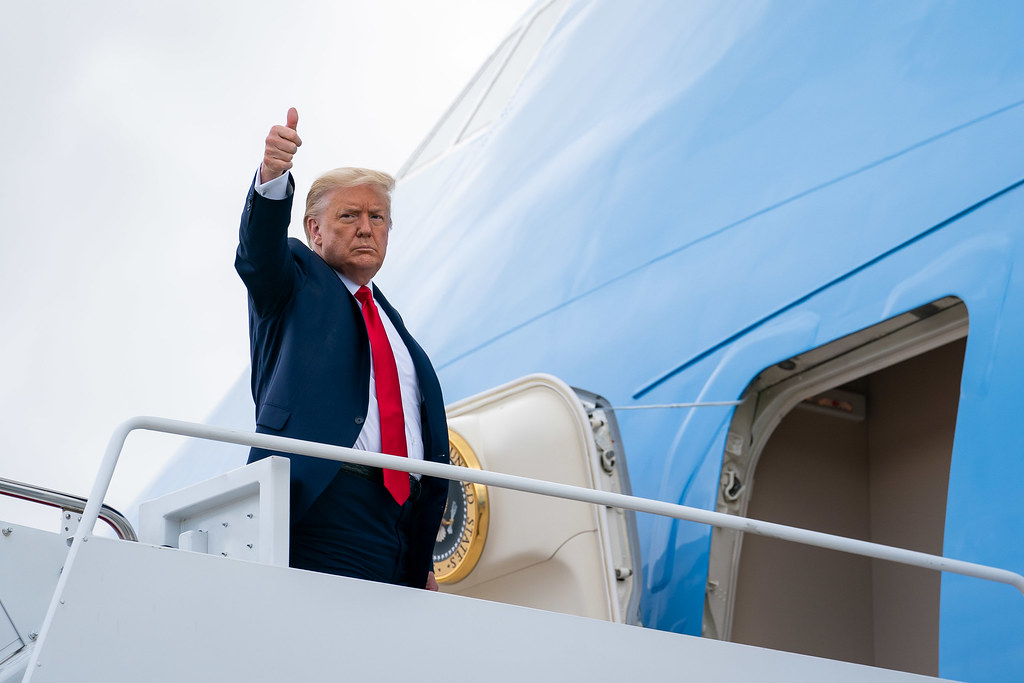 Donald Trump is falling further behind Democrat Joe Biden in his bid for re-election, so he's doing what he always does: blame someone else.
CNN ("Trump shakes up campaign leadership as he struggles in latest polls"):
President Donald Trump shook up his campaign leadership on Wednesday, announcing he was promoting Bill Stepien to be his campaign manager and demoting Brad Parscale, who had been serving in that role.

The announcement comes on the same day that two national polls showed the President trailing presumptive Democratic nominee Joe Biden by double digits.

Parscale's future had been in serious doubt for weeks. In addition to the President's lagging poll numbers Trump was furious after a much-hyped return to the campaign trail fell flat at the end of June. A planned rally in Tulsa, Oklahoma, fell well short of expectations after Parscale predicted massive crowds, not only inside the 19,000-seat arena but outside as well.
In the weeks leading up the event, Parscale predicted as many as 100,000 people would show up to support the President. Instead a meager crowd of just over 6,000 came, the outdoor event was canceled and Trump was embarrassed — laying much of the blame on Parscale who personally offered up Tulsa as one of the locations for the President's return to the trail.

Trump has repeatedly criticized Parscale in meetings over the turnout. Parscale was unaware that he was being demoted until a few hours before the Wednesday night announcement, a source familiar with the situation told CNN. But after a one-on-one meeting between Trump and Stepien on Tuesday, Trump's son-in-law and adviser, Jared Kushner, informed Parscale of the decision, according to a source familiar with the conversation.

"I am pleased to announce that Bill Stepien has been promoted to the role of Trump Campaign Manager," Trump said in a Facebook post. "Brad Parscale, who has been with me for a very long time and has led our tremendous digital and data strategies, will remain in that role, while being a Senior Advisor to the campaign. Both were heavily involved in our historic 2016 win, and I look forward to having a big and very important second win together. This one should be a lot easier as our poll numbers are rising fast, the economy is getting better, vaccines and therapeutics will soon be on the way, and Americans want safe streets and communities!"

A senior campaign adviser said Trump, Vice President Mike Pence and top advisers to both men have been discussing the Parscale move for a number of days. The adviser described the situation for Parscale as untenable. The Trump family had become annoyed in recent weeks at reports of how much money Parscale was making in his role, including stories about his ownership of a Ferrari. Parscale, the adviser said, had been advised to lay low and stay out of the limelight, advice he apparently did not take.
Maggie Haberman of the NYT ("Trump Replaces Brad Parscale as Campaign Manager, Elevating Bill Stepien") adds:
The move comes as Mr. Trump's advantages as an incumbent president have eroded in the face of a pandemic that has killed over 137,000 Americans and battered the nation's economy — once Mr. Trump's most powerful argument for re-election. The president has been heavily criticized for his handling of the coronavirus and the halting federal response to it, and Mr. Trump's own public comments have deepened the hole in which he finds himself in national and battleground state polling.

Several new polls released Wednesday showed Mr. Trump trailing the presumptive Democratic nominee, Joseph R. Biden Jr., by double digits, and in one of them, 62 percent of respondents said they believed Mr. Trump was "hurting rather than helping" efforts to combat the pandemic.
But she really nails it well into the report:
Mr. Trump is often described as his own campaign manager, and his political operation, which is overseen by Jared Kushner, his son-in-law and a senior White House adviser, has been tailored to his desires.
Trump's campaign, like Trump himself, is unmanageable.
That worked to his advantage in 2016, when he vaulted past many seasoned politicians to win the Republican nomination while committing a boatload of gaffes, any of which would have doomed just about anyone else. And that same freewheeling style apparently convinced enough people in swing states desperate for a reboot that it was worth taking a chance on him.
The act seems to have worn thin.
Longtime Republican stalwart George Will gets it exactly right:
Because of his incontinent use of it, the rhetorical mustard that the president slathers on every subject has lost its tang. The entertainer has become a bore, and foretelling his defeat no longer involves peering into a distant future: Early voting begins in two states (South Dakota and Minnesota) 61 days from Sunday, which is 107 days before Election Day.

Never has a U.S. election come at such a moment of national mortification. In April 1970, President Richard M. Nixon told a national television audience that futility in Vietnam would make the United States appear to the world as "a pitiful, helpless giant." Half a century later, America, for the first time in its history, is pitied.

Not even during the Civil War, when the country was blood-soaked by a conflict involving enormous issues, was it viewed with disdainful condescension as it now is, and not without reason: Last Sunday, Germany (population 80.2 million) had 159 new cases of covid-19; Florida (population 21.5 million) had 15,300.

Under the most frivolous person ever to hold any great nation's highest office, this nation is in a downward spiral. This spiral has not reached its nadir, but at least it has reached a point where worse is helpful, and worse can be confidently expected.
There's not a whole lot for Bill Stepien to work with here.