Trump Lawyers: Win Some, Lose Some
They chose the ticket, now they are going for the ride.
Yesterday, I posted my argument for why, if any of Trump's many criminal prosecutions get to the trial stage, the former President is screwed. The tl;dr: version is that because he is choosing to run for President and, as an aspect that, will repeatedly address the stolen election, he will be constantly creating evidence that can be used against him (as was also the case with him in the E. Jean Carroll case, leading to the Justice Department no longer defending him).
Since Trump is the gift that keeps on giving, two news items have since come out that demonstrate great examples of the ups and downs of having the former President as a client.
First, as mentioned by Daryl in the original post's comments, Trump has wisely heeded the advice of his lawyers and canceled the press conference: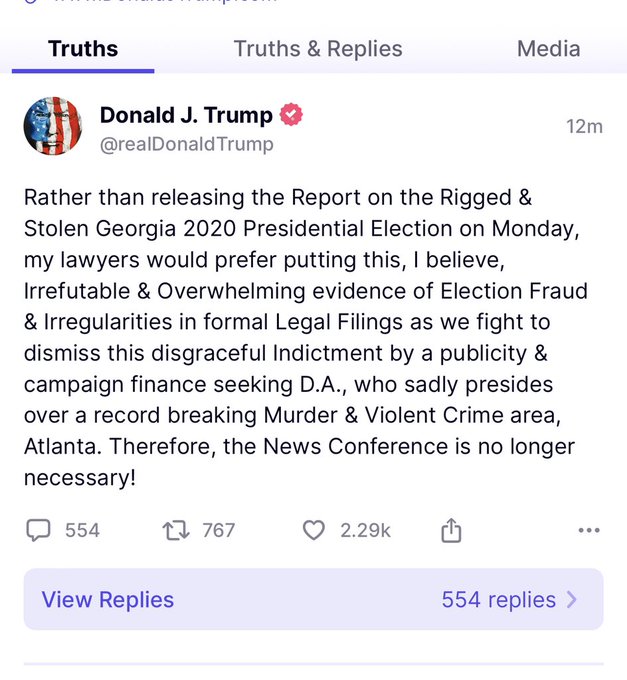 [Narrator: The evidence, to the degree it existed, was neither irrefutable nor overwhelming.1]
So for once, the Legal Team wins. Though, that victory may be short-lived:
Second, Trump is skipping the first Republican Debate and is instead going to be interviewed by Tucker Carlson:
Former President Donald J. Trump plans to upstage the first Republican primary debate on Wednesday by sitting for an online interview with the former Fox News host Tucker Carlson, according to multiple people briefed on the matter.

In the past 24 hours, Mr. Trump has told people close to him that he has made up his mind and will skip the debate in Milwaukee, according to two of the people briefed on the matter.

Mr. Trump is notoriously mercurial, and left himself something of an out to change his mind with an ambiguous post on his website, Truth Social, on Thursday. He wrote that he's polling well ahead of his rivals and added, "Reagan didn't do it, and neither did others. People know my Record, one of the BEST EVER, so why would I Debate?"
I am honestly not sure where, of the two options, his lawyers would prefer him to be.
The debate setting would have limited Trump's options to talk (good), but his opponents (at least Chris Christie) could have still brought things up and provoked Trump to respond (bad).
On the other hand, despite how Carlson talked about Trump in private, that is going to be a safe space for the former Present (good)… but, Trump is being interviewed by one of the most notorious advancers of the Election Fraud lie… so much so that he lost his job despite being the Network's #1 cash cow… that could be really, really, REALLY bad if the topic comes up and the former President decides to engage in his usual rhetorical excesses-especially if Tucker is still feeling aggieved about the topic. Without a doubt, Jack Smith's and Fani Willis's offices will both be watching that interview to see if they are going to need to get a transcript to submit as evidence (so, so, so bad).
The best that Trump's legal team can hope for is that (a) the interview isn't live and (b) they will be able to review it and make cuts ahead of its airing. If that's the case, that might be the better option for them. Whether or not their client will give them that level of control over his media image… that's a very different question.
Either way, it's a great time to invest in the stocks of antacids marketed to lawyers. And of course Whisky manufacturers as well… but it's always a good time to invest in those.
Since I attacked progressive wish-casting yesterday about unfounded hopes of seeing Trump in Prison, I once again balance the Karma Wheel by saying that despite the wish-casting of Trump supporters and Republican partisans, no such evidence exists. Trump has not been waiting for 2+ years to only release it now. Dinesh Desouza and True the Vote are grifting you about this. ↩︎