Trump Loses Big in Georgia, Again
Two incumbents roared to victory despite his opposition.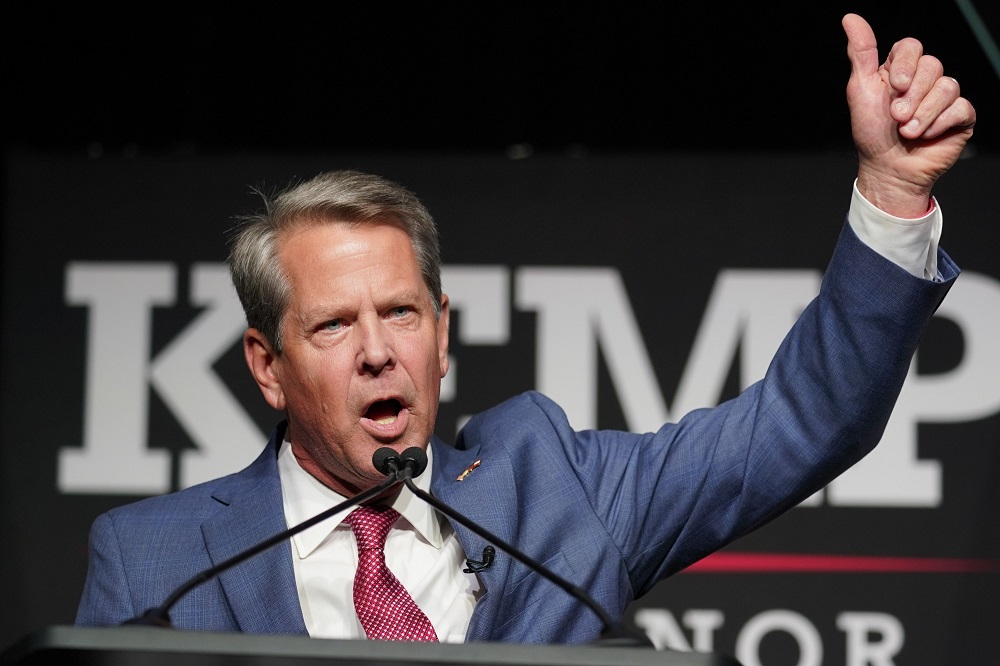 Georgia's Governor Brian Kemp and Secretary of State Brad Raffensperger, both Republicans who refused to go along with the Big Lie and help steal their state's electoral votes for Donald Trump, easily won their primaries yesterday despite the former President's active opposition.
Gov. Brian Kemp clinched his GOP primary early Tuesday night despite facing a Donald Trump-endorsed challenger — a major win for the GOP governor ahead of what's expected to be a hard-fought general election campaign, and part of a broader rebuke in Georgia for Trump, whose pick for secretary of state also fell to the incumbent Republican.

Kemp defeated Trump-endorsed David Perdue, who was recruited into the race by Trump. The former president has attacked Kemp repeatedly since the 2020 election, when Kemp refused Trump's pressure to not certify the election after President Joe Biden narrowly won the state.

Kemp will face Democrat Stacey Abrams in a general election rematch of their 2018 contest, after Abrams won her party's nomination unopposed.

And Secretary of State Brad Raffensperger successfully resisted Trump's efforts to install a follower in the office that runs Georgia's elections, winning renomination despite the former president's efforts. Raffensperger had 52 percent support with more than 90 percent of the expected vote counted — just above the threshold to win the primary outright without a runoff.

[…]

Trump's involvement in Georgia wasn't just limited to the governor's race. He endorsed a slate of statewide candidates — including Herschel Walker, who won the GOP nomination to face Democratic Sen. Raphael Warnock in November.

Raffensperger, though, defeated a Trump-backed primary challenger for secretary of state in GOP Rep. Jody Hice. The race is one of the highest profile contests in which a Trump-backed election denier is trying to take the reins of a state's election infrastructure. State Rep. Bee Nguyen is the leader on the Democratic side, though she is below the threshold to avoid a runoff.

Trump has also endorsed candidates for attorney general and lieutenant governor, but state Attorney General Chris Carr won comfortably anyway.
I'm not sufficiently steeped in Georgia politics to know what this means, exactly, but it's at least mildly encouraging. That football star Herschel Walker, who was backed by Trump and shares some of his worst qualities, including a penchant for dishonesty and maltreatment of women, also won tells me not to read too much into it.
As to November, the polling is pretty scant at this point. Despite the recent sweep of the Peach State, with Biden taking the state's electors and Democrats winning both Senate runoffs, the Kemp is slightly favored over Abrams in their rematch and Walker holds a tiny lead over Warnock. The FiveThirtyEight gang says these early polls tend to be quite predictive of final outcomes but, again, the margins are sufficiently slim that I wouldn't have great confidence in them holding up.
Georgia is still a Republican state and, with the economy in rough shape at the moment, I'd lean toward predicting a Republican sweep in the key statewide races.