Trump Probably Couldn't Afford To Self-Fund A General Election Campaign
Donald Trump has announced that he would not be self-funding the General Election campaign. That's probably because he really couldn't afford to do so.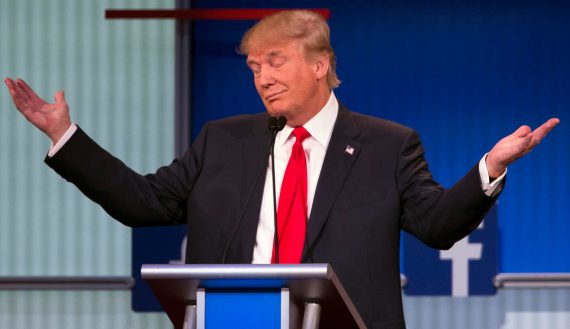 Ever since he entered the Presidential race last June, Donald Trump has boasted to crowds that he was 'self-funding' his Presidential campaign and that he would not be beholden to Wall Street and other interests like opponents who were raising millions of dollars from fundraisers and donors whose primary motivation for giving money to a candidate typically boil down to the desire for access. In the end, Trump did set up fundraising for his primary campaign, but it only brought in a small amount of money compared to the other candidates. Meanwhile, Trump himself ended up spending only a small amount of his own money over the course of the campaign, especially on television ads and other traditional campaign accouterments, a fact which makes his win all the more impressive when you compare it to candidates like Jeb Bush and Ted Cruz who raised tens of millions of dollars only to see it all go to naught as Trump rolled over all of them.
With the General Election campaign set to begin, though, Trump has made it clear that he doesn't intend to self-fund a campaign that could end up costing a billion dollars before its over and that he will engage in fundraising along with the Republican National Committee and the national GOP organizations in charge of electing Senators and Members of the House of Representatives. In a piece today in The Wall Street Journal Peter Grant and Brody Mullins examine Trump's finances as he's reported them publicly and make it clear why Trump won't be self-funding the General Election, and it's because he couldn't afford to do so:
It might seem a strange reason for a man who says he is worth $10 billion. But a close analysis of Mr. Trump's finances shows that in terms of ready cash, he would be ill-equipped to foot the bill himself.

When his campaign began last summer, a financial disclosure Mr. Trump filed said he had between about $78 million and $232 million in cash and relatively liquid assets such as stocks and bonds.

That would go fast if Mr. Trump spent an amount close to the $721 million President Barack Obama spent in 2012 up to Election Day, or the $449 million Mitt Romney spent in the same stretch.

This would leave hundreds of millions to be made up. And Mr. Trump's businesses don't produce that much in a year, a Wall Street Journal analysis shows. His 2016 pretax income, according to the analysis, is likely to be about $160 million.

The result is if Mr. Trump stuck with self-financing, he likely would have faced difficult decisions over whether to sell some of his properties or borrow more money against them.

The Journal analysis is based on 170 items of "employment assets and income," such as real estate, golf courses, management companies and licensing deals, listed in the financial disclosure form Mr. Trump filed last July. The Journal estimated how much pretax income each item should yield this year, relying on public documents and interviews with dozens of former and current Trump Organization executives and people who are familiar with his businesses.

In the absence of Mr. Trump's tax returns, which he has declined to release, the analysis helps answer a question many wonder about: just how much the candidate earns.

Asked about the analysis, Trump aides didn't comment in detail. Campaign spokeswomanHope Hicks said, "The income number is wrong by a lot, but Mr. Trump said, 'Who cares—it doesn't matter.' "

Earlier, in a March interview, Mr. Trump said he could raise "billions" by putting additional debt on his assets but wasn't eager to because he had grown more conservative about debt in recent years.

"I don't want to do that," he said. "But after the primary season, I'll say, 'What will it take? What will I need if I want to do it that way?' "

The cash issue looms now because the political season is growing more expensive. The Trump campaign spent about 50% more in March than in February, facing higher expenses for field workers, telemarketing and voter-data operations.
Even before he ran for President, Donald Trump has long been accused of making exaggerated claims about his personal wealth as part of his overall strategy of how he presents himself to the media as a huge financial success. During both the 2012 Presidential cycle and again prior to the time he entered the race in June of last year, there were many observers who believed that Trump would never actually run for President due to the fact that doing so would require him to file financial disclosure reports that would show that he was not, in fact, worth as much as he had claimed to be for decades. As it turned out, Trump did file his disclosure form within a month after entering the race, claiming that he was worth $10 billion and had annual income in excess of $350 million. Much of that wealth, however, was assigned to the value of real estate which Trump owned either in whole or in part, licensing deals for real estate ventures in which he was not involved at all but to whom he had licensed his name for marketing purposes, and some $3 billion assigned to the alleged value of Trump's "brand." At the time, many observers and experts were skeptical of the Trump campaign's valuations, not the least because real estate is, in the end, only worth what someone is willing to pay for it if it is put up for sale and that estimating the value of something as ephemeral as the value of a "brand" is really nothing but guesswork and is also obviously the kind of number that can fluctuate wildly depending on events that nobody can predict. Keeping that in mind, Forbes has estimated that Trump is worth a far more conservative $4 .5 billion, number that still makes him a fairly wealthy man but not nearly to the extent to which he has claimed over the years.
Whatever the number is, it's clear from Trump's own financial disclosures, and from the far more detailed look at his financial situation conducted by Forbes and in today's Journal, that Trump is hardly in a position to self-fund a General Election campaign. Theoretically, one supposes he could come up with the cash to pay for a campaign out of pocket by selling some of his real estate assets, but that's a process that could take as much as a year to go to closing and would only garner cash after any debt on the property is paid off and any partners paid their share of the profits. He could also attempt to borrow money against some of these properties but it's unclear just how much equity there might be in any of these properties at this point and what terms Trump could get for a loan for cash that would be spent on a political campaign. Trump would be in a far different position, of course, if his wealth were tied up in stocks and bonds, which can be easily sold in a relatively short period of time, but that's not the case here. Trump is a wealthy man, but the extent of his wealth is far more ephemeral than the wealth of someone like Bill Gates, Mark Zuckerberg, or Mike Bloomberg, and a close examination is likely to reveal that he's not nearly as rich as he claims to be. Perhaps that's why he continues to refuse to release his tax returns.