Trump Resisting Efforts To Restrain His Use Of Unsecured Smartphones
Despite advice from advisers, the President continues to use unsecured devices to communicate outside of White House channels.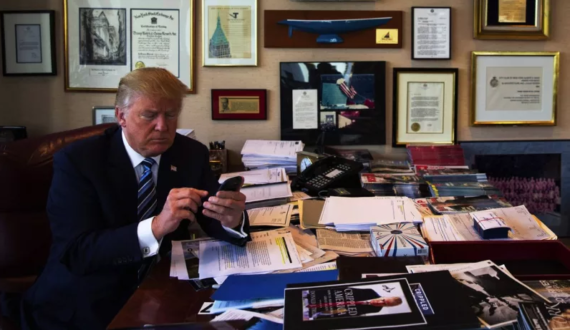 Politico is reporting that President Trump continues to utilize unsecured smartphones notwithstanding the security concerns that have been expressed by advisers and intelligence officials:
President Donald Trump uses a White House cellphone that isn't equipped with sophisticated security features designed to shield his communications, according to two senior administration officials — a departure from the practice of his predecessors that potentially exposes him to hacking or surveillance.

The president, who relies on cellphones to reach his friends and millions of Twitter followers, has rebuffed staff efforts to strengthen security around his phone use, according to the administration officials.

The president uses at least two iPhones, according to one of the officials. The phones — one capable only of making calls, the other equipped only with the Twitter app and preloaded with a handful of news sites — are issued by White House Information Technology and the White House Communications Agency, an office staffed by military personnel that oversees White House telecommunications.

While aides have urged the president to swap out the Twitter phone on a monthly basis, Trump has resisted their entreaties, telling them it was "too inconvenient," the same administration official said.

The president has gone as long as five months without having the phone checked by security experts. It is unclear how often Trump's call-capable phones, which are essentially used as burner phones, are swapped out.

President Barack Obama handed over his White House phones every 30 days to be examined by telecommunications staffers for hacking and other suspicious activity, according to an Obama administration official.

The White House declined to comment for this story, but a senior West Wing official said the call-capable phones "are seamlessly swapped out on a regular basis through routine support operations. Because of the security controls of the Twitter phone and the Twitter account, it does not necessitate regular change-out."

Trump's call-capable cellphone has a camera and microphone, unlike the White House-issued cellphones used by Obama. Keeping those components creates a risk that hackers could use them to access the phone and monitor the president's movements. The GPS location tracker, however — which can be used to track the president's whereabouts — is disabled on Trump's devices.

The West Wing official refuted the idea that the presence of a camera and microphone on the president's phone posed any risk, telling POLITICO, "Due to inherent capabilities and advancement in technologies, these devices are more secure than any Obama-era devices."

Trump's reluctance to submit to White House security protocols that would limit his ability to tweet or contact friends freely is a case of the president's personal peculiarities colliding with the demands of his office — a tension created in part because of society's growing attachment to mobile technology over the past decade.

(…)

Former national security officials are virtually unanimous in their agreement about the dangers posed by cellphones, which are vulnerable to hacking by domestic and foreign actors who would want to listen in on the president's conversations or monitor his movements.

"Foreign adversaries seeking intelligence about the U.S. are relentless in their pursuit of vulnerabilities in our government's communications networks, and there is no more sought-after intelligence target than the president of the United States," said Nate Jones, former director of counterterrorism on the National Security Council in the Obama administration and the founder of Culper Partners, a consulting firm.

While the president has the authority to override or ignore the advice provided by aides and advisers for reasons of comfort or convenience, Jones said, "doing so could pose significant risks to the country."

(…)

"It's baffling that Trump isn't taking baseline cybersecurity measures at a time when he is trying to negotiate his way out of a trade war with China, a country that is known for using cyber tactics to gain the upper hand in business negotiations," said Samm Sacks, a China and technology expert at the Center for Strategic and International Studies.

Former government officials from Republican and Democratic administrations expressed astonishment that any White House would issue the president a cellphone that posed a security threat.

"This would be the case of a president overruling literally the most rudimentary advice given by the communications agencies," said Andrew McLaughlin, who served as deputy chief technology officer under Obama and helped develop the former president's specialized phone.
This isn't the first Administration to deal with a President with an attachment to a smart device, of course. While he was a candidate and after he became President, former President Obama was a self-admitted "Crackberry" addict who used his Blackberry device to communicate with friends, supporters, and family members. After he was elected, Obama expressed reluctance to give up his phone and essentially cut himself off from the ability to reach out to these people without going through the sometimes cumbersome process of communicating through approved channels using White House communications equipment. Eventually, Obama compromised and agreed to limit his personal communications to an approved and secure device that was apparently developed for him by the National Security Agency working together with Blackberry. That device, which apparently was switched out on a regular basis, had only limited abilities, though, and lacked standard smartphone features such as a camera, microphone, and GPS location tracker.
The irony in all of this, of course, is the fact that President Trump spent virtually the entirety of the Presidential campaign attacking Hillary Clinton over her negligent handling of classified information and the manner in which was improperly shared over an unsecured email server located in a closet in her home in Chappaqua, New York. Even with the regular swapping of phones that is noted here, which Trump apparently resists as being "invconvient," what Trump is doing here is effectively just as bad as what Clinton did. It goes without saying that a foreign government would attempt to hack into the President's private phone if only to gain an insight into what he talks about behind closed doors. The fact that the President continues to put security at risk by using unsecured devices, even if they have been modified as described above, shows a complete lack of concern for security that makes his previous criticism of Clinton nothing less than hypocritical.