Trump Undercuts His Own NASA Policy On Twitter
Over the weekend, the President took to Twitter and appeared to undercut the NASA policy that he himself endorsed just weeks ago.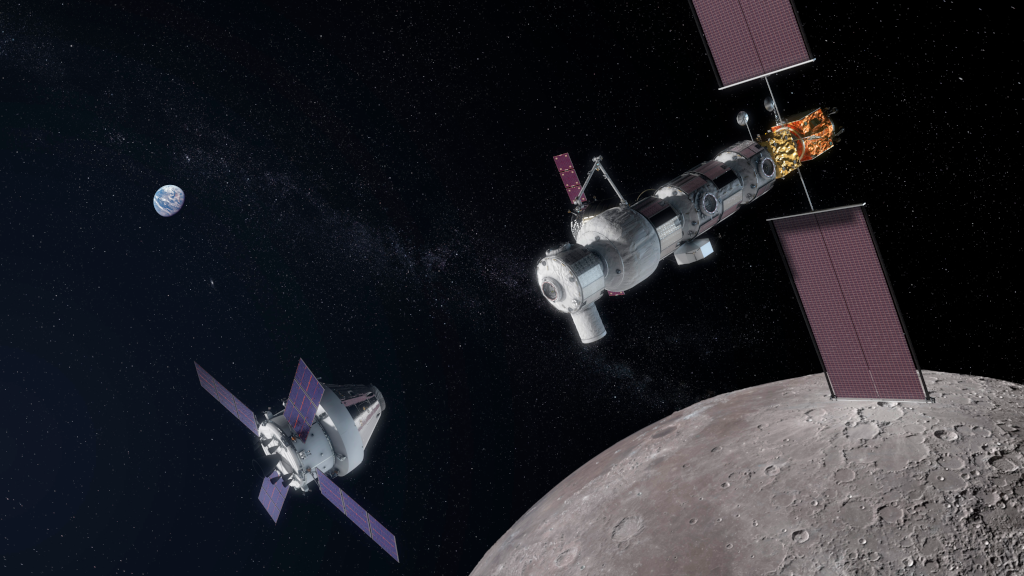 While he was overseas, President Trump unleashed a volley of tweets aimed at NASA, currently headed by an Administrator that he had nominated regarding a space program policy that his own Administration has endorsed:
For months the Trump administration has been proclaiming an Apollo-like urgency to return astronauts to the moon within five years. On Friday, President Trump appeared to suggest on Twitter that NASA was focusing on the wrong goal.

Aspects of the administration's space policy have been widely praised, including a renewed focus on the moon, measures to reduce the danger of space debris to astronauts and satellites as well as a more entrepreneurial approach in big space projects. Many of these efforts have been formulated by the National Space Council, restored under Mr. Trump's administration and led by Vice President Mike Pence.

Mr. Pence announced in February a push to accelerate a landing by astronauts on the moon to 2024 from 2028. That drew criticisms that speedier pace was driven by politics — so that it would occur during Mr. Trump's second term if he were re-elected — and not by technical or science considerations.

NASA officials have also not disclosed an estimate for how much an accelerated moon program would cost. In an updated budget request, they asked for an additional $1.6 billion for fiscal year 2020, which starts on Oct. 1.

Although Mr. Pence has been the moon return's biggest cheerleader, Mr. Trump was supportive of the revised budget request when it was sent to Congress last month.

At a meeting of the NASA Advisory Council last week, William H. Gerstenmaier, NASA's associate administrator for human exploration and operations, said that it was unlikely that appropriators in Congress would agree to provide all the money needed for a 2024 moon landing, and that the agency would likely have to cut the budgets for other areas of the space agency.

Hours after the tweet was sent, a White House official attempted to clarify Mr. Trump's meaning, saying that the administration's space goals were unchanged. The official added that by seeking additional resources for a journey to the moon within the next five years, the Trump administration intended to accelerate a crewed American visit to Mars.

Jim Bridenstine, NASA's administrator, tweeted the agency's only comment on Mr. Trump's statement so far, highlighting robotic missions to Mars.
More from The Washington Post:
President Trump on Friday criticized NASA for promoting its plan to return to the moon before human exploration of Mars, a strategy that Trump endorsed in a directive early in his tenure and championed as recently as last month.

"For all of the money we are spending, NASA should NOT be talking about going to the Moon — We did that 50 years ago," Trump said on Twitter. "They should be focused on the much bigger things we are doing, including Mars (of which the Moon is a part), Defense and Science!"

The tweet, sent from Air Force One as Trump returned from a trip to Europe, did not make clear whether he thinks the strategy should be entirely abandoned or whether he was more concerned about how NASA was branding the strategy.

A White House official sought to downplay any difference between what Trump had tweeted and existing policy.

"Our Administration's goal has always been to get to Mars," said the official, who was not authorized to speak publicly and requested anonymity, in an email. "We have asked Congress for additional resources to get to the Moon by 2024, which will enable us to get to Mars roughly a decade after creating a sustainable presence on the lunar surface. Under POTUS, America is leading again in space."

A tweet later Friday by NASA Administrator Jim Bridenstine did little to clarify the impact of Trump's tweet.

"As @POTUS said, @NASA is using the Moon to send humans to Mars!" the tweet said. "Right now, @MarsCuriosity and @NASAInSight are on Mars and will soon be joined by the Mars 2020 rover and the Mars helicopter."

Trump's tweet was sent shortly after Fox Business host Neil Cavuto questioned on air why NASA is "refocusing on the moon, the next sort of quest, if you will" and asked: "But didn't we do this moon thing quite a few decades ago?"

The policy of first going back to the moon grew from a unanimous recommendation by the new National Space Council, chaired by Vice President Pence, after its first meeting in October 2017.

At a ceremony where Trump signed a directive regarding the policy two months later, he said first returning to the moon would "establish a foundation for an eventual mission to Mars, and perhaps someday, to many worlds beyond."

In a tweet three weeks ago, Trump touted his administration's commitment to space exploration, writing: "Under my Administration, we are restoring @NASA to greatness and we are going back to the Moon, then Mars."
Here's Trump's tweet:
And here's the response from NASA's Administrator:
For some time, Twitter was alive with jokes about the President's apparent claim that "the Moon is part of Mars." It seems pretty clear, though, that what the President was referring to is the fact that the current NASA plan provides that the upcoming missions to the Moon are meant to be a prelude for an eventual mission to Mars. This is a plan that the President himself endorsed and which his Vice-President, who is heading up the White House's space effort, hs specifically endorsed in speeches as recently as February. Why he is now seemingly bashing it is something that makes no sense whatsoever.
What makes the President's remarks even stranger is the fact that he not only endorsed the idea just weeks ago but also directed NASA to do its best to ensure that there were astronauts back on the Moon by 2024, just five years from now. This, obviously, is going to require a much larger investment in manned space flight than the Administration is currently devoting, and there's a good likelihood that target it is overly optimistic.
The answer to the question of what motivated the President's tweet appears to be answered by the section I highlighted above. Trump was reacting, as he often does, to a report he saw on Fox News Channel. An ordinary President who sees something like that on the news, of course, would likely have asked his aides for clarification. But not this President. This President decided that the best thing to do was to pick up his smartphone and start ranting on Twitter. This is not the behavior of a rational person who actually understands what his Administration is doing. It is the behavior of a child.