Trump Vows to 'Come After' Foes
If you thought the first term was bad, you ain't seen nothing yet.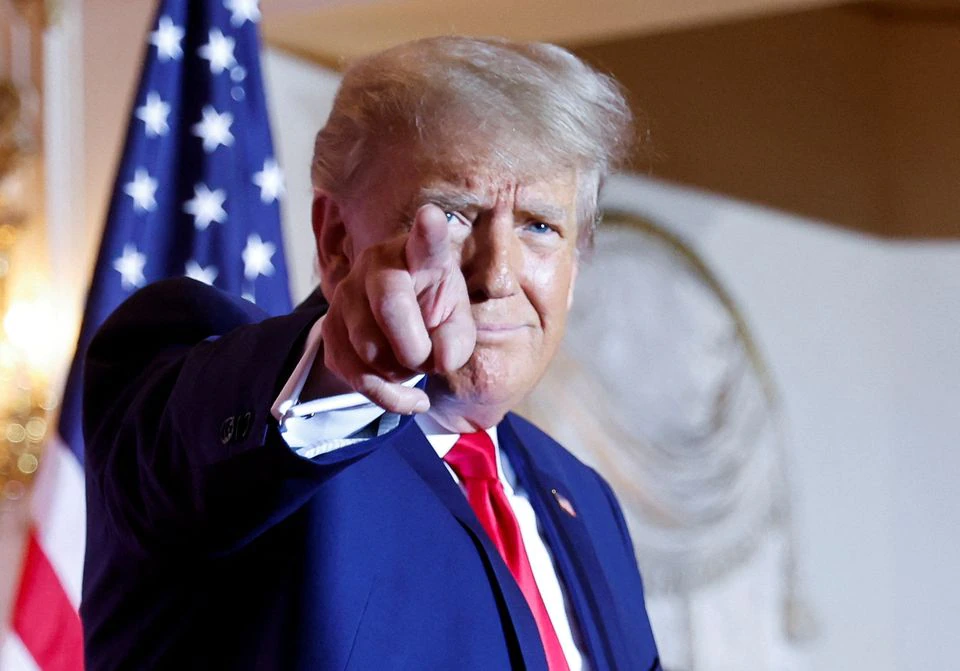 POLITICO ("Feds alert judge to Trump's 'If you go after me, I'm coming after you!' post"):
Prosecutors on Friday night called a judge's attention to a social media post from Donald Trump — issued hours earlier — in which they say the former president appeared to declare that he's "coming after" those he sees as responsible for the series of formidable legal challenges he is facing.
Attorneys from special counsel Jack Smith's team said the post from Trump "specifically or by implication" referenced those involved in his criminal case for seeking to subvert the 2020 election.
In a court filing just before 10 p.m. Friday, Senior Assistant Special Counsels Molly Gaston and Thomas Windom alerted the judge in Trump's latest criminal case – U.S. District Court Judge Tanya Chutkan – to a combative post Trump sent earlier in the day.
"If you go after me, I'm coming after you!" Trump wrote in all caps Friday afternoon on Truth Social, which is run by a media company he co-owns.
The prosecutors said Trump's post raised concerns that he might improperly share evidence in the case on his social media account and they urged that he be ordered to keep any evidence prosecutors turn over to his defense team from public view.
"All the proposed order seeks to prevent is the improper dissemination or use of discovery materials, including to the public," Gaston and Windom wrote. "Such a restriction is particularly important in this case because the defendant has previously issued public statements on social media regarding witnesses, judges, attorneys, and others associated with legal matters pending against him. … And in recent days, regarding this case, the defendant has issued multiple posts—either specifically or by implication—including the following, which the defendant posted just hours ago."
Smith's office has not sought a gag order in either of the criminal cases it is pursuing against Trump: one in Florida focused on his retention of classified documents and the other in Washington over his efforts to interfere with the certification of the 2020 presidential election. The filing Friday night does not make any request to bar Trump or his attorneys from discussing the D.C. case publicly or with the media.
However, prosecutors in that case have indicated they're prepared to share a "substantial" volume of evidence with Trump as soon as Chutkan approves an order governing the handling of evidence. Chutkan is slated to bring attorneys for both sides to court on Aug. 28 to discuss setting a trial date. It's unclear if Trump's post will prompt her to seek more immediate efforts to implement a protective order or to impose a gag order, which can be issued under D.C. federal court rules.
Trump's Truth Social post came just one day after he swore in federal court that he would not make any effort to influence or retaliate against witnesses or make any other actions that might obstruct the administration of justice in his case. Asked by a magistrate judge on Tuesday to verify that he would comply with that instruction, Trump acknowledged it and said that he would.
The Truth Social post made no specific reference to any witnesses or court personnel, but Trump has often used his social media megaphone to attack prosecutors and judges in the criminal cases he is facing.
Trump is as prolific on Truth Social as he was on the service formerly known as Twitter, so it took a while to scroll down to find the actual (whatever the Truth Social version of whatever a Tweet is now called is):

In the context of a guy who fomented an insurrection, this certainly reads as a threat of violence. In the context of his stream of consciousness on the social platform, including rants about the so-called Deep State, it's less clear.
These, for example, have been "truthed" since that one: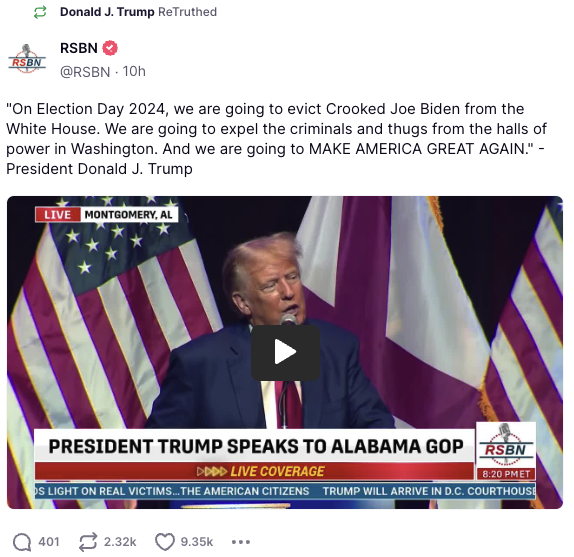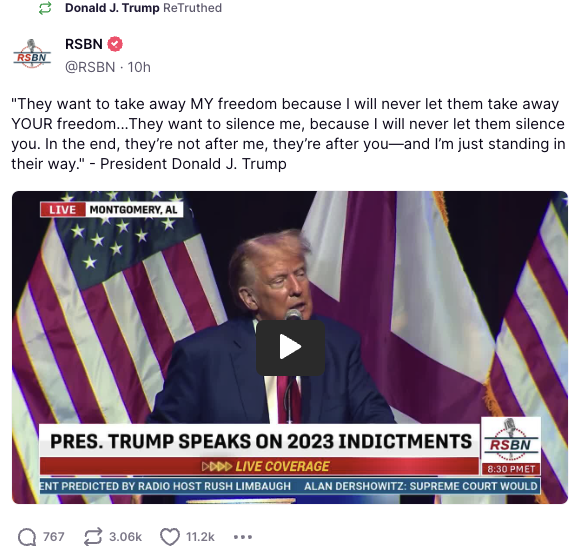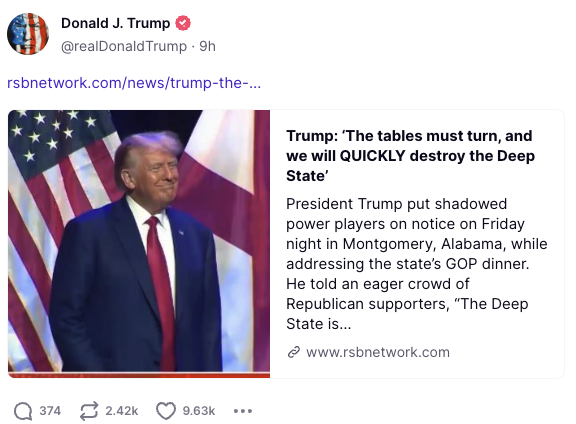 At Rolling Stone, Asawin Suebsaeng and Adam Rawnsley ("Jack Smith Has an Indictment. Trump Has a Massive Plan for Revenge") have a plausible explanation:
DONALD TRUMP IS a long, long way from winning the GOP primary, let alone retaking the White House. But he always has revenge on his mind, and his allies are preparing to use a future administration to not only undo all of Special Counsel Jack Smith's work — but to take vengeance on Smith, and on virtually everyone else, who dared investigate Trump during his time out of power.

Rosters full of MAGAfied lawyers are being assembled. Plans are being laid for an entire new office of the Justice Department dedicated to "election integrity." An assembly line is being prepared of revenge-focused "special counsels" and "special prosecutors." Gameplans for making Smith's life hell, starting in Jan. 2025, have already been discussed with Trump himself. And a fresh wave of pardons is under consideration for Trump associates, election deniers, and — the former president boasts — for Jan. 6 rioters.

The preparations have been underway since at least last year, with Trump being briefed on the designs by an array of attorneys, political and policy advisers, former administration officials, and other allies. The aim is to build a government-in-waiting with the hard-right infrastructure needed to turn the Justice Department into an instrument of Trump's agenda, according to five sources familiar with these matters and another two people briefed on them.

[…]

One idea that has caught thrice-indicted former president's attention in recent months is the creation of the so-called "Office of Election Integrity," which would be a new unit inside the Justice Department. It would be tasked not only with relitigating Trump's lies about his 2020 election loss, but also with aggressively pursuing baseless allegations of election "fraud" (including in Democratic strongholds) in ways that Trumpist partisans believe the department has only flirted with in the past.

[…]

And when it comes to Special Counsel Smith's office — which just handed Trump his third indictment, this one related to efforts to overturn the 2020 election — the former president and his fellow travelers already know what they want: They want the FBI and DOJ to name names.

This year, close advisers to Trump have begun the process of assembling lists of the names of federal personnel who have investigated the former president and his circle for years, and are attempting to unmask the identities of all the DOJ attorneys and others connected to Smith's office. The obvious purpose of this, according to one source close to Trump, is to "show them the door on Day 1 [if Trump's reelected]" — and so "we know who should receive a subpoena" in the future.

Such subpoenas would of course be instrumental in Trumpland's vows to its voters that, should he return to power, Trump and his new attorney general will launch a raft of their own retaliatory "special counsel" and "special prosecutor" probes to investigate-the-investigator, and to go after their key enemies. As it were, Jeffrey Clark, a former DOJ official and a central figure in Trump's efforts to subvert the legitimate 2020 presidential election results, has been on Trump's informal shortlist for plum assignments, including even attorney general, in a potential second administration.

Sources familiar with the situation tell Rolling Stone that Trump and his close ideological allies — working at an assortment of MAGA-prone think tanks, advocacy organizations, and legal groups — are formulating plans for a wide slate of "special prosecutors." In this vision, such prosecutors would go after the usual targets: Smith, Smith's team, President Joe Biden, Biden's family, Attorney General Merrick Garland, FBI director Christopher Wray. But they'd also go after smaller targets, from members of the Biden 2020 campaign to more obscure government offices.

"There are almost too many targets to keep track of," says one Trump adviser familiar with the discussions. Trump and members of his inner orbit have already outlined possible legal strategies, examining specific federal statutes they could wield in a Republican-controlled Justice Department to go after Manhattan DA Alvin Bragg, who delivered Trump's first indictment of this year.

The FBI's investigation of over a thousand rioters who breached and trashed the Capitol on Jan. 6 — officially the largest criminal investigation in Justice Department history — is another area where Trump has stated he would like to reverse course. "I am inclined to pardon many of them. I can't say for every single one because a couple of them, probably, they got out of control," Trump told host Kaitlan Collins during a CNN town hall in May.

When the broader topic of possible second-term pardons has come up behind closed doors, Trump has at times said that such pardons should be signed at the start of the term, not saved for the later on, according to those who've heard him discuss it since last year. Aside from the rioters themselves, Trump has also privately floated issuing a wave of pardons to higher-ranking figures who were scrutinized in Special Counsel Smith's two main investigations.

"This would be like hitting the delete-key on all of DOJ's work on these investigations," a person intimately familiar with the conversations told Rolling Stone in March. In the past several months, when confidants have quipped to Trump that he may have to "pardon yourself," should he return to the Oval Office, the ex-president has sometimes simply smirked and replied that they'll have to wait and see.

Another major focus of some of these counter-probes would be "grand jury violations," says one person familiar with the matter. The counter-probe of those alleged "violations" is the surest sign yet that in a second Trump administration, the Justice Department would seek to investigate the special counsel's use of grand juries in the Mar-a-Lago and January 6 cases. (Indeed, Trump has already vowed to sic a special counsel on President Biden if he beats him in 2024.)

Some of these "special prosecutors" wouldn't even be based out of the Justice Department, as special counsels typically are. In some of these private Trumpworld legal plans, some of the "special counsels" would be based out of places like the White House. This idea is nearly identical to the controversial position that Trumpist lawyer and conspiracy theorist Sidney Powell tried to convince then-President Trump to give her in the aftermath of the 2020 election.
There's more but you get the idea. Basically, a combination of the delusions of a madman and full-on fascism.