Trump: When I Said Mexico Would Pay For The Wall, I Didn't Mean They'd Pay For The Wall
President Trump is claiming he never said Mexico would directly pay for the wall, except for all those times when he said Mexico would directly pay for the wall.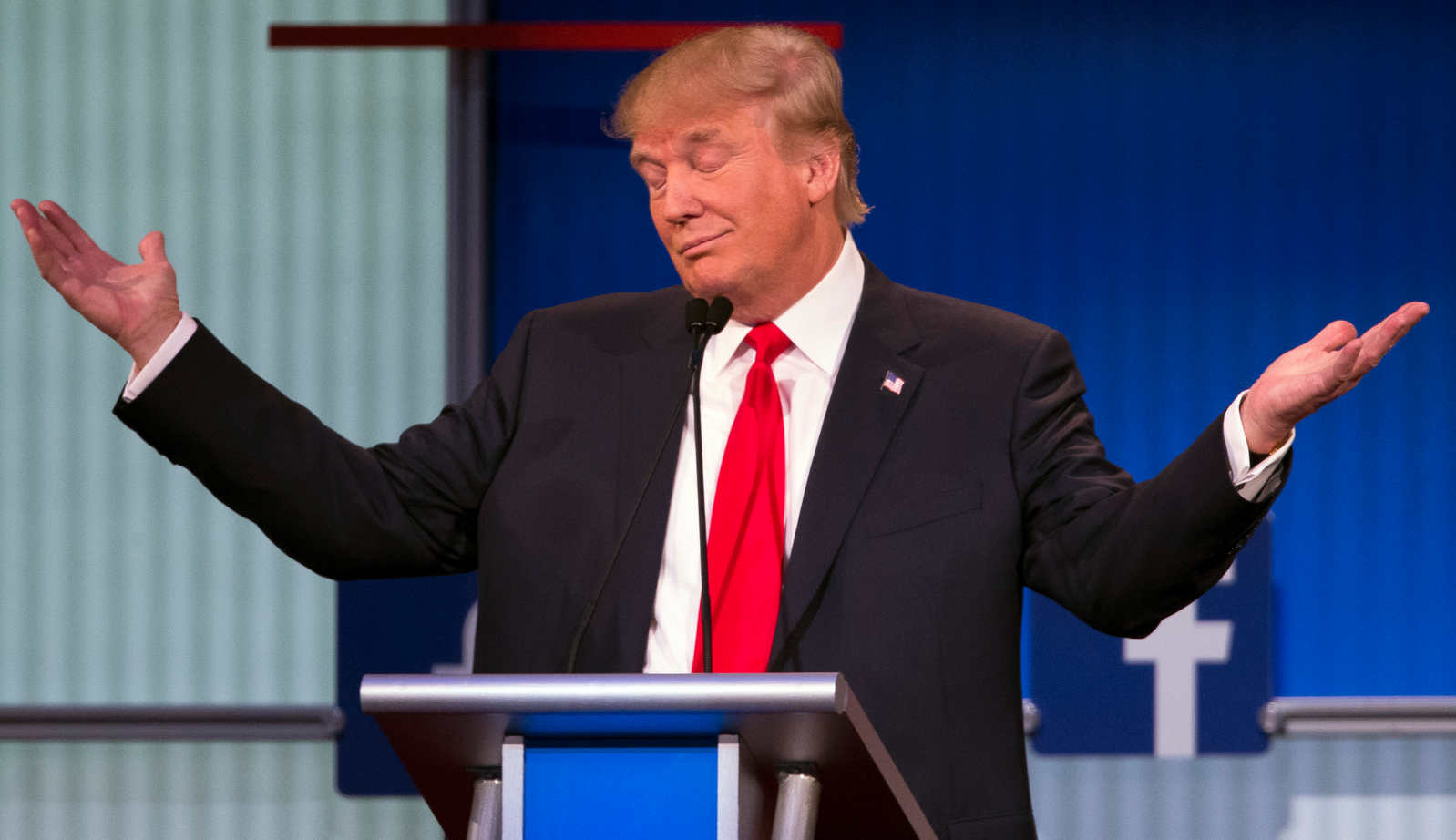 In what amounts to perhaps his greatest attempt at chutzpah and lying since becoming President, Donald Trump told reporters that his claim that Mexico would pay for his border wall never meant that, well, Mexico would pay for the wall:
Back in April 2015 — an era so distant in American history that it barely shimmers in and out of view, cloaked in the haze of everything that's happened since — Donald John Trump promised the United States that he would build a wall on the border with Mexico and that Mexico would cover the cost.

It was at an event in New Hampshire covered by Paul Steinhauser of NH1 News, targeting the state which, as it turns out, would provide Trump with his first victory in electoral politics. But at the time — despite Steinhauser's accurate assessment that it wasn't — it seemed like a joke. The TV guy was going to build a wall for free, huh? Okay. Good luck.

The point, though, is that Trump's insistence that Mexico would pay for the wall is, in fact, older than his campaign itself. At that New Hampshire event, he even said how it would happen, in broad strokes.

"I will take it from out of just a small fraction of the money they've been screwing us for over the last number of years," he claimed.

That is salient in the moment because of the ongoing government shutdown that stems from Trump's insistence that the American — not the Mexican — government would pick up the tab. He went further in comments to reporters on Wednesday, claiming that his frequent assertions that Mexico would pay for the wall were always meant to suggest an indirect payment, just like the assertion above.

"When during the campaign I would say, 'Mexico's going to pay for it,' obviously I never said this and I never meant they're going to write out a check," Trump said. "I said they're going to pay for it. They are. They are paying for it with the incredible deal we made, called the United States, Mexico and Canada — USMCA — deal."

Trump went on to note (unusually for the subject) that the trade deal hadn't yet been approved by Congress and, therefore, wasn't yet paying anything for anything. He did not, however, also point out that there is no actual mechanism within that deal that would accomplish the payment he insists will follow.

"When I said 'Mexico will pay for the wall' in front of thousands and thousands of people, obviously they're not going to write a check," he reiterated. "But they are paying for the wall indirectly, many, many times over, by the really great trade deal we just made."

The only problem? He did, at times, claim that Mexico would carry out the equivalent of signing over a check.
Here's the video:
As for the claim that he never said that Mexico would pay for the wall, well this tweet from September 2016 says differently:
Mexico will pay for the wall!

— Donald J. Trump (@realDonaldTrump) September 1, 2016
In fact, Trump either directly said or implied on a number of occasions that Mexico would in fact directly pay for the wall, as The Washington Post's Philip Bump goes on to note in the article linked above. At some points, of course, Trump was unclear exactly how Mexico would pay for the wall. On other occasions, he did say that this would somehow be accomplished via renegotiated trade deals, although he doesn't make clear exactly how that would happen since international trade works on a company-to-company basis, not country-to-country basis. On several occasions, though, he made it clear that Mexico would pay for the border wall through direct cash payments to the United States, something that countless Mexican politicians rejected both before Trump became President and afterward. One of the most direct examples of that was uncovered even while Trump was still speaking to reporters:
Trump's campaign website said Mexico would "make a one-time payment of $5-10 billion" https://t.co/cAJ9e5uR8z

— Ben Jacobs (@Bencjacobs) January 10, 2019
A similar argument was made in a memorandum that the campaign provided to reporters during the primary, a copy of which I've embedded below. So the argument that Trump never said that Mexico would pay for the wall is, of course, a lie, and a particularly egregious one at that. As for the argument that Mexico is paying for the wall for the as-yet-unratified USMCA, that's basically nonsense:
A modernized NAFTA could potentially grow the economy and increase overall tax revenues, but those would be paid by the increased output of U.S. companies and workers and not by the Mexican government.

POLITICO has asked the White House to provide estimates of the government revenue that will come from the U.S.-Mexico-Canada Agreement, but officials have not responded.

The funds aren't likely to be coming from tariff revenue. Most tariffs between the U.S. and Mexico were waived nearly 25 years ago through the original free-trade agreement. The new pact keeps most of those tariff reductions in place, which means not much money will be flowing into the Treasury.

The new trade deal does include rules that make it harder for auto companies to build vehicles or certain parts in Mexico and export them to the U.S. duty free. More auto companies, both American and foreign, might choose to pay the 2.5 percent tariff rather than complying with a new web of content requirements.

The result of more vehicles being charged tariffs could be more money in U.S. coffers, but those costs will likely be paid by importers in the U.S. and possibly U.S. consumers if dealers choose to pass on the added cost to the buyer.

White House strategic communications director Mercedes Schlapp acknowledged on CNN on Wednesday that U.S. taxpayers would ultimately fund the wall.
The argument that Mexico is technically indirectly paying for the wall via the new trade agreement, which has yet to be ratified by Congress, is obviously nonsense. Equally nonsensical is the idea that Trump never said, either directly or by implication, that Mexico would pay directly pay for the wall. He clearly said so on numerous occasions, and to say otherwise is simply a lie. Of course, lying is what this President does best so that shouldn't be so shocking.
Here's the memorrandum I mentioned above:
Pay for the Wall by on Scribd