Trump's Call For National Guard Troops At The Border Falling Flat
President Trump's call for National Guard troops isn't going over well even with Republican Governors.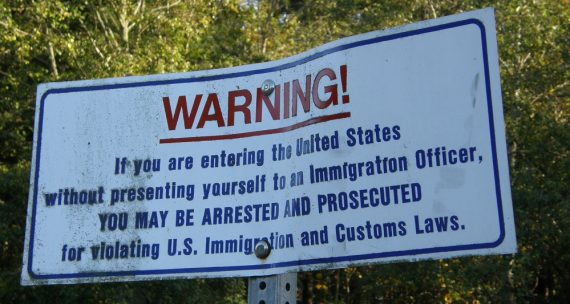 Earlier this week, President Trump announced an initiative to send members of the National Guard to the U.S.-Mexican border to combat what he contends is a huge problem. As part of that announcement, Trump said he envisioned anywhere from 2,000 to 4,000 troops being sent to the border to supplement and aide immigration authorities, although the exact nature of the tasks they would perform has not been made clear at all. So far at least, that plan seems to be mostly falling flat even among border state Republican Governors.
The first states to respond to the call have been Arizona and Texas, which have announced plans to send a total of just 400 National Guard members to their respective borders:
Arizona and Texas announced Friday that they would send 400 National Guard members to the U.S.-Mexico border by next week in response to President Donald Trump's call for troops to fight drug trafficking and illegal immigration.

Arizona Gov. Doug Ducey said about 150 Guard members would deploy next week. And the Texas National Guard said it was already sending Guardsmen to the border, with plans to place 250 troops there in the next 72 hours as an "initial surge," according to a Guard spokesman. Two helicopters lifted off Friday night from Austin, the state capital, to head south.

The total so far remains well short of the 2,000 to 4,000 National Guard members that Trump told reporters he wants to send. New Mexico Gov. Susana Martinez's office said Friday that it had not yet deployed any Guard members. The office of California Gov. Jerry Brown did not respond to questions about whether it would deploy troops.

Trump's proclamation Wednesday directing the use of National Guard troops refers to Title 32, a federal law under which Guard members remain under the command and control of their state's governor. This leaves open the possibility that California's Brown could turn him down.

Defense Secretary James Mattis Friday night approved paying for up to 4,000 National Guard personnel from the Pentagon budget through the end of September. A Defense Department memo says the National Guard personnel will not perform law enforcement functions or "interact with migrants or other persons detained" without Mattis's approval. It said "arming will be limited to circumstances that might require self-defense," but it did not further define that.
Sending 400 Guard members is, of course, far short of the number that the President is envisioning, but given the fact that it's still entirely unclear what the troops could or would be doing, it seems clear that sending large conditions would just end up being a waste of time and resources that could potentially disrupt Federal immigration authorities from doing their jobs. Other states in the region have, so far at least, been less enthusiastic. California Governor Jerry Brown, for example, has been non-committal at best and could end up being an outright rejection of the President's call to action. New Mexico's Republican Governor Susanna Martinez has been positive in her reaction to the announcement but she has yet to announce how many troops she'd be willing to commit, while other authorities in New Mexico have voiced concern about how calling up the Guard could disrupt local law enforcement. Another Republican Governor, Brian Sandoval of Nevada, has said that calling up the National Guard was not appropriate under the circumstances, thus suggesting that his state would not respond positively to a request for troops from Washington. Finally, Oregon's Democratic Governor Kate Brown has emphatically rejected the idea.
In the end, Trump's call for troops is entirely dependent on the state Governors, unless he chose to federalize the National Guard in a particular state and issue orders of his own. While that remains a possibility, it seems like an unlikely one since it like would not go over well even with Republican Governors, and would most certainly be seen as disruptive to the lives of volunteers around the nation who would end up being sent to the border for what seems like no good reason to do essentially nothing useful.