Trump's Defense of Putin
The President throws the US under the bus to defend Putin.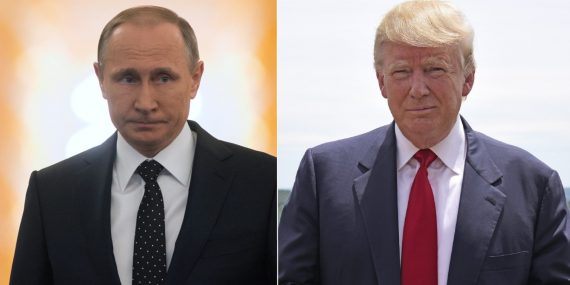 I suspect we have all heard or read this clip from Trump's interview with Bill O'Reilly that aired before the Super Bowl (via CNN):
Trump made the remark during an interview with Fox News' Bill O'Reilly, saying he respected his Russian counterpart.

"But he's a killer," O'Reilly said to Trump.

"There are a lot of killers. You think our country's so innocent?" Trump replied.
There is an awful lot that could be said about this interchange.  Some might wish to give the President credit for our own national imperfections.  After all, our own history is not as pure as we would always like to think that it is. However, consider, he is not here thoughtfully considering the past action of the United States, he is throwing the US under the bus so as to dismiss serious concerns about the actions of a specific foreign leader.  And, it should be added, a foreign leader who is not especially friendly to the United States.
To put this is some context, here is a list of concerns about Putin's behavior from a recent column by
Dana Milbank
:
Opposition leader Boris Nemtsov was killed outside the Kremlin as he walked home one night last year. Putin's regime blames Chechens, but Nemtsov's is one of a dozen high-profile murders of opponents widely thought to have been sanctioned by Putin's government.

Another Putin opponent, Alexander Litvinenko, was killed in London by polonium poisoning in 2006. The British government said Putin "probably" approved the hit. That same year, opposition journalist Anna Politkovskaya was shot and killed outside her apartment.

In 2009, lawyer Sergei Magnitsky died in prison after being denied medical care. Others working on his investigation of corrupt Russian politicians also died suspiciously.

Among the many business leaders imprisoned or ousted under Putin are Mikhail Khodorkovsky, who was head of the oil giant Yukos, and associate Platon Lebedev. The Russian human rights group Memorial says there are 102 people held in Russian prisons for their political or religious beliefs.

The Kremlin has provided funding and training for far-right nationalist parties in Europe, and it used its state media and an army of hackers and social-media trolls to spread disinformation in the United States, in continental Europe and in Britain before the Brexit vote. The goals: to weaken European unity and the NATO alliance and to keep Europe dependent on Russian energy.

Russia also used disinformation to destabilize the Ukrainian government as Russia annexed Crimea. In Syria, where Russia propped up the Assad regime with indiscriminate bombing in Aleppo and elsewhere, Britain, France and the United States have blamed Putin's government for the mass slaughter of civilians.

An Amnesty International summary of Putin's rule leaves no doubt about his totalitarian state: "Journalist Killed . . . Human Rights Lawyer Killed . . . Gay Rights Protesters Attacked . . . Exhibition Organizers Sentenced . . . Activists Beaten and Detained . . . Opposition Leader Held in Detention . . . Repressive Laws Enacted . . . Fines for 'Promoting Homosexuality' Imposed . . . President Putin Signs Law to Re-criminalize Defamation . . . USAID Expelled . . . Federal Treason and Espionage Act goes into effect . . . Prominent NGOs are Vandalized . . . Moscow Authorities Detain Protesters and Opposition Party Members."
It is, to put it mildly, patently bizarre for the President of the United States to defend Vladmir Putin by saying, "There are a lot of killers. You think our country's so innocent?"
This, of course, prompted criticism of the President in the pages of the WSJ:
My blunt language suggesting that the president doesn't love America notwithstanding, I didn't intend to question the President's motives or the content of his heart. My intended focus really was the effect his words and his actions have on the morale of the country, and how that effect may damage his performance. Let me explain.

The role of an American president is unique. It is not simply that he or she is vested with the executive power of just any national government. Rather, the president heads the government of the one country with an unequaled record of promoting and protecting human freedom—and the only country in the world that is in a position to continue doing so if properly led.

[…]

Irrespective of what a president may think or feel, his inability or disinclination to emphasize what is right with America can hamstring our success as a nation. This is particularly true when a president is seen, as the President is, as criticizing his country more than other presidents have done, regardless of their political affiliation.
Oops.  Sorry, that is actually Rudy Giuliani criticizing President Obama in 2015 for not extolling American exceptionalism as much as he would have liked (indeed, as per this piece, there was a long line of conservative criticisms against Obama for not properly recognizing American exceptionalism).  I will confess to changing two instances of "President Obama" in the above text to "the President."
I point this out not because I am looking to make a simplistic hypocrisy point.  Quite frankly, that isn't really the important part.  I bring this up because the degree to which Republicans and their media allies will forgive Trump his transgressions on this issue tell us that there have more loyalty to power than they do to principles.  Given the behavior of the current president, this matters more than usual. Loyalty to power feeds autocracy.
As a side note, it is more than a bit amazing, if not chilling, to see Trump rail against the judicial branch for daring to do its job within our constitutional order, but blithely dismiss Putin's history.  It is even more chilling to watch a large number of Americans accept both without blinking.
In regards to Trump's worldview and the American exceptionalism issue, I would recommend Daniel Drezner's piece (written before the comments cited above, but more on point now that those comments have been made):  America the unexceptional
There have always been critics of the concept of American exceptionalism. Foreigners on the receiving end of some of America's less savory overseas interventions would scoff at the idea. Critics of the national security state such as Glenn Greenwald or Noam Chomsky would argue that American hypocrisy on matters such as surveillance and the selective focus of U.S. human rights criticisms obviates the idea of American exceptionalism.

Supporters of the idea cannot entirely dismiss these criticisms, but they could always offer two counterarguments. The first was that while the United States has, at times, acted like a garden-variety great power, it has been less likely to do so than, say, Russia or China. The second is that the ideals that animate American exceptionalism have an independent power of their own. The aspirational goals of America might be utopian. But since all human beings aspire to something, it's good to have clear and compelling vision to offer the word. A large part of Joseph Nye's concept of "soft power" rests on the idea that the American Dream appeals to the rest of the world — even if the grubby reality of it looks different.

The power of American exceptionalism in the United States has been pretty strong in this century. Barack Obama caught all kinds of hell from conservatives when they argued that he did not believe in American exceptionalism (he did).

So here's a simple question: Does Donald Trump believe in American exceptionalism?
To spoil the column, which I recommend in full, he concludes:
Donald Trump campaigned to make America great again. Unfortunately, his presidency suggests that he will make America like every other country. We're about to find out just how much that will harm American interests.
His statements about Putin reinforce this position.