Trump's Offensive Defense
Trump is doing the opposite of trying to calm things down.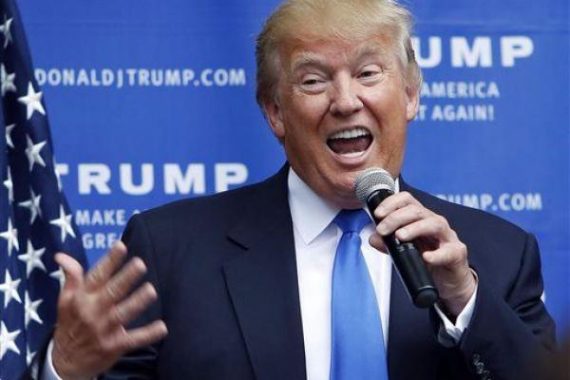 There is so much to be said about Donald Trump, his candidacy, campaign, and adherents, it is hard to know where to begin.  However, in the context of his violent rhetoric and the behavior of some of his followers at his rallies, let's start with two stories.
One via TPM News:  Trump Claims Man Who Tried To Rush Stage Connected To ISIS
Speaking at a rally later Saturday in St. Lois, Trump told the crowd about the incident and said that, after learning the man's name, one of his "Internet people" discovered something shocking: alleged evidence that linked Dimassimo to Islamic State militants.

"It was probably ISIS or ISIS-related. Do you believe it?" Trump asked the crowd. He said that an online search had revealed "the guy is playing all sorts of, let's say music that you wouldn't be liking, dragging an American flag along the sidewalk, making all sorts of gestures, having all sorts of things on the Internet. And he's probably or possibly ISIS-related."
The other is a video from Fox News' FB page wherein Trump calls Bernie Sanders a "communist." To which I will add a relevant Tweet by The Donald:
Bernie Sanders is lying when he says his disruptors aren't told to go to my events. Be careful Bernie, or my supporters will go to yours!

— Donald J. Trump (@realDonaldTrump) March 13, 2016
There is a lot going on here, but in simple terms it boils down to this:  linking anti-Trump protesters to America's current big boogieman (ISIS) and to the specter of Boogiemen past (communists).  At the base of it all is falsehood:  the individual who tried to get on stage with Trump was not linked to ISIS and Bernie Sanders is not a communist.  The very way he says things "It was probably ISIS or ISIS-related" smacks of pure BS, and yet it will be taken as true by far too many.  That fact that Dimassimo is linked online to Bernie Sanders and Black Lives Matter means that I will not be surprised to see Trump try to link BLM to ISIS.
This is all especially disturbing because it comes in the wake of clear racially motivated violence against anti-Trump protesters at Trump rallies and amid growing attention to Trump's own violent rhetoric.  Does Trump try to calm the situation?  No.  Instead he a) deflects blame (watch the clip linked above–how blames Bernie supporters and talks about his supporters are all "nice people"), b) he links opposition to ISIS and communism (which provides further excuses for violence), and c) makes threats.
Trump is not only doing nothing to quell the obviously problematic behavior of some of his supporters, he is actively courting it. He is currently demonstrating a severe lack of the temperament needed in a president.  Instead he is behaving with a remarkable level of irresponsibility.
Indeed, beyond trying to quell it, he is literally "look[ing] into" defending it (Trump looking into paying legal fees in sucker punch incident):
Republican presidential front-runner Donald Trump said he is looking into paying the legal fees for the man who allegedly sucker-punched a protester last week during a Trump rally.

"I'm going to look at it. I'm going to see, you know, what was behind this, because it was a strange event. But from what I heard, there was a lot of taunting and a certain finger was placed in the air. Not nice," he said on NBC's "Meet the Press" on Sunday.

"I've actually instructed my people to look into it, yes," he said.

As a protester was being escorted out of a North Carolina rally, a 78-year-old man allegedly punched the protester in the face. The man was arrested and charged the next day with assault and disorderly conduct.

Trump said Sunday he doesn't accept responsibility for the incident, adding he doesn't "condone violence in any shape."
To be honest, I am not convinced Trump has any intention of paying for the guy's defense and it would not surprise me one iota to learn that he is lying about having his people look into such a defense.  However, there is no doubt that by going on TV and doubling-down on previous promises to pay the legal fees of supporters who get into altercations with protesters that he is encouraging further altercations.
The ever-increasing ugliness of Trump's campaign is truly disturbing.
(And BTW, I do not condone Dimassimo's actions:  trying to run up on stage at a political event is foolish a minimum.)