Trump's Three Trials
The former president faces multiple criminal prosecutions.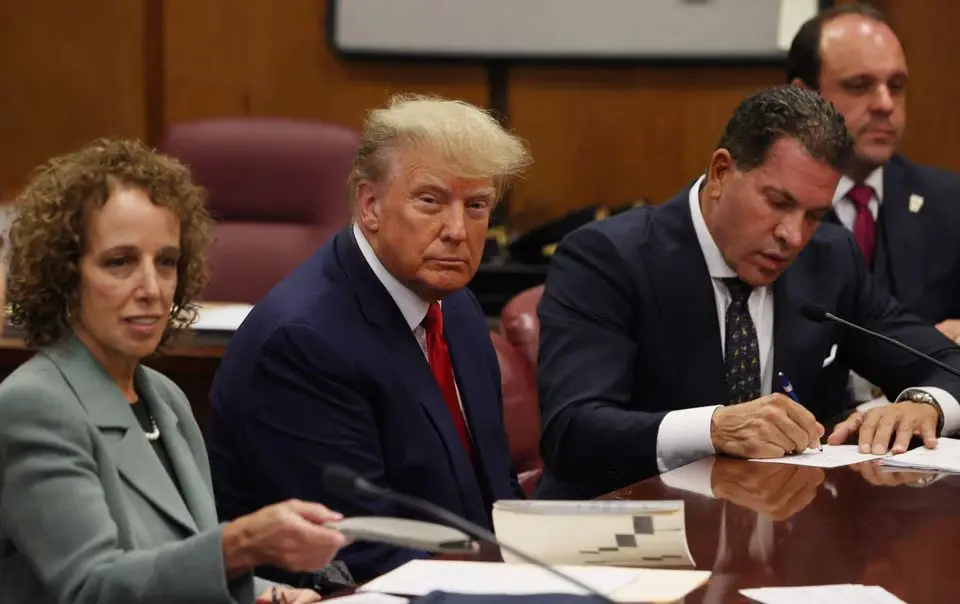 POLITICO Congressional reporter Kyle Cheney contends, "Trump's defeat in Carroll case presages more legal peril."
A federal jury's finding that Donald Trump sexually abused E. Jean Carroll in the mid 1990s is a historic rebuke of a former president and frontrunner for the 2024 GOP nomination. But it's also a prologue.

Legal threats in Washington, Manhattan and Atlanta — both criminal and civil — are crystallizing in ways Trump has skirted for his entire political life. And the story of his bid to regain the presidency is likely to be defined by his attempts to stave off criminal liability for things he did the last time he occupied the White House.
He breaks the cases down one by one, in the order of potential action.
Fulton County District Attorney Fani Willis is investigating efforts by Trump and his allies to overturn the results of the 2020 election in Georgia, a state that President Joe Biden won narrowly. Willis recently told local law enforcement to prepare for potential indictments between July 11 and Sept. 1.

Willis' charging decisions are rooted in the work of a special grand jury she convened to determine whether Trump violated state election laws in his bid to remain in power. That special grand jury probed Trump's effort to reverse the outcome in Georgia, as well as his broader effort to subvert the election in Washington. The panel focused specifically on Trump's effort to press state election officials to "find" just enough votes to put him over the top in the state.

The special grand jury — a quirk of Georgia criminal law — has no power to indict but made recommendations about potential prosecutions earlier this year. Willis is not bound to follow those recommendations but said in January that charging decisions were "imminent." She must now present the evidence gathered by the special grand jury — as well as additional information she's been gathering in subsequent months — to a traditional grand jury that can issue charges.
As with the Manhattan case, an indictment by a Democratic elected official in a very blue city will be easily spun as a political witch hunt. Trump was almost certainly reckless enough in his strong-arming for Willis to make a case against him. But the optics aren't great.
Manhattan District attorney Alvin Bragg made history when he obtained the first ever criminal indictment of a former president, charging Trump with dozens of felony counts for allegedly cooking his company's books to secure the silence of a porn star who accused him of an affair.

The judge overseeing the case recently asked lawyers for both sides to agree on a trial date in February or March 2024. In the meantime, expect a long series of pre-trial motions and bids by Trump to dismiss, delay or relocate the proceedings to another district or to federal court. The next major milestone is Aug. 8, when Trump is due to file expected motions to challenge the indictment.
We've discussed this one at length. While I'm quite sure Trump committed multiple crimes, legal analysts overwhelmingly think the particular charge here is a stretch.
The one we've all been waiting for is this one:
Special counsel Jack Smith has been on a tear. In recent weeks, he's hauled in former Vice President Mike Pence to testify to a grand jury, as well as former top aides in the Trump White House — from social media adviser Dan Scavino to policy adviser Stephen Miller to personnel chief Johnny McEntee. Former chief of staff Mark Meadows is expected to appear before the grand jury imminently as well.

These interviews followed a series of intense, secretive legal battles in which Trump fought to stave off their testimony by asserting executive privilege. And in each case, he lost swiftly in both the district court and the court of appeals — setting new precedents for the separation of powers along the way.

The witnesses were key players in the final weeks of Trump's administration, as he worked desperately to seize a second term despite losing the 2020 election to Biden. When his efforts failed, a mob of his supporters — assembled in Washington on Jan. 6, 2021 at Trump's call — bashed their way into the Capitol and sent Pence and lawmakers fleeing for their lives.

Of all the investigations Trump faces, the timeline here remains murkiest. Smith is still working to prevail in a long-running legal battle to access the communications of Rep. Scott Perry (R-Pa.), whose phone was seized by the FBI last August. Several other sealed legal fights, which are still unresolved, could unlock additional troves of evidence for Smith and his team of prosecutors — each of which could prolong the investigation by identifying new leads.
Unless something happens relatively quickly—which seems doubtful—Attorney General Garland is going to be loath to indict and be seen as interfering in the 2024 election.
There's also this:
Smith's work isn't limited to Jan. 6. He's also probing Trump's handling of scores of classified documents found at his Mar-a-Lago estate more than a year after Trump left office. This probe appears significantly more advanced than the Jan. 6 probe, in part because it involves a smaller universe of potential witnesses, many of whom have already appeared before Smith's grand jury.

One of those recent appearances came from one of Trump's own lawyers, Evan Corcoran, who was forced by the courts to testify despite Trump's effort to assert attorney-client privilege. Observers both inside and outside Trump's orbit have viewed this investigation as closer to completion than the Jan. 6 probe.
While the chants of "Lock him up!" and ironic parallels with "But her emails!" are amusing, I would be shocked if anything came of that one.