[Updated unexpectedly] Three Questions Brought Up By The DOJ Filing & Trump's Reaction
Just when I think I'm out, they pull me back in again... [update: x2]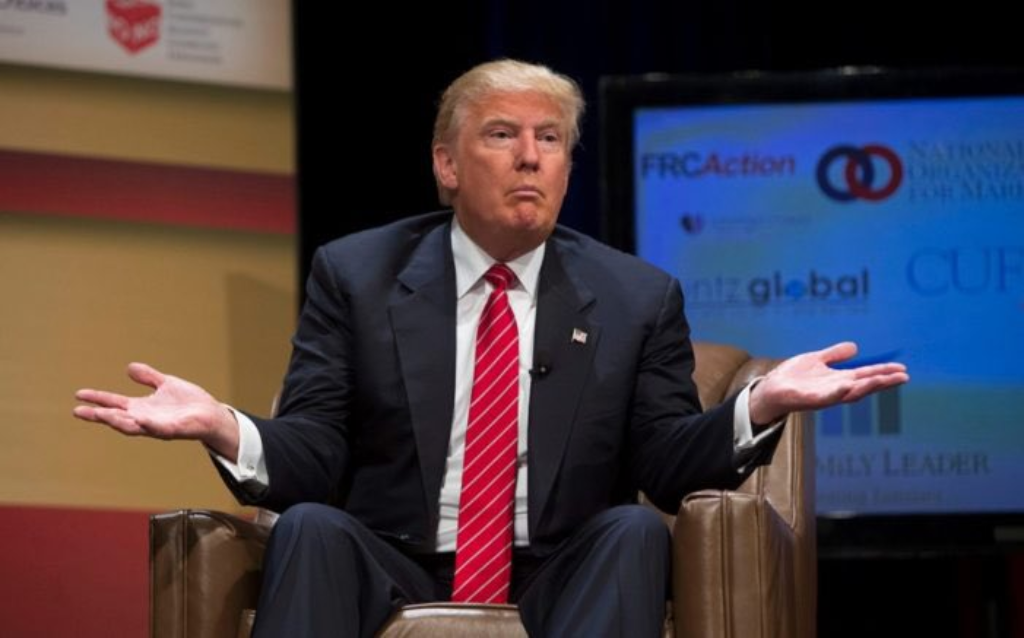 Last night's filing by the DOJ of their motion to dismiss the Trump legal team's request to have a Special Master appointed by the courts has, so far, inspired two posts from me: one that's a mostly serious analysis of the document and a second one that points out the ridiculousness of the defenses currently being raised by Trump supporters. I had planned that would be it until the release of a response from the Trump team, most likely at or near midnight tonight. However, fate intervened as I came across two questions that were both worth sharing to help expand the conversation.
Question #1: Assuming Trump's team does not mount a "he declassified these documents" defense, what is the implication for people who spent time in those unsecured rooms with classified documents?
First, I fully expect that the Trump team is going to finally use that defense. I personally don't think it's a strong one, but it's the best option they have to slow down the overall process. However, let's ask ourselves what happens if they don't. We know that one of the locations the documents were stored was in the "45 Office" (i.e. the former President's office) at Mar-A-Lago. That wasn't a secure room. Beyond the former President's staff, there were others who had access and were regularly in that room (the housekeeping staff for example). Most likely none of those people had the level of security clearance to have direct access to those documents. How does that impact the case moving forward?
There is an argument, that those people might never have seen the documents because the drawers they were in were normally locked. However, one of Trump's other attorneys might have some exposure. A little while ago, journalist Yashar Ali made the following connection:
In sworn testimony, attorney Alina Habba, told a New York State court that she conducted a search of Trump's office at Mar-a-Lago on May 5th that included "all desks, drawers, [and] closets" in Trump's "private residence and personal office" (with his permission). Given the timeline, it is well within the realm of possibility that some of those documents were in the drawers at that time. I expect that if things move forward, the DOJ will have some questions for Ms. Habba.
BTW, I'd love the thoughts from readers with direct experience with classified documents.
Question #2: If the DOJ was to move forward with prosecution, when might that happen?
This answer to this one is a little more clear: almost certainly not until after the election. Generally speaking, the DOJ has a policy limiting politically controversial decisions that begins between 60 and 90 days from the election day. We're already past the 90-day mark and will be hitting the 60-day mark next week. In theory, everything should be going dark on the Government's side until after the first Tuesday in November.
In theory.
There is a caveat here: I honestly don't think that if the Trump team had not pushed a variety of legal issues we would have seen these disclosures from the DOJ in the last few weeks. Every one of them, including last night's, was in response to legal action taken by Trump attorneys.
If Trump attornies continue to file motions, then I fully expect the DOJ to continue to respond to them. We still expect a filing from that team tonight (and I am expecting to finally get both an affirmative declassification and executive privilege defense–the latter of which will be DOA thanks to Nixon). So there is a greater than zero chance that this could continue to unfold between now and Election Day (especially if Trump feels that would benefit him).
As usual with the former President, we are in uncharted territory.
---
[Reluctant Update, 8/31 at 6:30 PM ET]
I swore to myself that, other than replying to comments, I wouldn't post more on this. Then the former President decided to go on Truth Social.
Question #3: Is former President Trump a good client for a lawyer to have?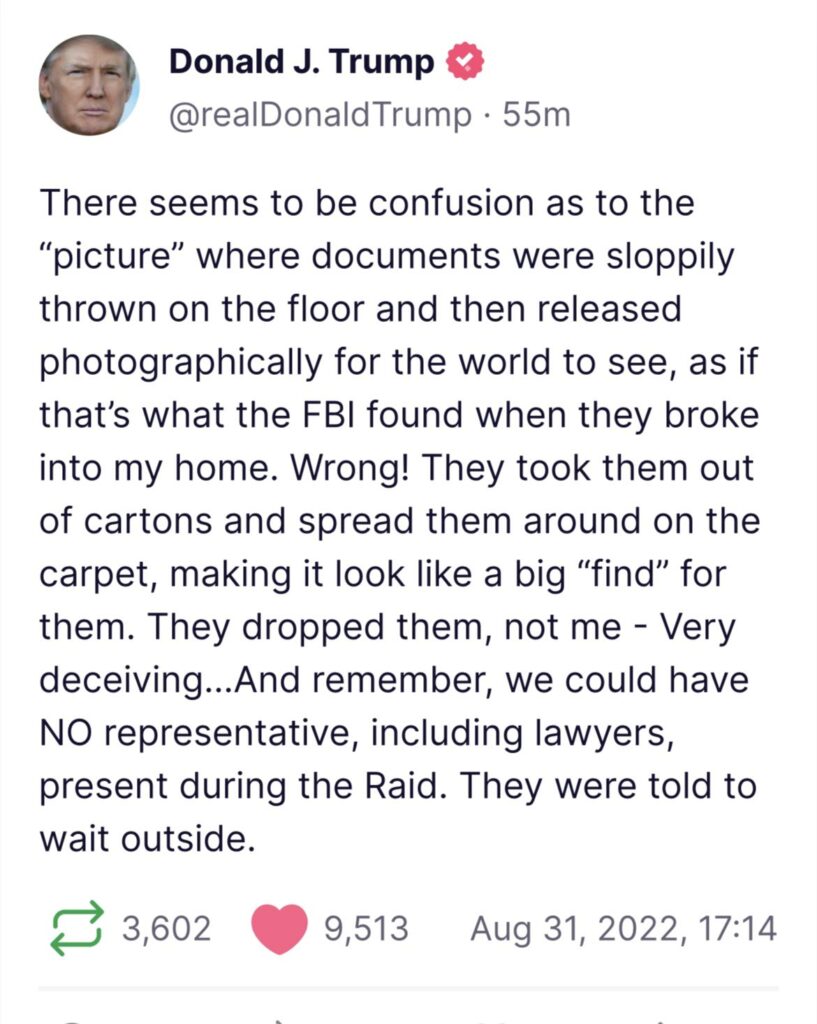 No.
No, he isn't. Especially as this is essentially confirming that those documents marked classified were (1) in fact on-premises and (2) outside of the secured space, which (3) his attorneys had previously sworn wasn't the case. Not to mention (4) not planted by the FBI.
This can potentially be used as evidence against his attorney in any obstruction trial. It probably can be used against Trump as well in terms of acknowledging that he knew the documents were on-premises.
See you all tomorrow morning to parse the Trump team's filing.
PS. By all accounts, even his own legal team, they did have a representative present during the search as they received the copy of the warrant and the inventory. Beyond that, he was (apparently to his chagrin) being treated like any other person who has had a search warrant served on them. Given the number of former associates who have experienced search warrants, you think he would have learned that by now.