When This Is The Best Defense Turley Can Raise, Things Are Really Bad
I mean, really, really, really bad for the former President and his legal team.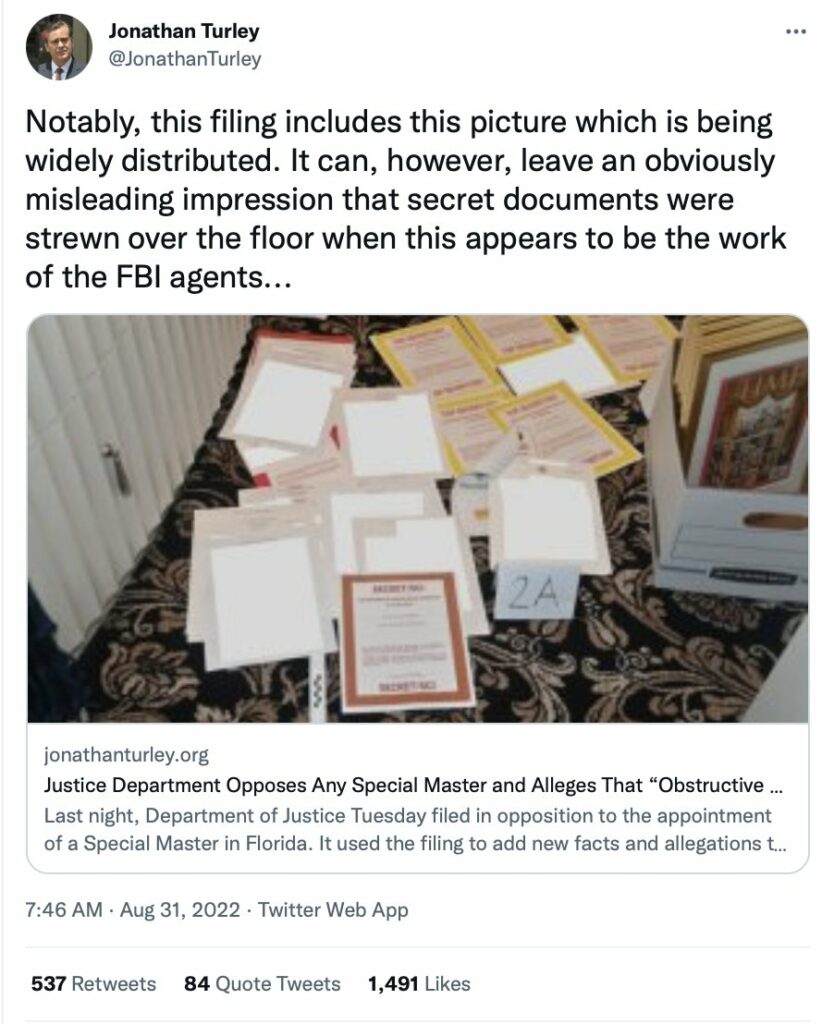 Earlier this morning, I provided some analysis about the DOJ filing in response to the Special Master request made by the Trump law team. The tl;dr is that it contains a lot of damning evidence (in particular for members of Trump's legal team who could easily be indicted based on the facts presented by the Justice Department). While we wait for the legal team's response, it's worth seeing what defenses, if any, were brought by the President's supporters. Always one to rise to the task, noted "liberal" Trump support Lawyer Jonathon Turley, has opted for a unique take.
So, the best defense is that… an evidence photo of a box and extracted documents… with a clearly identified evidence marker… will somehow make people think that this is the way the documents were stored?!
Ironically, given the presence of documents with classification markings on them in a desk draw in Trump's office (outside of the famed "storage room") and intermingled with his passports and other personal documents, that "analysis" might be truer than Turley himself realizes. [Update: reviewing the DOJ filing, these were in fact some of the documents that were taken from Trump's office. And note the framed "Time" magazine cover in the box, again highlighting the intermingling aspect of all of this].
Despite his behavior in recent years, Turley is still considered in some circles to be a gifted and thoughtful lawyer. All, I can say is, if at first glance, this is the strongest defense he can come up with in the face of that filing, then things are far worse for the Trump team than even I initially suspected.
PS: I for one am definitely looking forward to noted "anti-anti-Trump" defender Glenn Greenwald's "I don't support Trump but here is how he, an innocent man I do not support, is being criminally railroaded" take on this.
PPS. Please feel free to use the comments to share the best "defenses" you see or come up with on your own!
---
[Update: 8/31 12:50pm ET]
So, um… apparently this line of defense really is the only thing that they have:
Please remember that tweet the next time someone tries to argue that York is a "sane" Republican commentator.