What happens when you lose [Insert Name]?
When a go-to "nonpartisan" defender breaks rank does that change your opinion?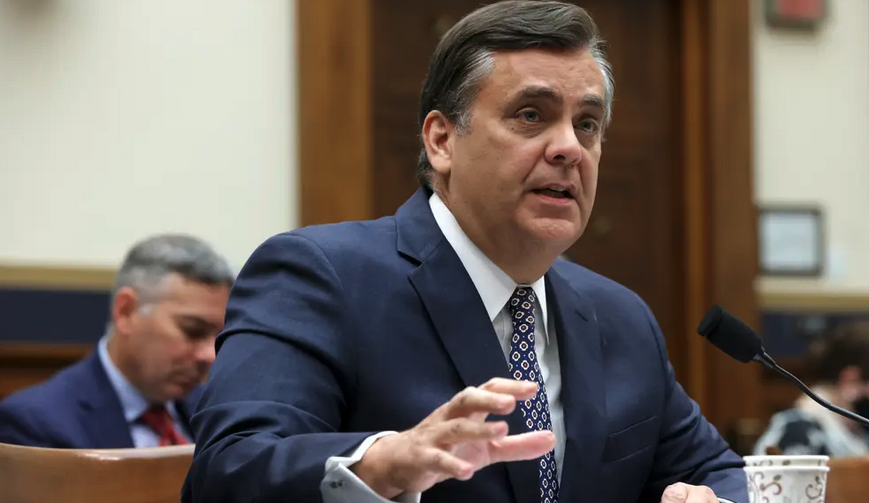 Throughout the Trump years, whenever a new legal problem for the then-President came up, his allies and supporters on the interwebz would invariably turn to iconoclastic lawyer Jonathon Turely. And there was good reason for that. Turley has impressive legal credentials, including his holding the Shapiro Chair for Public Interest Law at The George Washington University Law School. He's also a difficult individual to pin down politically.* Turley has argued that GWB administration officials should be prosecuted for war crimes, against special treatment for religious institutions and the death penalty. He also defended the Second Amendment, argued for the Clinton Impeachment and against the Affordable Care Act's individual mandate. In recent years, he's best known for being a fierce defender of former President Trump, in particular during his first Impeachment.
During the investigation into Trump's dealings with Ukraine and the subsequent impeachment procedures, Turley was a regular figure on Fox News arguing against impeachment. In fact, while he declined an offer to be part of the Trump Impeachment Legal Team, he was the sole witness called by the Republicans in the House Hearings. Throughout this time, Turley repeatedly took the position that while he was not a Trump supporter, it was his responsibility to represent the facts as he saw them. As a results, in comment threads here on Outside the Beltway and other sites, it was comment to see Trump supporters citing Turley as proof of Democratic Party over reach (example 1 and ex 2**). Often you'd see constructions like "Even Jonathon Turley…" or "Legal expert Jonathon Turley, who isn't even a Trump supporter…" used to prove their case.
This is totally understandable behavior. It's great to have a credible expert on your side, especially one who doesn't publicly identify as being "on your side."
But what happens when said credible expert takes a position counter to an accepted viewpoint? When Former President Trump announced his indictment on Thursday, Fox News again turned to Turley expecting that he'd most likely defend Trump against excessive prosecution. And they had good reason to as Turely had already expressed skepticism about this entire investigation (example 1 and example 2). And some of that skepticism was present when he appeared on Sean Hannity's show on Thursday night:
"Turley told Hannity he was waiting to see what the indictment held, but said "if this indictment is basically a bunch of close calls, I think there's going to be a great deal of recriminations."

Turley even suggested Trump could use the trial as a boost for his campaign, selling his mugshot to whip up his supporters and vowing to self-pardon himself if he's re-elected."

https://www.businessinsider.com/fox-news-legal-commentator-jonathan-turley-trump-indictment-extremely-damning-2023-6
However, after reviewing the indictment, Turely's position changed significantly by his next appearances on Friday:
"It is an extremely damning indictment," Turley, a conservative jurist and the Shapiro Professor of Public Interest Law at George Washington University, said.

Turley said the indictment detailed specific instances of Trump's alleged misconduct.

"The special counsel knew that there would be a lot of people who were going to allege that the DOJ acted in a biased or politically motivated way. This is clearly an indictment that was drafted to answer those questions," Turley said. "It's overwhelming in details."

The Fox News commentator noted that the indictment included direct quotations from Trump passed along by cooperating witnesses testifying under oath.

"The Trump team should not fool itself," Turley said. "These are hits below the water line."

He noted in a separate segment on Fox News that a photo showed classified documents stacked in a bathroom at Trump's Mar-A-Lago estate in Florida.

"It's really breathtaking," Turley said. "Obviously, this is mishandling. Putting classified documents into ballrooms and bathrooms … borders on the bizarre."

https://www.businessinsider.com/fox-news-legal-commentator-jonathan-turley-trump-indictment-extremely-damning-2023-6
Unlike in the past, I don't think there is any way to interpret Turley's comments in a way that is particularly favorable to Donald Trump. The question is, does that matter? Does Turley's analysis of the indictment have any impact on the thinking of same the Trump supporters who regularly quoted him as a credible expert in the past?
If you are reading this and think Turley's wrong here, what led you to that position? And, also if you think he is wrong now, why did you previously think he was right on other issues? To what degree does one's support of a heterodox thinker*** have more to do with where they land on certain issues than the reasoning that got them to said positions?
---
* – Based on my understanding of his positions, I think Turley is best classified as a classic libertarian, with a strong belief in individual and also civil rights.
** – In searching through the archive, I discovered that a number of examples of people relying on Turley have been pulled because the folks advancing those arguements were disinvited to OTB (see for example Drew and Keef) and many of their posts were removed.
*** – For the record, I have pretty mixed feelings on Turley. He is without a keen legal mind and I appreciate his principle stand on many issues around the criminal legal system, in particular his advocacy against the death penalty. That said, he's not someone I would go to immediately as a legal expert. I also want to be clear that my writing this is not intended to play the same game (i.e. "Even Jonathon Turley says Trump is in trouble and was irresponsible in handling the documents"). He just happens to provide a really timely example of having someone who has been held up as credible expert by folks on a given side of partisan issues who is now expressing an opinion that isn't as supportive to said side. Note a similiar arguement could be made around Bill Barr.