Two Brief Observations about OWS Critiques
Well, maybe not so brief...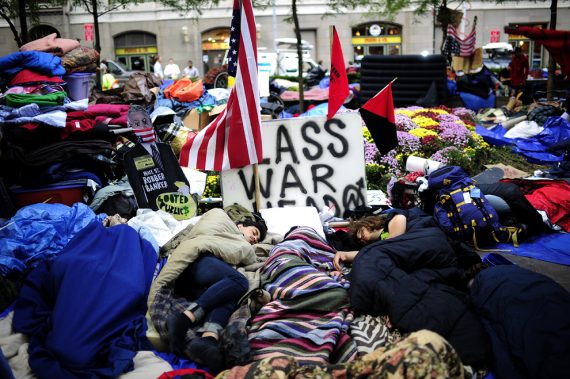 In reading any number of posts and comments both here at OTB (like some of the comments in this thread from a James Joyner post) and elsewhere, I am inspired to make three related observations as sort of an open letter to critics of OWS (and, really, to those who don't understand why there a lot of people upset in general about the politico-economic circumstances of the country today).  The short version is:  dismissing all of this (both OWS itself and the general spirit that animates it) as nothing more than young whippersnappers who have Lliberal Arts degress, look down on their noses are real work, and who love themselves some hippie drum circles is to miss some radically important issues.  None of this is especially original, I suppose, but I think it bears repeating and emphasizing":
1.  It is not clever (let alone useful) to try and characterize OWS/any young person unhappy about the state of the economy, as simply someone who either a) earned a useless degree and is now whining about the lack of jobs in said useless field, or b) someone unwilling to take a "lesser" job.  Such assertions ignore the simple fact that one of the groups hardest hit by the current recession are young people seeking to enter the workforce.  Concerns about the structure of the current economy or questions about whether the political deck is stacked in favor of specific industries and classes of people are not unwarranted.
Also:  given the jobs picture, the problem is not people being picky about the jobs they will take, it is the general lack of jobs (note the breakdown of unemployment by age here).
Are there some Fine Arts types who perhaps should have majored in something else?  Sure.  Are there people out there unwilling to take a job that they feel is "beneath" them?  Absolutely.  Are either of these factors explanations for OWS/serious and widespread concern across the country/globe.  Not at all.
As has been noted before:  there are at least three specific and important issues that cannot be dismissed by playing the Liberal Arts (if only they had majored in math!) card (which, to me, is just a more sophisticated sounding version of the Dirty Hippie card):
a.  Many of the OWS participants and their sympathizers were told that the rules were:  go to college, even it it means debt, and there will be a job for you.  This has ended up not being the case.   That this has elicited a bit of anger should not be a shock.
b.  The financial sector received a massive tax-payer funded bailout, and said sector is doing just fine now.  Of course, it was said sector that was a major participant (it not the participant) in facilitating the Great Recession in the first place.   To link this back to the first point:  part of why students have to go into debt to get a college education in the first place is because states have continually cut back suppose to colleges and universities, and therefore said schools have had to increase their tuitions to cover costs.  They are told that there is no money for things like education, yet they see the powerful financial sector getting help.  To repeat myself, that this has elicited a bit of anger should not be a shock.
The now indebted and/or unemployed graduates are being told:  it is time for austerity (and being told by one of the major political parties that tax cuts at the upper levels are the most important policy agenda item) and while there was money in the coffers to help Wall Street, there is not money for anything else.  To their point of view, the actors who cause the recession that now has them struggling to find work were helped and they are being told that there is no help for them.
2.  There is also a serious current of "kids these days" or "when I was young…" that also strikes me as analytically beside the point.  First, if you are a 30-, 40-, or 50-something who has a job, it is easy to say "in my day…".   Further, the fact of the matter is:  it is always easy to look back on the past as another land wherein all the inhabitants did the right thing, worked hard, etc.  But of course, at best this is rose colored glasses and at worst nothing more than tautology (i.e., because you/your contemporaries turned out ok, then you all, at least retrospectively, made the right choices and did the right things, unlike, you know, these punks today).  This is reactionary fantasizing.
3.  The income inequality issue.  And, I think, it bears noting that the issue is not, per se, about simple redistribution.   The issues is a) the fact that over the last couple of decades, the amount of wealth controlled by the wealthiest has grown while other segments of the society has seen stagnation; and b) that tax policy has seen less money for investment in infrastructure and education in a way that makes it less likely for lower class persons to be upwardly mobile.  It is this latter point that is key and needs to be the focus of our national debate:  the issue is no about handouts, it is about sufficient investment in society as a general proposition.
Such is my understanding of the zeitgeist of OWS. It isn't angry English Lit majors who refuse to work at jobs outside their fields but instead like drum circles and urban camping.  It is a lot more complicated than that and I think that those who attempt to be dismissive aren't making a very good case for their position.