U.S. Government Losing $100,000,000 Per Year On Nickel And Penny Production
The U.S. Government continues to lose money on production of two coins that people barely use anymore.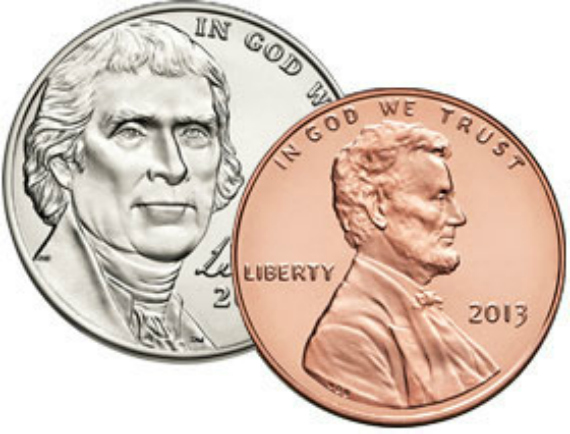 The United States Government continues to lose money minting coins that almost nobody is using:
The U.S. Mint has some good news and bad news in its latest biennial report to Congress. The good news is that we're wasting less money on pennies and nickels. The bad news is we're still wasting money on pennies and nickels.

Production costs for all four major coin types fell in fiscal year 2014 due to the falling price of copper, one of the primary metals used to make coins. The Mint estimates it saved $29 million this year compared to last year on account of lower copper prices.

But it continues to lose money on pennies and nickels. It now costs $1.62 to make a dollar's worth of nickels, and $1.66 to make a dollar's worth of pennies. By contrast it costs only 36 cents to make a dollar's worth of quarters, and 40 cents for a buck of dimes. Paper dollar bills are even more cost-effective.

As recently as the early 2000s, the Mint was still turning a small profit on the nickels and pennies it produced. But the costs of those coins spiked in 2006, and haven't broken even since then.

As of 2013 taxpayers were losing $105 million annually on penny and nickel production. This report doesn't include total production numbers, so we can't calculate costs at the moment. But it's safe to assume that losses on pennies and nickels decreased this year, in line with their falling cost.

The Mint could decrease production costs even further, especially on dimes and quarters, by using different metal compositions in the production of those coins. But that would change their weight and their "electromagnetic signature," which would drive vending machines haywire. It would require a multi-billion dollar upgrade of coin-operated machines nationally, which dwarfs the few million that might be saved from adjusting the coins' metal composition.

But ditching the penny and nickel would cost literally nothing — imagine, a $100 million annual savings with a flourish of the executive pen.
The Washington Post's Christopher Ingraham has several charts at the link, but this one, which shows what it costs to produce a dollars worth of each of America's coins, and the dollar bill, tells the tale the best: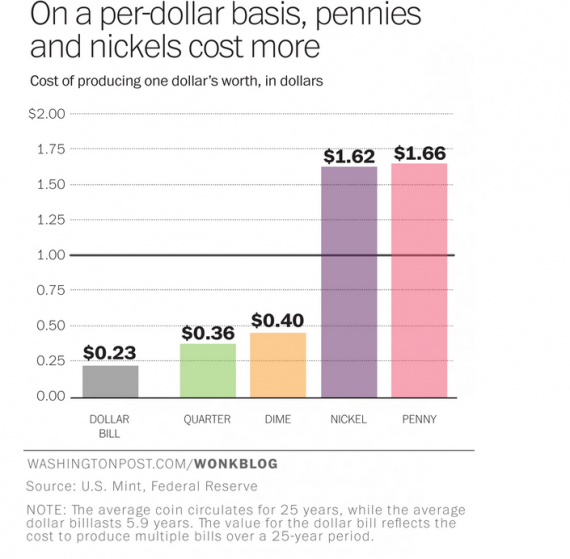 Looking at this from a rational point of view, there is really only one thing we ought to be doing here. We ought be eliminating production of both pennies and nickles. To the extent that there is an issue regarding pricing for people who prefer to pay in cash, prices can be rounded up or down as appropriate according to rules set by Congress. At least to some extent, this will lead to a small increase in prices for goods, I suppose, but in the long run that increased price would likely have less of an impact on the economy than the $100,000,000 per year that is spent making coins that nobody appears to be using.  Additionally, there would be no need to do any rounding for electronic transactions, and it would seem to be clearly within Congressional authority to differentiate between the two. As Ingraham notes, though, there appear to be some powerful political lobbies on the side of keeping the coins notwithstanding the fact that they are money losers that serve no useful purpose. Primary among these, of course, are the companies that mine the copper and other metals used in production of coins. While this industry would continue to benefit from the production of quarters and dimes, and logically would be the beneficiary if we ever do get our senses about us and shift to dollar coins instead of paper dollar bills, there would still be somewhat of a hit if nickles and dimes suddenly went out of existence. Also apparently lobbying for the continued production of these coins are companies like Coinstar that make money from consumers who seek to find a way to turn their coins into, well, something more usable and convenient. Absent all those pennies and nickles that pile up in jars across America, they'd take a big hit to their business model as well.
There have been other suggestions regarding how to deal with this situation, including giving the Mint the authority to use alternative metals in the production of these coins, but in the end these seem like stop-gap measures. In the end, the penny is most assuredly irrelevant to daily transactions and the nickel likely is as well. Those facts, combined with the fact that we're losing money on manufacturing both coins would seem to suggest the obvious solution Dump the penny and the nickel. They may have served a purpose in the past, but they clearly don't now and they aren't worth losing money on merely for sentimental value.