UC Davis Police Chief On Administrative Leave Over Pepper Spray Incident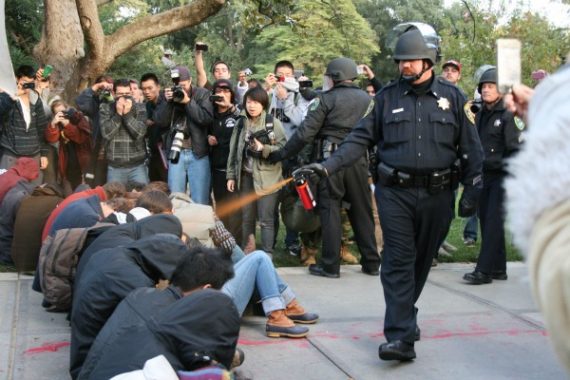 This morning it was announced that the Chief of the UC Davis Police Department is the latest member of the force to be put on administrative leave while this weekend's pepper spraying incident is investigated:
The University of California, Davis campus police chief along with two officers have been placed on administrative leave amid growing controversy over students being pepper sprayed in the face during a peaceful "Occupy" protest on campus.

As the fallout continues from this incident, a lot of people are demanding accountability from more than just the officers who sprayed the protestors.

The president of the University of California system said he plans to assess the law enforcement procedures on all 10 campuses after this incident.

"Free speech is part of the DNA of this university, and non-violent protest has long been central to our history," UC President Mark G. Yudof said in a statement Sunday in response to the spraying of students sitting passively at UC Davis. "It is a value we must protect with vigilance."

Footage of the incident shows officers dressed in riot gear in front of a crowd of protesters. You can very clearly see one of the officers dousing a line of students with pepper spray at close range.

The students sitting peacefully with their arms intertwined were protesting in support of the overall Occupy Wall Street movement on Friday.

Two officers were put on administrative leave over the weekend. Monday, UC Davis said in a new release that the campus police Chief Annette Spicuzza, who apparently was on scene during this incident, has also been put on administrative leave.
One gets the impression that this isn't the last head to roll over this incident.