Ugandan Anti-Gay Law Struck Down By Court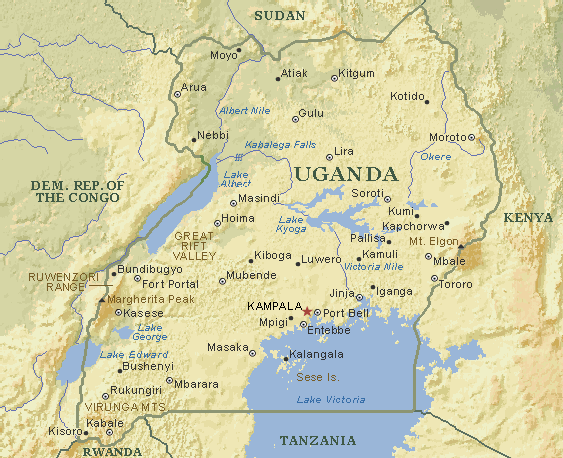 A court in Uganda has declared that country's controversial law against homosexuality, which has drawn widespread international condemnation, is unconstitutional:
Uganda's Constitutional Court has annulled tough anti-gay legislation signed into law in February.

It ruled that the bill was passed by MPs in December without the requisite quorum and was therefore illegal.

Homosexual acts were already illegal, but the new law allowed for life imprisonment for "aggravated homosexuality" and banned the "promotion of homosexuality".

Several donors have cut aid to Uganda since the law was adopted.

Uganda is a deeply conservative society where many people oppose gay rights and the sentence for homosexual acts has always been life imprisonment.

Earlier drafts of the anti-homosexuality act made it a crime not to report gay people – which would have made it impossible to live as openly gay – but this clause was removed.

However the legislation that was passed in parliament was "null and void", the presiding judge at the Constitutional Court said, as not enough lawmakers had been present to vote on the bill.

The law, which was signed by President Yoweri Museveni in February, toughened up existing laws.

Lesbians were covered for the first time and those found living in a same-sex marriage could have been sentenced to life imprisonment.

The challenge to the law was brought by 10 petitioners, including academics, journalists, both ruling and opposition MPs, human rights activists and rights groups.

"The retrogressive anti-homosexuality act of Uganda has been struck down by the constitutional court – it's now dead as a door nail," the AFP news agency quotes prominent journalist Andrew Mwenda, one of the petitioners, as saying.

Kosiya Kasibayo, a lawyer for the state, said a decision had not been made on whether to appeal against the ruling in the Supreme Court, the Associate Press news agency reports.

The BBC's Catherine Byaruhanga in the capital, Kampala, says supporters of the anti-gay laws have been angered by the ruling of the five judges.

They wonder whether their decision has anything to do with the president's visit to Washington next week for the US-Africa Summit, she says.

In June, the US imposed sanctions on the East African nation, including travel restrictions on Ugandan officials involved in serious human rights abuses.

The White House also cut funds to a number of programmes it is running with the Ugandan authorities.

Several European nations – including Denmark, Norway, the Netherlands and Sweden – had earlier cut aid.
Further details from The New York Times:
A Ugandan court on Friday struck down a punitive antigay law that has strained Uganda's relations with the West but the court ruled on narrow technical grounds, preserving the possibility that the measure could be revived.

In front of an overflowing courtroom in Uganda's capital, Kampala, a panel of five judges announced that the Anti-Homosexuality Act, which punishes some homosexual behavior with life in prison, was invalid because it had been passed by Parliament without a proper quorum.

"We're very happy," said Sylvia Tamale, a Ugandan law professor who has supported gay rights despite persistent threats and harassment. "But it's unfortunate that the court did not deal with the substantive issues that violate our rights."

Uganda's government, which is tightly controlled by President Yoweri Museveni, a former guerrilla fighter who has ruled for 28 years, did not immediately indicate if it was going to appeal the court's ruling. The judges, who enjoy a reputation of being somewhat independent from Mr. Museveni, did not take a stand on gay rights and chose to nullify the law in such a way that Parliament could pass it again.

Mr. Museveni has stubbornly supported the antigay measure, despite international outcry and cuts in aid from several Western governments, and he may well try to resurrect the law. He has called gays "mercenaries" and said they are more likely to get sexually transmitted diseases and stomach worms. Some Ugandan legal scholars were hoping that Mr. Museveni would use the court's ruling as convenient cover and drop what has turned into a diplomatic headache for him.

Uganda's vehement antigay movement began in 2009 after American preachers went to Uganda and worked closely with legislators there to draft a bill that called for putting gay people to death. While the bill was being debated, attacks against gay Ugandans began to increase. In early 2011, David Kato, a slight, bespectacled man and one of the country's most outspoken gay rights activists, was beaten to death with a hammer.

As the international criticism grew, and Western countries prepared to cut millions of dollars in aid, the Ugandan government modified the bill to make "aggravated homosexuality" punishable by life in prison, though that hardly placated Western donors. Parliament passed the bill in December, with advocates calling it an "early Christmas gift." Mr. Museveni publicly signed it into law in February. At the time, he said "homosexuals are nurtured but not natured," and said that he could not understand how gay men could not be attracted "to all these beautiful women."
While it is good to see an atrocious law like this struck down, the news is tempered by the fact that the basis on which the Court ruled in this case means that the Ugandan legislature could easily pass it again in the future and avoid the apparent procedural problems that the Court based its ruling on. Given that there was enough support to pass it the first time, one would think that wouldn't be too difficult for them to accomplish. Additionally, the government could still appeal this to the nation's highest court so even the argument over this version of the law is not settled yet. Perhaps, though, the leaders in Uganda will see this ruling as an opportunity to save their nation the embarrassment that this law has caused for them and do the right thing.