Obama Sending Troops to Fight Lord's Resistance Army
Obama is trying to get into Guinness under "US President with Most Simultaneous Wars"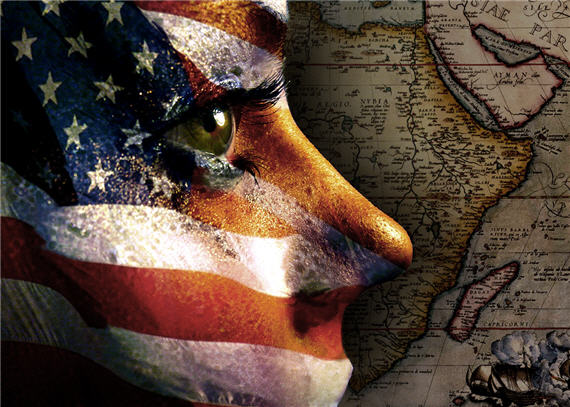 News that President Obama is sending 100 American troops to Central Africa to fight something called the Lord's Resistance Army has been met with varations of my initial reaction among my Twitter foreign policy list:  ?!
CNN ("Obama orders U.S. troops to help chase down African 'army' leader"):
President Barack Obama is sending about 100 U.S. troops to Africa to help hunt down the leaders of the notoriously violent Lord's Resistance Army.

"I have authorized a small number of combat-equipped U.S. forces to deploy to central Africa to provide assistance to regional forces that are working toward the removal of Joseph Kony from the battlefield," Obama said in letter to the House Speaker John Boehner and Daniel Inouye, the president pro tempore of the Senate. He was making a reference to the head of the LRA.

"I believe that deploying these U.S. Armed Forces furthers U.S. national security interests and foreign policy and will be a significant contribution toward counter-LRA efforts in central Africa."

Obama notes that the LRA "has murdered, raped, and kidnapped tens of thousands of men, women, and children in central Africa" and "continues to commit atrocities across the Central African Republic, the Democratic Republic of the Congo, and South Sudan that have a disproportionate impact on regional security."

He said the United States has backed regional military efforts since 2008 to go after the LRA, but they have been unsuccessful. U.S. military personnel will advise regional forces working to target Kony and other senior leaders. The president said the troops will not engage LRA forces "unless necessary for self-defense."

Obama cites the Lord's Resistance Army Disarmament and Northern Uganda Recovery Act of 2009. In that, Congress "expressed support for increased, comprehensive U.S. efforts to help mitigate and eliminate the threat posed by the LRA to civilians and regional stability."

"I have directed this deployment, which is in the national security and foreign policy interests of the United States, pursuant to my constitutional authority to conduct U.S. foreign relations and as Commander in Chief and Chief Executive. I am making this report as part of my efforts to keep the Congress fully informed, consistent with the War Powers Resolution," he said. "I appreciate the support of the Congress in this action."
The best reactions to this I've seen thus far:
@NeilBhatiya: i sense a disturbance in the force, as if hundreds of ppl are simultaneously, furiously googling Lord's Resistance Army
@JimmySky: Does anyone else get the impression Obama is trying to get into Guinness under "US President with Most Simultaneous Wars"?
@SarahJSchles: I formally submit my resignation for trying to figure out what the hell is happening in US fopo.
Lauren Jenkins anticipated this almost a year ago:
There is a scourge upon the earth known as Joseph Kony.

Since the late 1980s, he has led the quite blasphemously named Lord's Resistance Army in a brutal insurgency nominally targeting the Ugandan government. I like blasphemy as much as the next person but next to Kony my jokes about gay angels and their role-playing fetishes sound like Sunday morning hymns.

For decades, Kony and the LRA have terrorized northern Uganda and environs by laying waste to towns, killing and maiming civilians, abducting and arming children, and generally recreating the goriest parts of the Old Testament.

Lately, and especially since refusing to sign a peace deal in 2008, Kony has taken his smiting band of misfits on a three-country tour, to the Central African Republic, the Democratic Republic of the Congo, and Sudan, killing nearly 2,000 people and displacing over 400,000. As of a couple weeks ago, he has reportedly taken his smite-y band of bandits to Darfur.

Yes, that Darfur, the one not even George Clooney could save.

How do we stop him? Choose you own quagmire!

[…]

Going after the command elements of the LRA with an international force would look a lot like Afghanistan circa 2003 through last month. It would be messy. It would be unsuccessful. Kony is an excellent strategist and has 25 years experience hiding in the bush. When he's approached, he disappears. When he's threatened, he attacks civilian populations.
This would seem to be the opposite of the Libyan intervention: The situation has been going on for quite some time, the international community hardly seems to care, and the US is committing troops on the ground. It's a real head-scratcher.
Less snarky reactions will follow as we figure out what the hell's going on here. Oh, by the way: The UN is pushing very, very hard for some sort of international response in Syria.
UPDATE: Max Fisher, my editor for International stories at The Atlantic, weighs in with "Why Is Obama Sending Troops Against the Lord's Resistance Army?" The tagline almost makes me ashamed to be a Realist: "The pseudo-Christian terror cult has enslaved 66,000 children in its 20-year campaign across several African countries in Central Africa, but it poses no threat to the U.S. or its interests."
Some salient excerpts:
When the Lord's Resistance Army showed up in the Central African Republican village of Obo in 2008, everyone who refused to join them was killed. One of the men they scooped up, Daba Emmanuel, would spend the next year as one of the LRA's slave-soldiers. Indoctrinated, abused, and eventually forced to perform raids like the one against Obo, he survived to tell journalist Graeme Wood his story. "We killed the old immediately, and kept the young for work," Emmanuel said.

[…]

A 2009 U.S. law authorizing financial support to Uganda against the LRA cites studies finding the LRA had abducted 66,000 children and displaced two million civilians. Last year, Human Rights Watch Kenneth Roth — no hawk –  called on Obama to use U.S. military force against the Lord's Resistance Army. Roth cited the group's overwhelming humanitarian toll, its small size, and (unlike, for example, the Taliban) its extreme unpopularity among the areas it terrorizes.

The U.S. already supplies intelligence and a few million dollars to the Ugandan government in its totally failed quest to stop the LRA and to capture Joseph Kony, who is under indictment for war crimes from the International Criminal Court.

[…]

Kony may be barking mad — he performs bizarre rituals and claims to fight for "the Ten Commandments" — but he has survived for two decades, outnumbered and outmatched by every metric, on little more than his ideology and his wits. "Kony is a brilliant tactician & knows the terrain better than anybody. He surrounds himself with scouts who have what amounts to an early warning system, which is how he's eluded capture for so long," Morehouse College assistant professor and Central Africa expert Laura Seay warned on twitter. "Kony also operates in some of the least-governed areas of the world's weakest states. Many of these places have no roads, infrastructure. All of this adds up for a potential mess for US troops, who don't know the terrain & can't count on host government troops to be helpful or even to fight. This will not be easy for only 100 US forces to carry out, especially given language barriers." Seay also points out that Kony uses children as human shield — and as much of his fighting force — making any direct action ethically and morally difficult.

[…]

It's difficult to find a U.S. interest at stake in the Lord's Resistance Army's campaign of violence. The group could go on killing and enslaving for decades — as they well might — and the American way of life would continue chugging along. It's possible that there's some immediate U.S. interest at stake we can't obviously see. Maybe, for example, Uganda is offering the U.S. more help with peacekeeping and counterterrorism in East Africa, where the U.S. does have concrete interests, in exchange for the troops. But it certainly looks like a primarily or purely humanitarian military mission, if a very small one. The Obama administration is hoping that these 100 troops will succeed where past U.S. assistance against the LRA — intelligence, satellite images, fuel, and millions of dollars — has failed. Maybe they will and maybe they won't. But this seems to suggest a small but important shift in how, where, and why the U.S. uses applies military force.
If there's a good case for do-gooder interventionism, this is it. Kony is a Class A Bad Guy. But there are a lot of really bad dudes running around Africa and other parts of the developing world and I'm not at all eager to take them all on.