Unemployment and Education
Your major matters. But not as much as simply having a degree.
On most every thread about higher education, I will get one or more comments along the lines of "Americans had better start educating themselves in practical fields like business, accounting, engineering, and computer programming because there's no work for people with worthless humanities degrees." There's very little evidence for this proposition.
Calculated Risk graphs unemployment and educational level: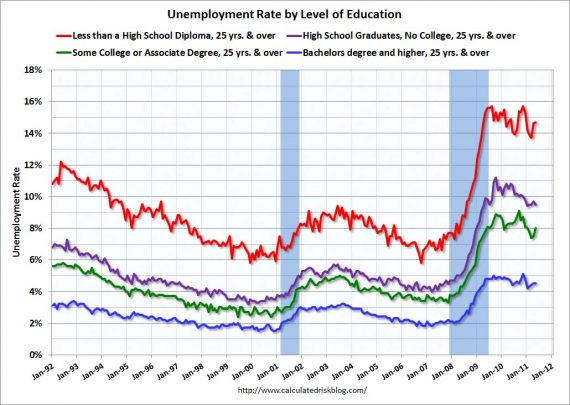 Similarly, the Bureau of Labor Statistics charts employment rates and median weekly earnings by education level: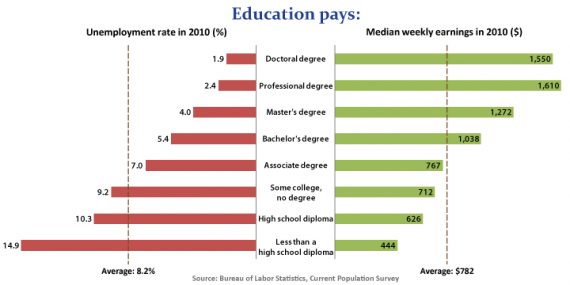 Now, this doesn't break down the data in terms of majors. Certainly, some endeavors pay more than others. But the bottom line is that there's very little unemployment for those who have attained at least a bachelor's degree. Almost all of the unemployed are those with a high school diploma or less.
Let's stipulate that the earnings figures are skewed by a handful of professions, notably law and medicine, that require a bachelor's degree plus as a barrier to entry. But even those with no education above a bachelor's–thus excluding doctors and lawyers–are half as likely to be unemployed and average half again as much salary as those with no education beyond high school.
As Dave Schuler frequently points out, there aren't enough jobs out there for everyone to become an engineer. Or, indeed, enough engineering jobs for all those who've already attained engineering degrees. Still, if you're mathematically and spatially oriented and enjoy that sort of work, I would highly recommend that over studying, say, Elizabethan poetry. Then again, if you're inclined for the job, I'd recommend that you become a plumber or a union carpenter rather than a political science PhD. But the bottom line is that we have an economy that continues to be reasonably good for those who have attained a college degree and is increasingly frustrating for those who have very little educational attainment.