US and UK Intelligence Leaders Warn of Increasing Chinese Threat
They're stealing our secrets and working to undermine our elections.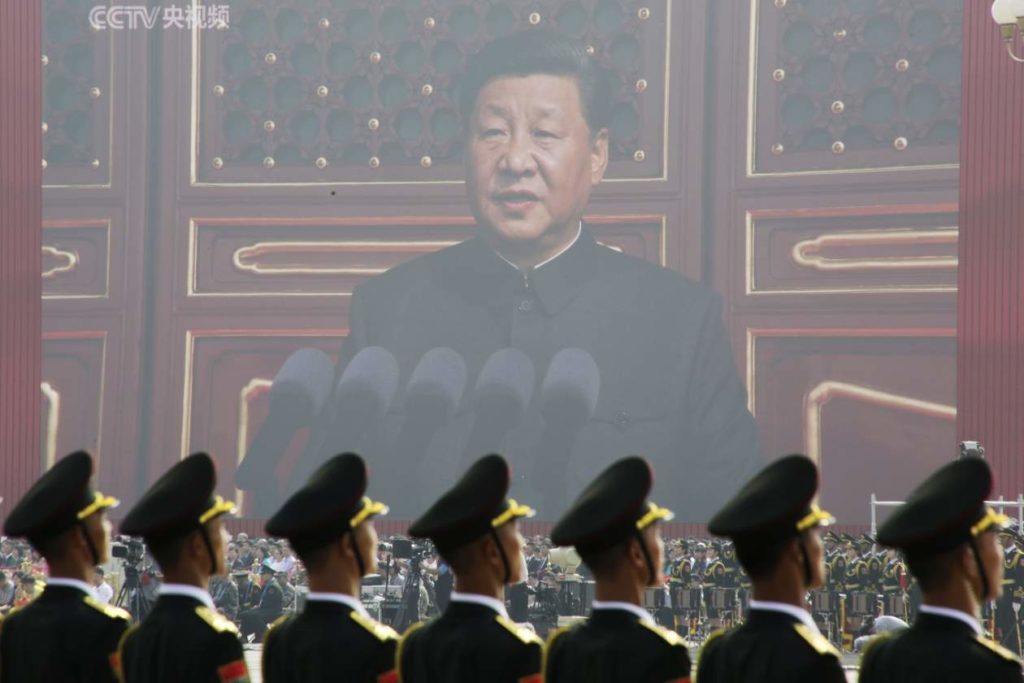 Reuters ("Heads of MI5, FBI give joint warning of growing threat from China"):
The heads of MI5 and FBI warned of the growing long-term threat posed by China to UK and U.S. interests, in their first joint appearance on Wednesday.

MI5 Director General Ken McCallum said the service has already "more than doubled our previously-constrained effort against Chinese activity of concern," adding it was running seven times as many investigations as in 2018.

FBI Director Christopher Wray said that the Chinese government "poses the biggest long-term threat" to economic and national security, for the UK, the U.S. and allies in Europe and elsewhere.

"The Chinese government is trying to shape the world by interfering in our politics (and those of our allies, I should add)," Wray said, saying Beijing had directly interfered in a Congressional election in New York this year, as it did not want a candidate who was a critic and former protester at Tiananmen Square to be elected.

Wray warned that the Chinese government "poses an even more serious threat to Western businesses than even many sophisticated businesspeople realize," and is "set on stealing your technology."

The Chinese government's hacking program is "bigger than that of every other major country combined," according to Wray.

Over the past year, the UK has shared intelligence with 37 countries to help them defend against cyber espionage, McCallum said, adding that in May they had disrupted a sophisticated threat targeting critical aerospace companies.

Speaking about Taiwan, which China regards as a province, Wray said that China may try to forcibly take it over and if that were to happen, "it would represent one of the most horrific business disruptions the world has ever seen."

"The widespread Western assumption that growing prosperity within China and increasing connectivity with the West would automatically lead to greater political freedom has, I'm afraid, been shown to be plain wrong," McCallum said.

"The allegations against China by U.S. and UK intelligence officials are completely groundless and the so-called cases they listed are pure shadow chasing," a spokesperson for the Chinese embassy in the UK said, in response to a question about the comments made by McCallum and Wray.

The spokesperson said that China urged both the countries to "have a clear understanding of the trend of the time, abandon the Cold War mentality which has long gone out of date, stop spreading "China threat", and stop creating confrontation and conflicts."
I'm generally skeptical of these statements, mostly because I don't know what purpose going public in this manner is supposed to achieve. But this report from WSJ ("Heads of FBI, MI5 Issue Joint Warning on Chinese Spying") clarifies that somewhat:
The heads of the FBI and Britain's domestic security service issued sharply worded warnings to business leaders about the threats posed by Chinese espionage, especially spying aimed at stealing Western technology companies' intellectual property.

In a rare joint appearance on Wednesday at the headquarters of MI5, Christopher Wray, director of the Federal Bureau of Investigation, and Ken McCallum, director-general of MI5, urged executives not to underestimate the scale and sophistication of Beijing's campaign.

"The Chinese government is set on stealing your technology—whatever it is that makes your industry tick—and using it to undercut your business and dominate your market," Mr. Wray told the audience of business people. "They're set on using every tool at their disposal to do it."

U.S. counterintelligence officials issued a separate notice on Wednesday warning state and local government leaders and business executives about a different Chinese threat—accelerating efforts to influence policy-making through overt and covert means.

The notice, from the U.S. National Counterintelligence and Security Center, cited tactics ranging from open lobbying, where Beijing's role is acknowledged, to collecting personal information about state and local leaders, and leveraging trade and investment to reward or punish officials.
This seems like a huge story—we're seemingly moving from treating China as a mere "strategic competitor" to a full-on adversary—but I'm not seeing coverage of this in the NYT, WaPo, or NPR.
Chinese industrial espionage is, of course, not new. And countries, including the United States, often work to shape foreign elections in ways favorable to their own interests. But the heads of the FBI and MI-5 aren't calling together business and academic leaders to warn about normal politics and low-level spying.
Stay tuned. This won't be the last word on the matter.