USA Wealthiest Major Country
The US standard of living is not only growing but its lead over Europe and Japan is growing.
ObWi's Jacob Davies makes a very important point:
Now, anyone who's read what I have to say knows that I don't think everything is hunky-dory in the US, but I do think it's important to understand that the US has had – and continues to have – a real PPP per-capita GDP that is 20-30% higher than that in other large industrialized countries. "Real" as in adjusted for inflation; "PPP" as in adjusted for different costs of living in different countries; "per-capita" as in adjusted for population growth.
Here's what it looks like graphically: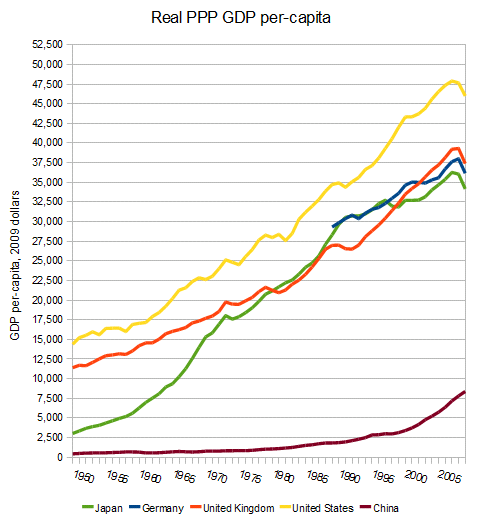 What's striking is that the US standard of living is not only growing but its lead over Europe and Japan is growing. And, despite fears of China's somehow overtaking us, they're barely on the chart.  Yes, they've had explosive growth.  Which is great!  But they've still not achieved the living standard Americans had in 1950.
Davies notes that there are a handful of countries who rank ahead of the USA by this measure but "all of those countries have a population under 5 million, and all are either oil or banking states. The feat in the US is that this standard of living is provided to a population of 300 million."
Of course, not all is sweetness and light:   "There are real problems with income distribution, insecurity, access to healthcare, and indebtedness in the US. It is a problem when 19% of households have zero net worth. But America is still an astonishingly wealthy nation."
Anyone who has spent any time overseas already knew this intuitively.  In terms of personal consumption, Americans easily outpace the world.
There's simply no question that you're better off in the US if you're healthy and middle class or wealthy.   But you're probably better off in Western Europe if you're poor and sick.