Vaccine Disconnect
Refuseniks are far more confident than those already vaccinated.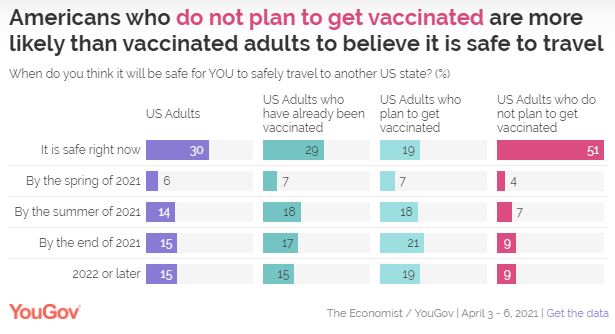 The headline from YouGov's latest poll, "Half of vaccine rejectors believe it is safe to travel now, compared to 29% of vaccinated adults," tells us a lot about the current state of affairs in America.
The Centers for Disease Control and Prevention now say it is safe for fully vaccinated Americans to travel. But those most willing to travel right now may reject much else that the CDC suggests.

In the latest Economist/YouGov poll, three in 10 Americans who have received at least one vaccinate shot (29%) believe it is safe for them to travel within the United States today. By contrast, half of the one in four Americans who reject the vaccine believe it is safe for them to venture out now.

Half of those who reject vaccines (52%) also say it is safe for them today to socialize (compared to just 30% of all Americans). Another 45% say it is safe for them to go without a mask now. Just one in five Americans overall (21%) think it is safe to go maskless today.

Many vaccine rejectors have little confidence in advice from leading national medical figures, like the CDC or Dr. Anthony Fauci, the director of the National Institute of Allergy and Infectious Diseases. Instead, nearly half in this group trust advice from former President Donald Trump. Only 21% of vaccine rejectors trust advice from the CDC, and just 13% trust medical advice from Dr. Fauci.

For the most part, vaccine rejectors believe there is little risk to themselves from COVID-19. Half (51%) rarely (29%) or never (22%) wear a mask in public; just 29% are even somewhat worried they might contract COVID-19, and 41% are not worried at all.

This is the case even though many vaccine rejectors have experienced COVID-19 in their own circle. Half of vaccine rejectors have a close friend (25%) or family member (27%) who tested positive. One in nine (11%) say they themselves have been diagnosed with the virus (this group may consider themselves immune after infection, though the length of any immunity after a positive diagnosis is not yet clear).

Vaccine rejection and skepticism is entwined in politics. Vaccine rejection is five times higher among Republicans (40%) than among Democrats (8%). There is a success story among those 65 and older, however. Eight in ten senior citizens (82%) say they will be vaccinated (15%) or already have been (67%).
So, I have received both doses of Moderna and will be two weeks from the second shot, and thus "fully vaccinated" by CDC standards, come Wednesday. My wife is a few weeks behind me, having received her first dose two days after I got my second. The three over-16s will likely get their first shots later in the month. We'll likely vacation this summer, including my two under-16 daughters, because we think the risk pretty low by that point.
Clearly, partisan politics is driving the difference in attitude here. While the crosstabs aren't available in the survey data, party ID matters more than age, education level, or gender.
Those in my age cohort and younger who are otherwise healthy really shouldn't be living in terror over a disease that most of us would survive without hospitalization. But it's just nuts to reject getting a vaccine that has proven over months of testing to be safe and effective. Or to be "not worried at all" about a pandemic that has already killed half a million of your countrymen.