Vice-Presidential Debate Draws More Than 51 Million Viewers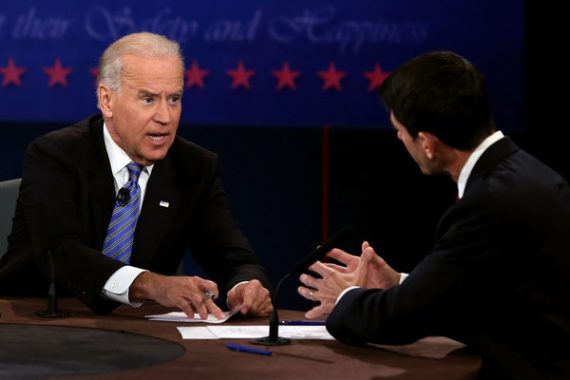 Thursday night's Vice-Presidential debate had to go up against a football game on the NFL Network and the MLB playoffs, but it still managed to do quite decently in the ratings:
Thursday's televised debate between Vice President Joseph R. Biden Jr. and Representative Paul D. Ryan attracted well over 50 million people — a significant chunk of the public, but a smaller total than the debate between the presidential candidates last week.

Nielsen, a television ratings company, estimated Friday that 51.4 million viewers watched at home on one of the 12 rated networks that showed the debate. Nielsen's total did not include television viewers in offices, restaurants, bars, or other areas, nor did it include any Web viewers.

The Oct. 3 debate between President Obama and Mitt Romney garnered about 67.2 million viewers at home, according to Nielsen, and untold millions more via the Web.

Unlike Mr. Obama and Mr. Romney, Mr. Biden and Mr. Ryan had stiff competition from two big sporting events: a baseball playoff game between the Yankees and the Orioles and an NFL match-up between the Steelers and the Titans. Both games were watched by between 5 and 6 million viewers, potentially deflating the vice presidential debate audience.

Back in 2008, Mr. Biden and the Republican vice presidential candidateSarah Palin attracted 69.9 million TV viewers at home — a record for any debate of vice presidential running mates.

Nielsen said in a news release Friday: "The 2008 Biden-Palin debate notwithstanding, last night's political tête-à-tête had the highest V.P. debate viewership since the George H.W. Bush-Geraldine Ferarro debate in 1984. That debate nabbed 56.7 million viewers."
The Biden-Palin encounter was, of course, in a class by itself and we're unlikely to see its numbers repeated by any group of Vice-Presidential candidates in the near future. Nonetheless, as this chart shows, last night's debate stands as one of the three highest watch VP debates ever: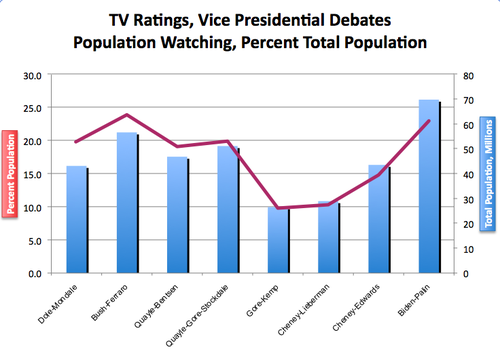 Not too shabby, I'd say, and indicitive of a high amount of interest in this election.
Ratings chart via Allahpundit