Viewing the Sinclair Sexual Assault Case Dispassionately
My latest for The Hill, co-authored with Butch Bracknell: "Explaining the Sinclair demotion."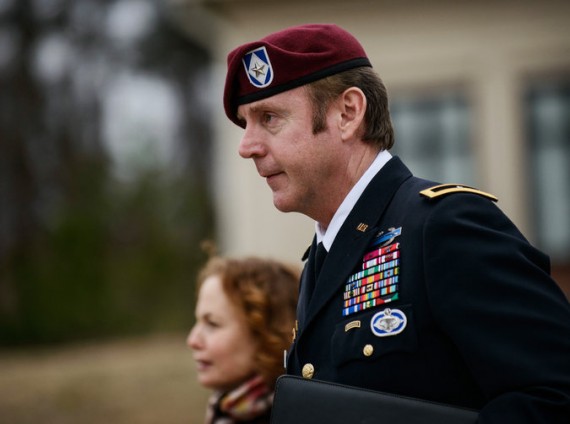 My latest for The Hill, co-authored with Butch Bracknell, has posted. They've titled it "Explaining the Sinclair demotion."
In a piece I wrote yesterday morning that may or may not soon be published elsewhere, I reflected on the changing state of blogging. A key takeaway is the value of the conversation the medium provokes, which frequently causes me to strengthen my argument and not infrequently causes me to change positions entirely. The Sinclair piece is an example of the latter.
The case of Jeffrey Sinclair, the former deputy commander of the Army's 82nd Airborne Division involved in a sordid sex scandal, has been a lightning rod in the controversy over sexual assault in our armed forces. It ended last Friday with Sinclair reduced two ranks, from brigadier general to lieutenant colonel, and sent into retirement. For those who believe the military doesn't take sexual assault seriously, the fact Sinclair served no jail time and was allowed to retire with a generous pension was an outrage. For those who think there is a politically correct witch hunt, Sinclair's demotion, despite being convicted of only relatively minor charges, was excessive. It was, however, a just and lawful result.

[…]


[W]hatever one believes actually happened, the Army was not able to prove the most serious charges against Sinclair, which could have netted him life in prison, reduction in rank to private, dismissal from the Army and forfeiture of all benefits. Proof was virtually impossible in this case given the alleged victim's massive credibility issues, so prosecutors did in this case what they do in the exercise of prosecutorial discretion in similar cases all over the country in civil contexts: They accepted a plea deal on lesser charges. There is nothing unusual or extraordinary about this outcome, in that, nationwide, district attorneys and assistant U.S. attorneys sign off on deals like this every single day. Given what Sinclair was convicted of, confinement would have been excessive, unwarranted and unprecedented. Finally, as McHugh noted, they were outside the scope of his authority. "During Capitol Hill hearings, I was asked whether Sinclair would receive a pension after proceedings were complete," McHugh said. He added, "Under federal law, if a person has earned a pension because of their years of service, they are entitled to those benefits; Congress might consider a change in the law that would allow greater flexibility and accountability."

It is interesting to ponder what the outcome would have been in this case if such a statute had been on the books when the secretary made his grade determination. If he had the authority to discount Sinclair's unblemished service up through the rank of lieutenant colonel and strip him of his pension for the conduct proven, by his own admissions, at his court-martial — essentially, having an affair with a person who worked for him — would the political pressure have led the secretary to do so? From McHugh's testimony, in which he essentially blamed Congress for passing statutes that tied his hands and prevented him from discharging Sinclair with no retirement benefits, the answer appears to be yes. In our view, this is the real danger lurking in this entire issue — the temptation to allow the fervor of reform to infect just determinations in individual cases. Sinclair served for well over two decades honorably and, evidenced by his promotions, extraordinarily well. Stripping him of retirement benefits for misconduct that simply may have gotten him fired at Microsoft or General Motors is an emotional answer to a set of issues best analyzed rationally and dispassionately, for the future health of the force. Enhancing the secretary's power to strip officers of their earned benefits simply based on an administrative proceeding, governed by malleable standards and procedural rules, is treacherous territory, if the armed forces value their ability to promote and retain the best officers to senior leadership positions.
That's pretty much 180 out from my initial reaction to the news.