Violence Overshadowing Protests
The mayhem surrounding the demonstrations is drawing attention away from the grievance behind them.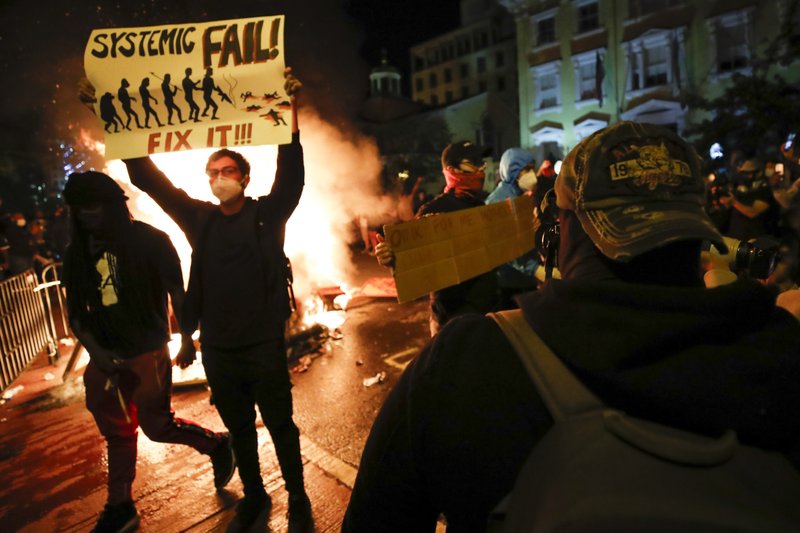 Marshall McLuhan told us that "the medium is the message." That the means chosen to convey an idea was as important as the idea itself. A clever presentation can elevate a banal idea into prominence and a poor medium can obscure the idea.
The most powerful symbols of the civil rights movement of the 1950s and 1960s were studies in contrast. Little black kids dressed in their Sunday best being escorted to schools by federalized National Guard soldiers while angry white citizens screamed at them. George Wallace standing in the schoolhouse door declaring "Segregation now! Segregation tomorrow! Segregation forever!" Black Americans dressed in their Sunday best being beaten and having dogs sicced on them by racist police and government officials. Martin Luther King Jr. standing at the Lincoln Memorial sharing his dream. King lying in a pool of his own blood.
We have seen so many videos of black men being killed or beaten by police officers to count. They are powerful in a way that an eyewitness account or a print story about these killings would not be.
Yet, as shocking as those images were, the means of protesting have backfired.
Colin Kaepernick and scores of other athletes refusing to stand for the National Anthem was the epitome of peaceful protest. But it landed poorly. Partly because it attempted to politicize events that are escapist in nature and a brief refuge from the cares of the world. Mostly, though, because, no matter how many times the message was explained, the medium screamed "I hate America." (Yes, opponents deliberately mischaracterized it as an insult to our troops overseas. But it was a predictable outcome given the medium.)
The same thing seems to be happening with ongoing protests sparked by the latest round of police-related* killings. Americans are demonstrating in large numbers all around the country to express their demand for change. And yet the violence and mayhem perpetrated by a tiny percentage of the overall group is overwhelming the message.
Indeed, the YahooNews headline to the AP story states that directly: "Unrest overshadows peaceful US protests for another night."
Indeed, the coverage of the violence is doing something nearly impossible otherwise: overshadowing the outrageous response to all of this by the President of the United States.
More importantly, the perfectly predictable overly-aggressive response by so many police departments across the country—which would have highlighted the central concern of the protests even better than they did in Dr. King's day—is relegated to a side story.
_________________
*I include the Ahmaud Arbery killing here. Not only was one of the perpetrators a retired police officer but the initial response by police and prosecutors fit into the larger pattern fueling the anger.