Virginia Funeral Home Introduces Drive-Thru Viewings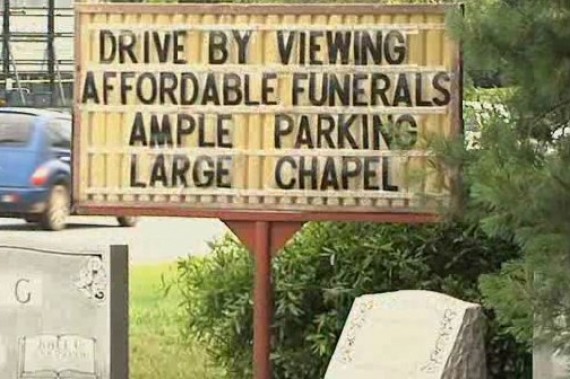 In today's busy society, we've taken to using a lot of short cuts. Instead of long, thoughtful letters to family and friends, we send email. Instead of phone calls, we send text messages. Now, one enterprising Funeral Director has found a way to please the mourner who's too lazy to get out of the car:
Ever wished that you didn't have to leave your car to view a loved one who has died?

A Virginia funeral home, Farmville's Oliver & Eggleston Funeral Establishment, is now offering drive-thru viewing services. The company is staying consistent with its motto: "Services That's Distinctive–Experience The Difference."

"It's designed for people who have disabilities or…inclement weather," President Carl Eggleston told WTVR. "You can have a regular viewing in a regular room, and then at night, if we want to roll you over here, and put you in here, we can put the person in here."

Other drive-thru funeral viewings are reportedly on offer in California, Chicago and Louisiana. But it's thought that Oliver & Eggleston — which also provides horse-drawn hearses, as well as other unusual accommodations — is the first business to offer this service in the Old Dominion.

"Somebody's got to be the first one," Eggleston told WTVR. "We just offer the families something different, so they have options."
Yea, because we didn't really like Uncle Charlie that much anyway, and this is just so much easier.