VP Debate Poll: Ryan 48, Biden 44
Viewers thought Paul Ryan was more likable and articulate than Joe Biden.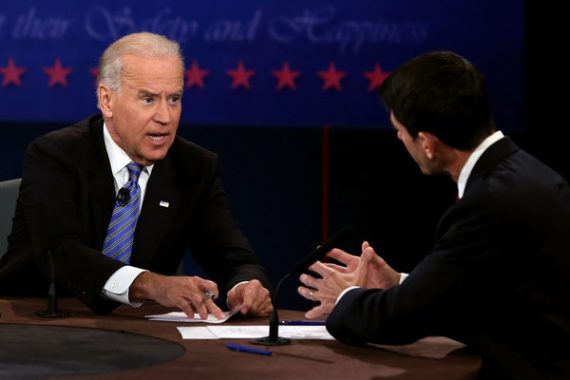 According to the foreign policy wonks on my Twitter feed, which probably skews Democratic, Joe Biden wiped the floor with Paul Ryan last night. According to normal people, though, Ryan came out slightly ahead.
CNN ("CNN Poll: Debate watchers split on who won VP debate"):
Call it a draw.

Forty-eight percent of voters who watched the vice presidential debate think that Rep. Paul Ryan won the showdown, according to a CNN/ORC International nationwide poll conducted right after Thursday night's faceoff. Forty-four percent say that Vice President Joe Biden was victorious. The Republican running mate's four point advantage among a debate audience that was more Republican than the country as a whole is within the survey's sampling error.
Uh, no. That the sample was "more Republican than the country as a whole" is meaningless, unless Republicans are more likely to answer surveys. That there's a four point margin of error is significant since we only have one poll thus far; if they all show something similar, we'll know for sure.
Half of all debate watchers questioned in the poll said the showdown didn't make them more likely to vote for either of the candidates' bosses, 28% said the debate made them more likely to vote for Republican presidential nominee Mitt Romney and 21% said the faceoff made them more likely to vote to re-elect President Barack Obama.
This is the only number that really matters. Most people already had their minds mind up, after all.
According to the survey, 55% said that the vice president did better than expected, with 51% saying that the congressman from Wisconsin performed better than expected.

By a 50%-41% margin, debate watchers say that Ryan rather than Biden better expressed himself.

Seven in ten said Biden was seen as spending more time attacking his opponent, and that may be a contributing factor in Ryan's 53%-43% advantage on being more likable. Ryan also had a slight advantage on being more in touch with the problems of average Americans.
That was my instant reaction as well. I've always liked Biden, seeing him as a good guy who's smart on the issues. But he struck me as a rude jerk last night.
In the 2000 debates better known for their SNL send-ups than the events themselves, I thought Gore beat Bush. He had better command of the facts and was quicker on his feet. That was probably true of Biden last night as well (at least metaphorically; they were seated). But Gore lost with the viewing audience because he was seen as unlikable.   Last night, I thought Biden's sneering and condescension were much worse than Gore's eye-rolling and sighing. If the CNN insta-poll is right, the viewing audience agreed.