War and Rhetoric
Elias Isquith proclaims my Atlantic essay "How Perpetual War Became U.S. Ideology" to be "a total disaster."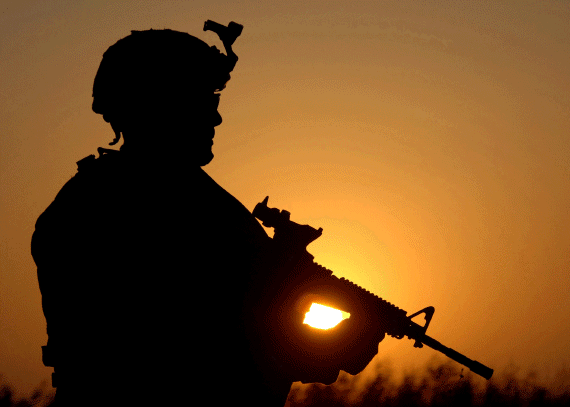 LOOG guest author Elias Isquith proclaims my Atlantic essay "How Perpetual War Became U.S. Ideology" to be "a total disaster."
The Atlantic piece is a 1500-word column, not a book. One simply can't anticipate and rebut every tangential criticism. I'll try to answer some here.
To say that the differences between neocons and liberal interventionists are negligible because the end result is "the same either way" is an enormous leap, and I think it's somewhat remarkable that Joyner feels comfortable making it without further buttressing his point. It's as if saying both the bully and the bullied are equally morally culpable since self-defense and unprovoked attacks both result in conflict. Further, Joyner brushes aside the painstaking consensus-building central to liberal interventionism as merely an act of greater "patience" that neoconservatives forego. The underlying assumption here seems to be that the substance itself of a military action is not intimately determined by the processes that lead to its enacting.
My central argument is that, freed from the Cold War constraints, presidents of all stripes have almost routinely bowed to the pressure to intervene. Moreover, they've stayed on doing post-war nation-building in a way that's highly unusual. In a part of the essay that was cut for space, I offer additional arguments about the CNN Effect and the impact that seeing atrocities in real time have on the policy process.
Are the Neocons and Liberal Interventionists the same? No, in that they have different rationales for war and therefore don't always agree on whether to intervene in a given conflict. Yes, in that they tend to intervene when in power. But I actually go further in the piece, noting that even Realists wind up drawn into wars in this era that they'd never have supported during the Cold War.
Bush 41 was a Realist advised by two of the most respected Realists in modern history, Powell and Scowcroft. And yet even he couldn't resist post-war humanitarian operations in Iraq and intervention in Somalia. At least, though, those were both tightly constrained. In the first case, it was about keeping Saddam in a box and preventing massacres. In the second, it was purely about feeding people being starved as a tool of war. The warlord hunting came under Clinton.
As the article notes, Clinton engaged in numerous interventions that were driven almost purely by humanitarian concerns–the sight of people being slaughtered on television. And he deeply regrets to this day the one case of non-intervention: Rwanda.
Any modern president, even neo-Pacifist Jimmy Carter, would have intervened in Afghanistan after the 9/11 attacks. That was completely Realist and non-ideological. It's not, however, clear that we'd have stayed on for a decade trying to turn the place into a stable democracy.
And, of course going rather unmentioned by Joyner is the fact that perhaps the two most important thinkers driving our policy of intervention in Libya — President Obama and Senior Director for Multilateral Affairs Samantha Power — happened to, despite being liberal interventionists, oppose the Iraq invasion from the very start. It significantly clouds Joyner's argument, then, (as well as the realities of contemporary elite foreign policy debate) to imply otherwise.

Moving on, when Joyner says that the "apparent U.S. goals [in Iraq] were democracy promotion and nation-building" he gives George W. Bush entirely too much credit while granting his audience far too little. Yes, there was a time when Bush spent a great amount of political capital arguing that we must "stay the course" in Iraq in order to plant the seed of democracy in the Middle East; but that was merely one of seemingly dozens of excuses and explanations for our continued presence that Bush and company cooked up.
Iraq is an odd case in that, eight years later, the reasons for our intervention remain controversial. Would a President Gore have gone to Iraq? We'll never know. But it's worth noting that all of the serious 2004 and 2008 Democratic candidates who had positions of responsibility in Washington went along with it. Obama, of course, didn't. But he was a state senator in Illinois at the time and under completely different pressures.
It's true that Bush and company gave a host of interrelated reasons for war. Partly, it was a function of trying to both generate domestic support, which was successful, and simultaneously trying to get international support in the United Nations, which was not.
Regardless, however, the regime change phase of the war was over in two weeks and Saddam was captured in a matter of months. What's kept us in this long has been nation-building–something Realist Candidate Bush eschewed with snide contempt. As was the case with Obama in Libya, the more ideological members of the team won out.
Lastly — and this is probably where Joyner travels furthest astray — is the idea that the neoconservatives and liberal interventionists are two peas in a pod because both "are passionate advocates of spreading American values." If this is to be accepted, then the question arises: was Thomas Jefferson a neoconservative or a liberal interventionist? How about Alexander Hamilton? James Monroe? Andrew Jackson? James K. Polk? Or how about McKinley? By that criteria, nearly every major figure in American foreign policy since the founding, then, could credibly be assigned to one side or the other of the now all-encompassing neocon/interventionist dichotomy. Because America's been passionately advocating its values since the earliest days of the republic (just look at the sheer number of conflicts here that could be credibly described as being values-based). Whether adopting a policy international relations experts would call "realist" or "Wilsonian" or the like, American Presidents have always framed their decisions in such language.
Here, we simply disagree. Yes, American presidents have always used that kind of language in the run-up to war–the enemy is made out to be Adolf Hitler's more evil twin and the outcome is painted as ponies, democracy, and free beer. But there's a difference from marketing a war motivated by other interests in idealistic terms and actually going to war or endlessly prolonging it for idealistic reasons.
None of the presidents Isquith names took America to war for humanitarian or idealistic reasons. Mostly, they fought to extend the American empire, whether on the North American continent or elsewhere. (Hamilton was never president and, so far as I'm aware, never took us to war at all.) Even Woodrow Wilson, the consummate Idealist, didn't do that. Our last three presidents–and arguably our last four, depending on how one scores the first phase in Somalia–have.
Indeed, among the many reasons that I came to support intervention after having opposed it for well over a year was that I took all the talk about democracy and shining examples for other states in the region to be merely rhetorical. I incorrectly presumed that, having taken Saddam out–which I correctly judged to be relatively easy–we'd turn the keys over to an Iraqi equivalent of Hamid Karzai and call it a day, perhaps keeping some advisors, trainers, and support personnel there. (Apparently, Donald Rumsfeld was under the same impression.) Partly, this was a function of not anticipating the insurgency, thinking Saddam much more central to the Iraqi political dynamic than he was. Mostly, though, it was a misapprehension of the extent to which Doug Feith, Paul Wolfowitz, and others believed their own rhetoric.
Certainly a "humanitarian relief mission" or an assault with "protecting the Panama Canal" in mind are no more able to withstand scrutiny on realist grounds than those arguments put forth by the President to justify the campaign in Libya. It's not as if, in his speech on the matter, Obama didn't do all he could to make the argument that a Gaddafi massacre would destabilize the region and threaten our national interests. Similarly, Clinton's arguments in favor of the bombing campaign in the former Yugoslavia in part centered around a citing of national interests.

I'm not saying these were wars of national interest; I'm merely saying that allPresidents say as much prior to giving the go-ahead. H.W. Bush's excuses are no more convincing than those of B.H. Obama.
The incursion into Panama, which came to be derisively known as "Operation Just 'Cuz," is the hardest to justify on Realist grounds. The rationale for going in doesn't stand up to the test of time but made some sense at the time. The Panama Canal was indeed a longstanding American interest. And the war on drugs angle was important, as was the the complicated relationship with Noriega. Regardless, we certainly didn't go in to make Panama more safe for democracy. Nor did we stay for years nation-building. It was a limited incursion, over in less time than an NBA postseason.
Any Realist arguments in favor of Balkans interventions were an obvious fig leaf and laughed off as such. We went in became Milosevik was slaughtering Europeans in an attempt to keep a defunct state together. Bush 41 was willing to let it stand. Clinton ultimately couldn't.
And, sure, Obama cited some national interests in Libya. But he made it abundantly clear that the casus belli was Gaddafi's proclamation that he would show "no mercy" to those opposing his regime. The intervention has been and looks to remain limited; but the rationale was purely humanitarian.
Why does this matter? Well, maybe it doesn't. But I think it does because it's yet another example of those on the right trying to spread the blame to liberals for their own mistakes and thus delay any real accountability. This seems to be a habit of Joyner's, unfortunately; and in truth, the tactic far more offensive when he uses it in defense of war crimes perpetrated by a Republican White House. But though it's not as unfortunate when launched in defense of "realism," this kind of obfuscation and white-washing may be more pernicious. Because rather than discredit the preemptive war-making at the heart of neoconservative foreign policy, Joyner here takes perilous steps towards tarring the entire international human rights apparatus with Iraq's bloody brush.
First off, I've written dozens of posts over the years denouncing the use of torture. The only "defense" I offer is that it's politically popular. Americans of both parties are perfectly happy for their president to use any means necessary to protect them. To understand is not to endorse.
Second, I'm a Realist, not a neocon. I have no interest in defending them, nor would I consider saying they're no worse than liberal interventionists much of a defense!
Third, it's possible to agree that liberal interventionism is a recipe for war and think those wars are mostly justifiable. And, perhaps, in some cases I'd agree in the particular. There are times when the humanitarian disaster to be averted is large, the cost of intervening low, and the likelihood of rapid success high.
Further, I almost always support humanitarian relief efforts that don't involve us in other's civil wars. When there are floods, hurricanes, tsunamis, famines and the like caused by natural disaster, we should go in an help simply because we can. Frankly, I take that position even when the regime that heads the country is adversarial to the United States. Sending in the American military in such a context is not "war" in any sense, however; it's not what my essay is about.
The notion of kinetic intervention as a default position–whether justified by visions of spreading democracy or a Responsibility to Protect–is what I object to.