Warren And Biden Report Strong Fourth Quarter Fundraising Numbers
Elizabeth Warren and Joe Biden both brought in impressive fundraising numbers for the final quarter of 2019.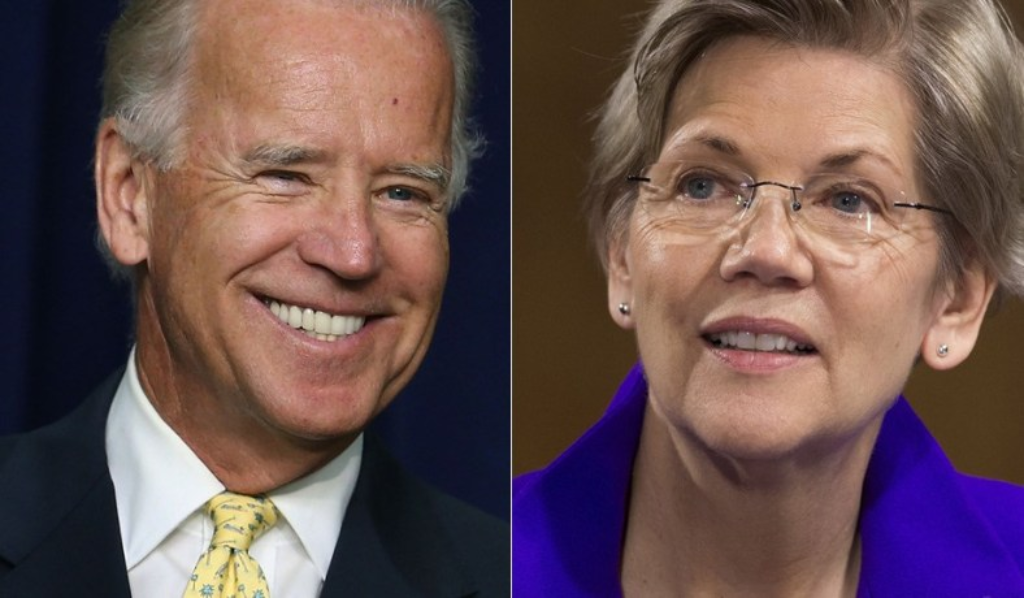 As the Democratic candidates for President continue to release their fundraising numbers for the final quarter of 2019, two of the people at the top of the field both reported fairly strong numbers although both were short of the numbers reported by the other members of the top four,
First up, former Vice-President Joe Biden's campaign reported that his campaign brought in $22.7 million in the final three months of the year:
Joe Biden raised $22.7 million in 2019's fourth quarter, his campaign said Thursday — an increase from the former vice president's total from the previous three months.

(..)

For Biden, the fourth quarter was better than the previous two three-month stretches of his candidacy: He raised $21.5 million in 2019's second quarter and $15.2 million in the third quarter.

"I'm excited to share that we raised $22.7 million this last quarter — our biggest quarter so far this campaign!" Biden said in a tweet along with a video Thursday afternoon. "Thank you to everyone who chipped in what you could — your support means the world to me. You truly are the heart of our campaign."

The former vice president has held more than 100 fundraising events, which small groups of reporters have been allowed to attend.

Biden's campaign said its online donations doubled during the fourth quarter — with a particular bump during the House's impeachment proceedings: The amount the campaign brought in online climbed by 121% compared to the weeks before.

Overall, the average donation to Biden was $41, his campaign said.

The announcement came on the same day Biden started a four-day swing through Iowa, where his campaign has said it expects the former vice president to spend much of his time in January. He also picked up the first Democratic congressional endorsement from Iowa of the 2020 race, with Rep. Abby Finkenauer announcing her support.

Gone was the "No Malarkey" branding from previous Biden Iowa bus tours. This time, his bus was emblazoned with the words "Battle for the soul of the nation."
These numbers compare favorably with Biden's numbers in the past, including the $15.1 million he raised in the third quarter and the $21.5 million he raised in the second quarter. The numbers also come at the same time that Biden continues to maintain a strong position in national polls and in the early primary states that start voting in just 30 days in Iowa. For example, the former Vice-President is in first place nationally as well as Nevada and South Carolina, and in the top three in Iowa and New Hampshire. A fundraising haul like this positions him well for the stretch in February and into the Super Tuesday primaries in early March and beyond that.
Senator Elizabeth Warren, meanwhile, reported that her campaign had raised $21.2 million in the final three months of the year:
Senator Elizabeth Warren of Massachusetts raised more than $21.2 million for her presidential campaign in the fourth quarter of 2019, her team announced on Friday, a slight dip from the previous quarter and behind three of her top rivals for the Democratic nomination.

The total raised by Ms. Warren in the final three months of the year was lower than the $24.6 million she raised from July to September. Last week, her campaign had signaled her lagging fund-raising effort for the quarter, which echoed her slip in the polls over the same period. Days before the end the year, her campaign took the unusual step of going public with its financial performance, announcing that it had raised just over $17 million and conceding that "it will be nearly impossible to match last quarter at this point."

That turned out to be right. But her campaign said the announcement also helped spur her best end-of-quarter run of donations in all of 2019 — more than $4 million in five days — and her best fund-raising day of the campaign, when she brought in $1.5 million on Dec. 31.

Over all, Ms. Warren's money came from nearly 900,000 contributions in the quarter, with an average donation of about $23, demonstrating her potent grass-roots support.

(…)

All told, Ms. Warren raised $71 million in 2019 from nearly one million people making more than 2.7 million donations, her campaign said Friday.

When Ms. Warren began her presidential bid a year ago, her fund-raising got off to a slow start. But as the year went on and she gained steam in the primary race, propelled by her seemingly endless stream of policy plans, her grass-roots fund-raising strategy appeared to be paying off. She raised more money in the third quarter than anyone aside from Mr. Sanders, and her fund-raising had grown in each quarter of the year.

Her dip in the fourth quarter — in both fund-raising and polling — came as some of her Democratic rivals attacked her over the critical issue of health care. Ms. Warren had aligned herself with Mr. Sanders in support of a "Medicare for all" single-payer health insurance system, but she faced repeated questions over whether she would raise taxes on the middle class in order to pay for the system and came under sharp criticism at the October debate.
As with Biden, these numbers, while short of candidates like Pete Buttigieg and Bernie Sanders are comparable with what Warren has been able to raise so far during the campaign. In the slow-moving first quarter, for example, Warren raised roughly $6 million but followed that up with an impressive $19.1 million in the second quarter and $24,6 million in the third quarter.
These numbers also come at the same time that Warren has seen herself slipping in the polls to some extent. After surging in the fall to the point where it looked like the race for the nomination looked like a two-person race between herself and former Vice-President Biden, Warren has fallen back to some extent. Nationally, as well as in Nevada and South Carolina, Warren is still in the top three. In Iowa and New Hampshire, though, she has fallen into fourth place, she has fallen into fourth place behind Bernie Sanders, Joe Biden, and Pete Buttigieg. This slip in the polls came at the same time that Democratic voters were becoming more skeptical about Warren's 'Medicare for All' plan, which led to several of her fellow candidates to more openly attack the plan while Warren herself began to step back from emphasizing the plan in campaign speeches.
Overall, with Warren and Biden reporting we have numbers from all of the major Democratic candidates that look like this:
Bernie Sanders — $34.5 million
Pete Buttigieg — $24.8 million
Joe Biden — $22.7 million
Elizabeth Warren — $21.2 million
Andrew Yang — $16.5 million
Amy Klobuchar — $11,4 million
Cory Booker — $6.6 million
That's a total of $137.7 million to just the top seven Democratic candidates.